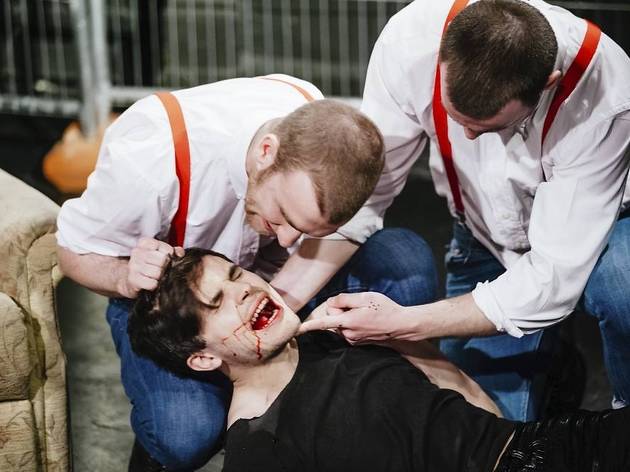 Hiraeth Artistic Production's adaptation of Shakespeare's gory 'Titus Andronicus', three hours of severed heads and mutilated tongues, is not for the faint-hearted.
Zoe Ford directs this wild version – replacing Roman togas with the anarchic uniform of 1980s post-punk London. Her tattooed skinheads, in ripped denim and combat boots, make perfect sense of the play, plunging us into a vicious turf war between extremist gangs – led by Titus and his enemy Queen Tamora. And Nadia Malik's stripped stage makes clever use of intimidating punk culture, as the reviled Emperor Saturninus lounges on his sofa-throne surrounded by expletive heavy graffiti and discarded bricks.
David Vaughan Knight's untiring Titus holds the show together as a man who strategically decides to cook his enemy's sons whilst contemplating his Rubik's cube. Rosalind Blessed's scheming Tamora is overdone but the rest of the cast shine when it matters most.
Although it's carnage, Ford's adaptation is provoking, precisely because it's incoherent. It violently rocks the establishment – proving that revenge is best served hot, baked in a pie.
Rating Breakdown
5 star:

0

4 star:

1

3 star:

0

2 star:

0

1 star:

0
Superb production, I thought, in which the design and setting made clear and justified the militancy, the violent culture, the nationalism of the play, showing it as something known and familiar to us. The opening felt a little rushed and garbled, and would have benefited from a greater formality (as might the charade of 'Revenge' and her children). Also, a more precise use of movement and gesture would have improved some performances in such a small space. But these are faults found in many stage shows. Performances generally were excellent all round: particular moments were Lucius' call for vengeance, Marcus' discovery of Lavinia and his urging Titus to rage in turn, Little Lucius' grief, Lavinia's helplessness and dignity. Aaron, although a villain, still won sympathy and respect, and Titus, his honour and service betrayed and ridiculed, towered over all. The use of music was inspired and horrific, and the finale, after a taut and slow-burning second-half, was exhillarating and satisfying.