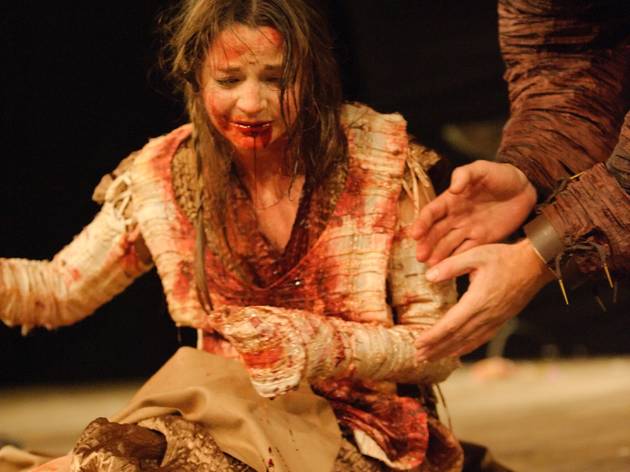 1/5
© Simon Kane
Flora Spencer-Longhurst (Lavinia)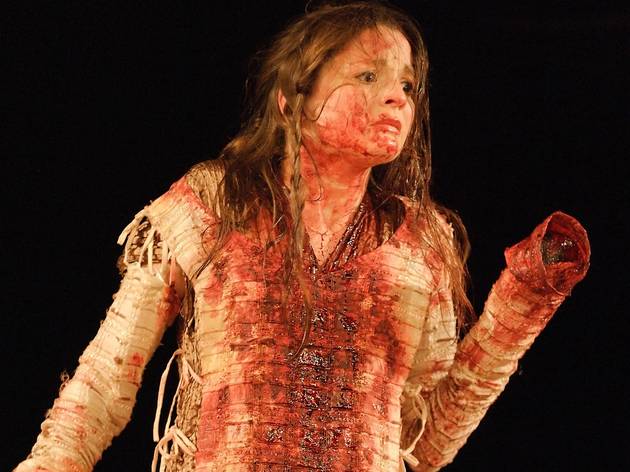 2/5
Simon Kane
"Titus Andronicus" performance shot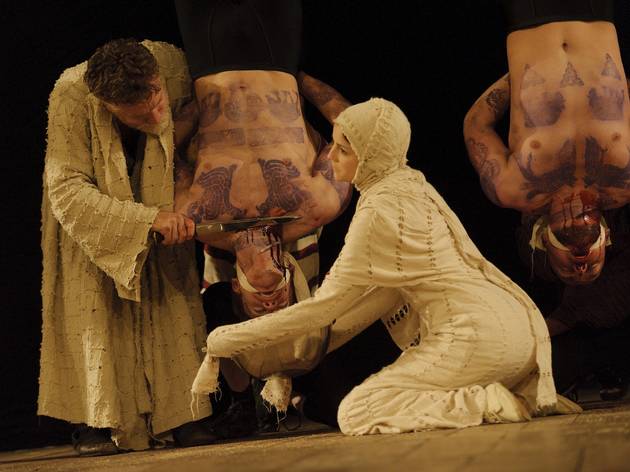 3/5
Simon Kane
"Titus Andronicus" performance shot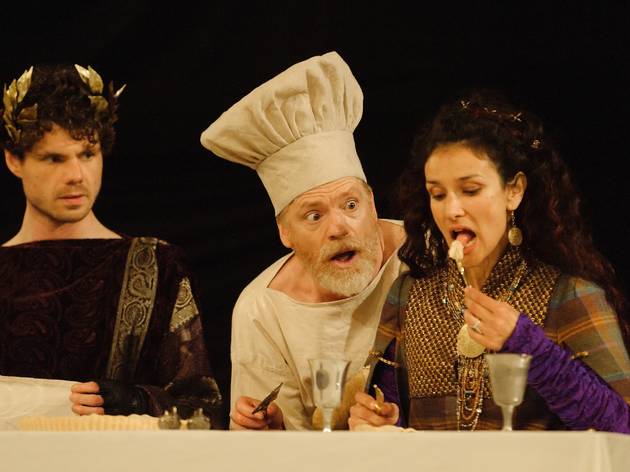 4/5
© Simon Kane
Matthew Needham (Saturnallius); William Houston (Titus Andronicus); Indira Varma (Tamora)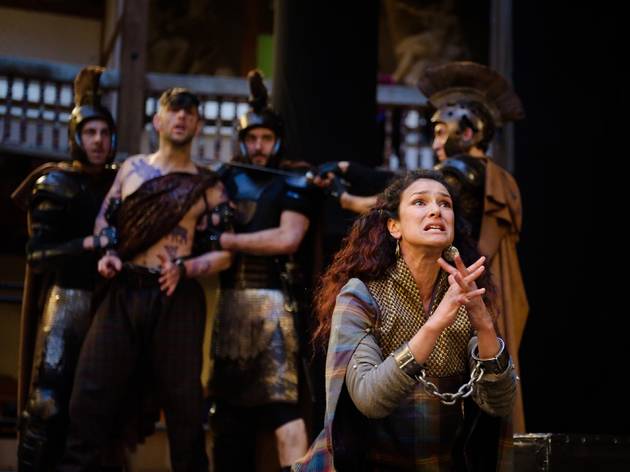 5/5
© Simon Kane
Indira Varma (Tamora)
Fanned by a couple of froth-mouthed recent news stories in the Telegraph and Daily Mail, the reputation of Lucy Bailey's returning 2006 production of Shakespeare's horror nasty 'Titus Andronicus' is such that one practically expects an evening of bona fide snuff.

As it happens, press night did see at least one audience member have a bona fide faint, while numerous distressed souls had to be led out for a sit down. As for me, dear reader – I won't lie, I felt queasy a couple of times, and did idly wonder if I might lose my dinner over the hapless groundlings below me.

Nonetheless, Bailey's production strikes me as the model of a socially conscious bloodbath. For the most part, she directs it as a sort of stylised (one might even say Tarantino-esque) black comedy, in which the exponentially escalating cycle of revenge that William Houston's unstable Roman general Titus and Indira Varma's haughty Goth queen Tamora visit upon each other is despatched with a camp relish that underscores how fundamentally stupid their actions are. Lots of extreme stuff happens along the way, from Titus hacking off his own hand to the infamous climactic pie scene. But it's always at least semi-comic.

What's not funny is the rape and mutilation of Titus's sparky daughter Lavinia (Flora Spencer-Longhurst) by Tamora's sons. It's her twitching body and vacant eyes and the thick, oily blood that pours out of her ruined mouth that scores most of the swoons, and fair enough, because it is completely terrifying, not just the blood, but the sense that she is now just the husk of a human being that was shredded as part of a conflict that she had no stake in. Bailey is quick to laugh at the warmongers, but there's nothing funny about the civilian collateral of their actions.

Pretty gruesome, but there's genuinely a lot to enjoy. Houston is wonderfully weird and unpredictable; Varma is charismatic and poised; Obi Abili has a fourth-wall-breaking, Bard-baiting ball as her villainous Moor lover, Aaron. And the level of thought and detail that's gone into this most tangible of productions is gratifying: incense burns pungently throughout, a black canopy covers the roof of the yard, and there's all sorts of weird flourishes, from an amusing kabuki theatre segment to the deployment of what I can only describe as 'dog trumpets' (it's quite hard to explain).

Not for the faint-hearted, then, but far from heartless.
Average User Rating
3.7 / 5
Rating Breakdown
5 star:

1

4 star:

1

3 star:

0

2 star:

1

1 star:

0
another fantastick production from the globe , more fake blood than you can shake a stick at , and what they did with there swords i t brought tears to your eyes didnt see anyone faint but several young girls were reduced to tears powerfull stuff i left coverd in beer water and fake blood luckily i missed the snot but it all added to the fun of the play a realy fab show well done
Not one. Nor two. THREE people fainted throughout the performance we saw. In the interval we heard a man in his 60's commenting to staff with frustration in his voice that he had no idea what the play was about when he bought his ticket. They also had paper sick-buckets at the ready in case they would be needed. Fortunately they weren't. At least not around us.

But the huge majority of the audience loved it, as I did. Specially for the second act more than the first! Actors seemed to really grow into their roles and power, and was funnier. And very dynamic. What I think might've been Japanese Kabuki masks and red platform shoes were used at one time in a totally incongruous, yet hilarious effect. You should also see it from the arena ideally.

It surprised me how the play appeared to deal with racism, for instance, as the "baddy" was a black "moor" whose mixed-race child he had with an empress was to be killed, and he finds the way to save him. Pretty advanced for an Elizabethan author I thought.

But I was surprised that chatting to an usher, she informed me that this year we saw a play they've toned down slightly from what was shown in 2006.

For instance I noticed you never see the actual moment of the "ravishing" and hand and tongue cutting of Titus' daughter, that I expected to be horrific. But it was a good call. The actress achieves an incredible and impressive transmission of such utter poignancy and helplessness that made that viewing of "the act" actually not just redundant, but it would've taken away from the drama. Seeing her later, confronting face to face and participate in the killing of her own torturers, without her or them being able to utter a word, I found to be pure electricity. Not least because of her contained expression. No actor on the night was mediocre. More than one were more than good.

On the whole, I would compare it to the experience I had after seeing one of my favourite movies of all time, that I consider beautiful but, when viewing, two of my friends felt forced to leave the cinema: "Oldboy" (the Korean version of 2003). That also deals with the themes of resentment that can drive "sophisticated" and elaborate revenge lasting through a life time. Difficult to watch the first time, yet I'd take it to a desert island. What made both Titus and Oldboy interesting was how all of the characters either had or construed in their minds their own "fair" reasons.

It took a while to get into the play and you contemplate giving up on it at times, saying to yourself, this is a bit much. But at the end, Boy, Am I glad I saw it!
This was not one of Shakespeare's more beloved works and it's easy to see why. The characters are ill defined and development and plot play second fiddle to gore and sensationalism. It's a disappointing choice for the 450th birthday of the bard and The Globe is giving this a far longer run than it deserves. Specifically for the performance that I saw today, the acting is good and direction is sound, but in the end it was not an event that I can say I enjoyed.