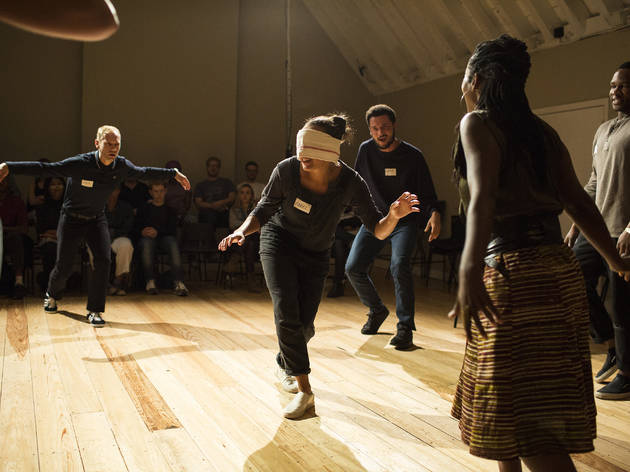 1/7
© Helen Maybanks
James Hillier (Steve), Adelle Leonce (Angel), Jamael Westman (Brotha), Lorna Brown (Aunty L) and Osy Ikhile (Couzin)
2/7
© Helen Maybanks
Adelle Leonce (Angel) and Roger Griffiths (Brian)
3/7
© Helen Maybanks
Franc Ashman (2nd Twin)
4/7
© Helen Maybanks
Adelle Leonce (Angel) and James Hillier (Steve)
5/7
© Helen Maybanks
Kirsty Bushell (Aunty J)
6/7
© Helen Maybanks
Jamael Westman (Brotha)
7/7
© Helen Maybanks
Adelle Leonce (Angel) and Lorna Brown (Aunty L)
A brutal family epic from Nathaniel Martello-White
Sometimes you'll visit an elderly relative, and they'll reveal a horde of long-hidden opinions: which child was their favourite, which one had the nicest eyes, which one they left on the bus once and had to go back for. It's too late to tiptoe.
Nathaniel Martello-White's brutal family drama is about three generations who never learnt to tread carefully, or at least didn't feel the need to. Nine relatives sit in a ring of plastic chairs and let rip: old arguments, messed-up memories and shock revelations.
A lot of 'Torn's power to disconcert comes from the way Martello-White's text uncompromisingly hones in on the racial politics of this sprawling mixed race family. The light-skinned matriarch 1st Twin (characters are named for their role in the dynasty) marries a white man, and her darker-skinned first two children are left unloved and forgotten. Angel, her daughter, suffers most: Adelle Leonce's performance is painfully raw, as she throws herself at a mother who doesn't want to carry her any more. 1st Twin's steely social climbing is explained by glimpses of her mother, who raised her and her sisters in loveless squalor. The story skips through decades at exhilarating speed: lose focus for a moment and you'll miss out on years. But this speed, combined with the tautness of director Richard Twyman's hold over the nine-strong cast, manages to make the cliched structure of the gradual revelation of a family secret feel fresh.
There's not an inch of fat to spare as Martello-White carves up this family with surgical precision. It's a hugely impressive achievement - but like the ice-cold matriarchs that stalk through it, it's not easy to love.
Rating Breakdown
5 star:

0

4 star:

0

3 star:

1

2 star:

0

1 star:

0