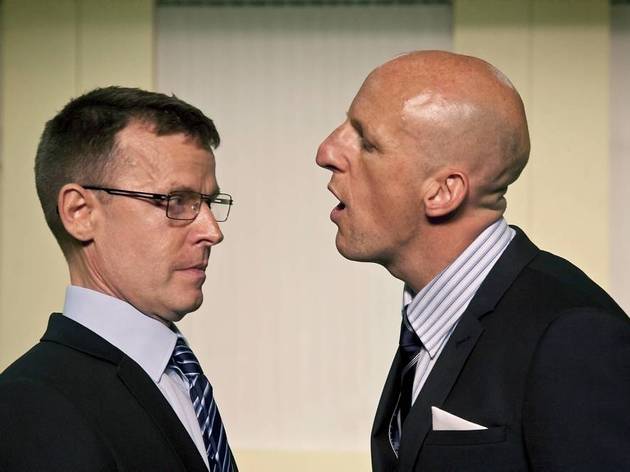 Ridiculusmus – aka David Woods and Jon Haynes – have been launching surreal probes into the nature of Britishness for nearly 20 years. Their latest show ends with its key image: two middle-aged, middle-class men who hate football and each other, conversing inaccurately about the beautiful game while half-heartedly trying to fish.
You'll get more out of the duo's first piece in three years if you know enough about footie to find Haynes's Alex Ferguson impression funny, but 'Total Football' is not about the sport per se.
Performed on a drab utilitarian set by the grey-suited pair, it's pointedly removed from the guts and the glory of the pitch. Loosely speaking, it takes the shape of a political satire, in which deadpan Hayes's dullard civil servant Brian is tasked by Woods's malevolent 'Undersecretary of State for Sport and the Arts and Culture in England' with masterminding a winning football team for the 2012 Olympics.
Lazy, inept and utterly uninterested in any sport bar tennis, Brian makes a token effort to solicit advice from Arsenal-supporting colleague Nigel and Argentinian cleaner Miggy. It doesn't help: the all-English 'British' team fail, an outcome the show tosses off as being entirely inevitable.
Rich in gags, 'Total Football's 70-minute length pulses with symbolism, subtext and questions about national identity. This post-match analysis can only scratch the surface, I fear, but the play's principal suggestion is that talking about football gives English middle-class men something to say to each other, at least.
It's an amusing conclusion; typically, though, Ridiculusmus formulate it not as a fond observation on English eccentricity, but an unsettling home truth.