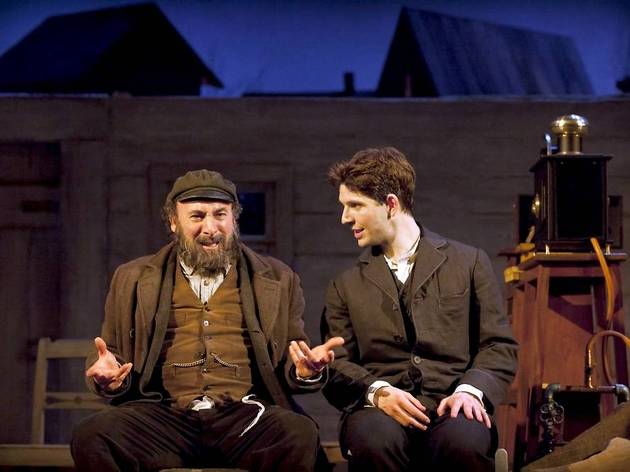 Nicholas Wright's new play is a love letter to the early days of the silent movie. One of the many fragments of history illuminated in the flickering light of Nicholas Hytner's skilful staging is the less-than-familiar movement of emigrants like Wright's protagonist Motl, who left restrictive village life back in the Jewish shtetl in Eastern European, smoothed out their glottal names and pursued a silver dream in early Hollywood.
'Travelling Light' sketches one such story with agreeable humour and subtlety. But despite its initial promise, it lacks depth and warmth. It travels lifetimes and continents too lightly to be theatre's answer to 'Cinema Paradiso'.
Wright's nice eye for historical detail and unfailing sympathy for his characters has made him a wonderfully rewarding writer of bio-dramas. Here, at a meta-fictional tangent to history, his characters are less interesting than their context: they lack a vital spark of life.
Young Motl is coolly portrayed by Damien Molony as a talented boy who returns home to his village after his father's death to inherit a cine camera, only to be strongarmed by rich local timber merchant Jacob Bindel (Antony Sher) into making a film about the shtetl he is desperate to escape. But Motl is problematically unsympathetic: his connections to others are indirect and he betrays everyone who helps him on his way.
Molony captures the excitement of the early movies but Motl is untouched by warmth despite sentimental flashback narration from his middle-aged self (Paul Jesson), a successful American film maker. If only his clever, resourceful assistant Anna (Lauren O'Neil) had been the hero of the play instead of its muse.
Sher's Bindel verges on bearded stereotype but has a hearty directness and frustrated passion which contrasts hugely and sometimes oddly with the playfulness of this particular frame. Authenticity is in quote marks everywhere: even Bob Crowley's lovely bleached wood design for Motl's village opens up to reveal itself as a Hollywood stage set.
Broad village comedy forms much of the drama, as it is filmed and increasingly staged by young Motl then sent flickering poignantly over the roofs of the set by Hytner. It may once have been a memory, but it's now a fiction. After several further removes I left wondering whether the bewildering ending, in which Motl's past catches up with him, was a dream, a schmaltzy movie or a knowing joke.
Average User Rating
2.3 / 5
Rating Breakdown
5 star:

0

4 star:

1

3 star:

0

2 star:

1

1 star:

1
I thought this play was boring and I left at the interval. Maybe the second half was better but I will never know. We go to the National about once a month and usually enjoy what we see. This is the first play we have walked out of in the last three years. The acting was ok but not the usual great standard you expect at the National. I wasn't sure if it was meant to be funny or not - the characters were wooden and unengaging. The accents were all over the place. There are a lot of other super plays on at the moment that I could recommend but this is not one of them. Sorry.
Good stuff, a bit dragging in the first act but did pick up. Not sure what previous reviewer was watching, but preferring 'Hugo' to this play says a lot about his poor taste.
I was looking forward to this play very much. The ticket was a Christmas present and the subject matter appealed as I'm very keen on early cinema. In the event it turned out to be a disappointing evening. The first half had a certain amiable charm but many of the jokes were feeble or well past their sell-by date.The acting was a curious mix. There seemed to be no agreed policy on the actor's accents so that whilst some had no accent at all others adopted mock East Eropean/Jewish accents. I was reminded of those old British war films where the Germans spoke English with cod German accents. As for Anthony Sher, normally an actor I admire, his overacting was so bad I expected him to burst into "If I were a Rich Man"at some point. Probably the best scene in the first half is one where they discover how to edit a film. It was well writen, acted and staged. The second half was awful. A long sequence involving the shooting of a scene was both interminable and irritating. If it was meant to be funny it failed. totally. The final scene with a schmaltzy last minute revelation (which I won't reveal) was unconvincing and failed to persuade me to suspend my disbelief. It's interesting that this play should appear at the same that two films about early cinema; "Hugo" and "The Artist". Go and see those rather this dreary product. Notwithstanding all the effort with the set and the fake "old films" this play is a missed opportunity and does very little to recapture the magic of early cinema.