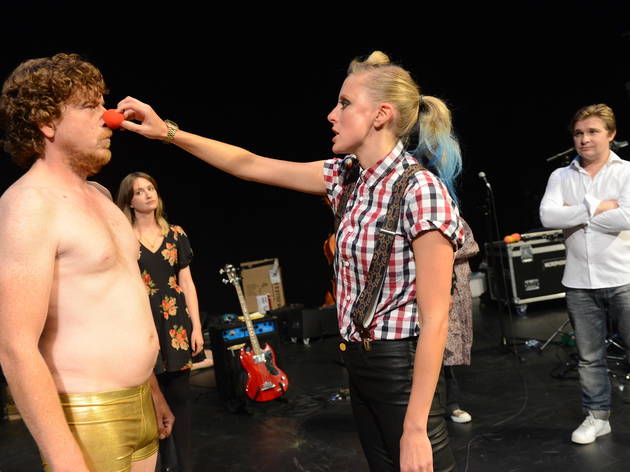 1/5
© Robert Day
'Twelfth Night'
2/5
© Robert Day
'Twelfth Night'
3/5
© Robert Day
'Twelfth Night'
4/5
© Robert Day
'Twelfth Night'
5/5
© Robert Day
'Twelfth Night'
Like a bunch of slightly bored roadies wearing T-shirts, jeans and occasionally yawning, Filter Theatre Company plod about the stage before the opening of this modern classic of a show in a way that leaves you unclear as to whether or not proceedings have started.
But for all the initial nonchalance, there's a brilliant, taut streak of energy bursting through this revived 2008 production, which returns to London.
There's no set or costumes to write of (bar their Special Brew-swigging Toby Belch who is inexplicably the only one dressed in Elizabethan garb). Instead, the stage is filled with stuff you might find in a rock gig: a drum kit, a cello, a sound desk, amplifiers and microphones. Music is at the heart of 'Twelfth Night' and Filter have kept it as the centre of their production. The show is a kind of experimental theatre-cum-music gig with the Bard's songs rocked out to, and noises and voices enhanced and distorted for comic effect. The show emerges as a hearty reworking which identifies more with the play's funny bits than with its poetry.
Sean Holmes's production is stripped back in more than just the staging. It's a bare bones script and although the ensemble cast are excellent, a bit more of the text would make us more interested in what actually happens to the characters.
But that's part and parcel of a deliberately zippy production. And among its other delights the show offers an onstage party to which the audience is invited with free pizza and, if you're very lucky, tequila shots.
By Daisy Bowie-Sell
Rating Breakdown
5 star:

0

4 star:

0

3 star:

0

2 star:

0

1 star:

1
I think we had a totally different experience to the reviewer. Dreadful production. Always be wary of productions without an interval - we wouldn't have gone back. The only saving grace was the free slice of pizza but some of it was cringeworthy. Watching malvolio writhing around the stage in gold underpants, leaving little to the imagination. Not really my scene, didn't care or like any of the characters. The use of mics and different sound boxes meant it was difficult to hear what the cast were saying. One star is for the enthusiasm of the cast. Wish I'd stayed in and watched the champions league and I don't even like football!