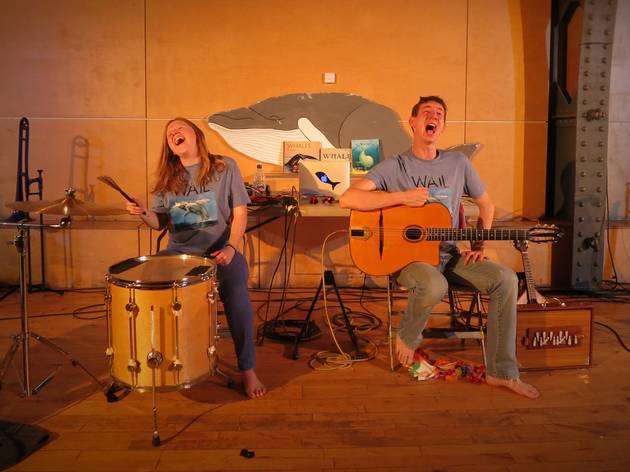 Time Out says
A delightfully silly show about whales, from Little bulb
In 'Wail', Dominic and Claire are on hand to talk, sing and indeed wail about whales. Wail, whale: geddit? Wearing matching t-shirts, they're a bit like those wide-eyed, jazz-handed troupes that tour around secondary schools in the name of educative theatre – that seem preternaturally capable of doing a thousand different things at once, usually with the ropiest of props and costumes.
And over the course of an hour, with about a dozen musical instruments and one severely dodgy whale costume, they play folk music and heavy metal, host a game show and subject us to some audience participation – all to enlighten us about the great mammal of the seas. (Sadly Dominic's never seen one in the flesh before. Not that he's sore about it, of course).
At points, Little Bulb Theatre's knowingly-rough-around-the-edges production for ages 12 and above feel just plain rough around the edges. But it's hard to fault a show that has its entire audience trying to imitate whale song whilst fighting through paroxysms of laughter. And when the pair themselves crack, and start to giggle at their own absurdity, it just gets funnier.
Details