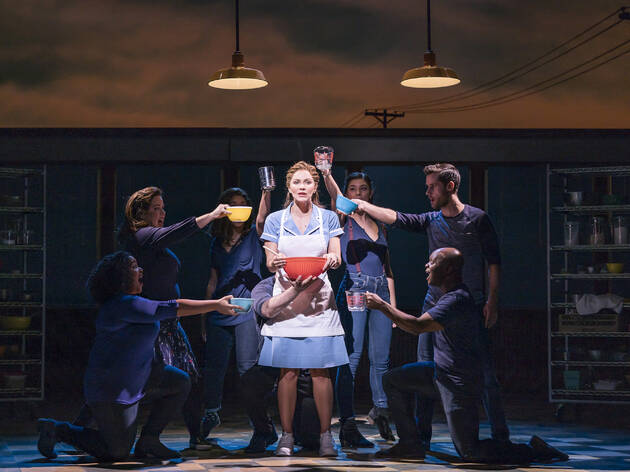 1/6
© Johan Persson
Katharine McPhee (Jenna)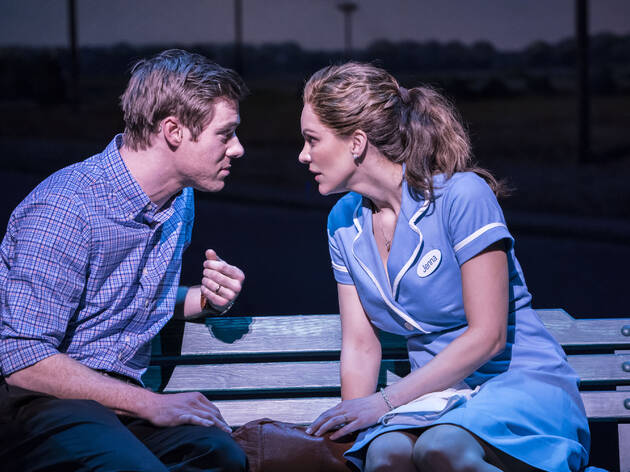 2/6
© Johan Persson
David Hunter (Dr Pomatter) and Katharine McPhee (Jenna)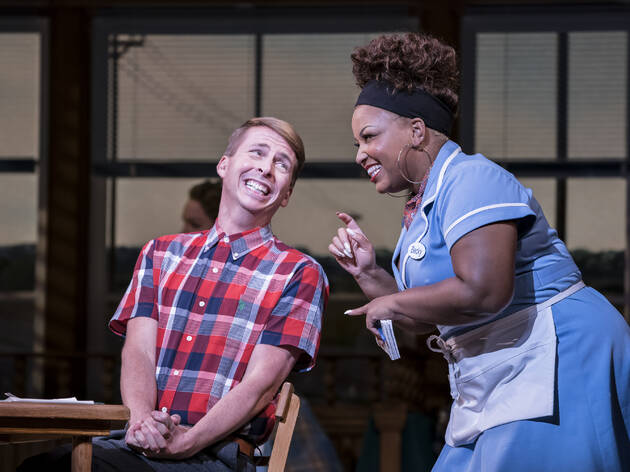 3/6
© Johan Persson
Jack McBrayer (Ogie) and Marisha Wallace (Becky)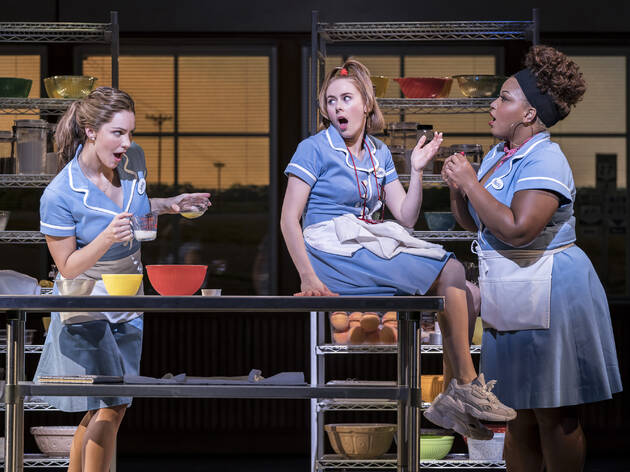 4/6
© Johan Persson
Katharine McPhee (Jenna) Laura Baldwin (Dawn), and Marisha Wallace (Becky)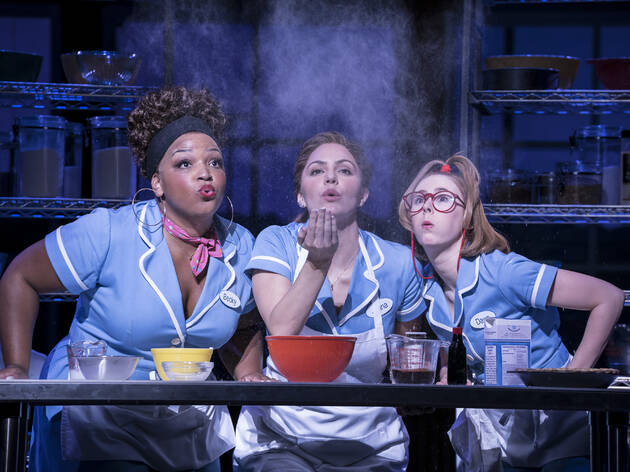 5/6
© Johan Persson
Marisha Wallace (Becky) Katharine McPhee (Jenna) and Laura Baldwin (Dawn)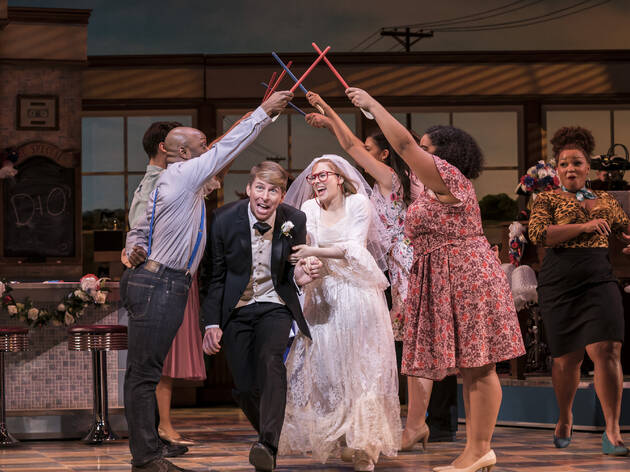 6/6
© Johan Persson
Jack McBrayer (Ogie) and Laura Baldwin (Dawn)
Time Out says
This pie-tastic Broadway smash is big hearted but half-baked
Sara Bareilles and Gavin Creel will star as Jenna and Dr Pomatter for eight weeks only, until March 21 2020.
Lucie Jones and David Hunter are currently playing the roles, and will return to them from March 9. This review is from June 2019, of the original West End cast.
The specials board in the diner in 'Waitress' advertises a bacon and blueberry pie.
Most of the pies in Diane Paulus's Broadway-conquering show are allegorical: their lurid lists of ingredients are flights of fancy in the mind of Katharine McPhee's titular heroine Jenna, a pie-making prodigy who dreams of escaping her abusive marriage.
However, as far as I can tell, the show is serious about the bacon and blueberry one. Bacon. Blueberry. Individually these are reasonable things, but with apologies to American readers, I cannot conceive why anybody in their right mind would even put them on the same level of the fridge, let alone lock them inside a pastry crust.
Similarly, 'Waitress' is made from the very finest ingredients, but often they don't actually feel like ingredients that should have been put together.
Adapted from Adrienne Shelly's cult 2007 indie flick of the same name, 'Waitress' is a moving musical full of flawed, morally compromised characters of the sort you so rarely get in this type of glossy Broadway show. Everyone, on some level, lets us or themselves down: indeed, the big showstopper, 'She Used to Be Mine' – delivered with exquisitely controlled sorrow by McPhee – is Jenna's bitter ode to her disappointment in herself.
There are no heroes here: not Jenna, not her hunky gynaecologist love interest Dr Pomatter (David Hunter), not her workmate and best friend Becky (Marisha Wallace), who is carer to an ailing, unseen husband. They are likable people, but genuinely flawed, and they never really redeem themselves – we simply have to forgive them if we are to enjoy the show, which feels quietly bold.
But then there's also the *other* 'Waitress'. The silly 'Waitress' that desperately wants you to have a laugh, and not let the serious 'Waitress' harsh your buzz. That 'Waitress' features a pie-based cunnilingus scene, a Civil-War-reenactment-based cunnilingus scene and the alarming comic characters of Dawn (Laura Baldwin) – a nerdy waitress – and Ogie, the hyperactive loon who courts Dawn throughout the show. I'm not averse to any of this, and on his own terms Jack 'Kenneth from "30 Rock"' McBrayer is good value as the baffling Ogie, with his array of gurns, tics and magic tricks.
But put it all together and... it's weird. A bittersweet drama about human frailty that's also a wildly OTT sex comedy. Maybe the serious and silly 'Waitress' could exist side by side, but it's when they overlap that it blows a fuse. This most especially goes for the character of Jenna's abusive husband, Earl. He's played with some conviction by Peter Hannah, but what he's actually required to do varies – at some points he's just a swaggering light-relief dickhead, at others he's a genuinely frightening abuser. If you're taking 'Waitress' seriously, the resolution of his plotline is so casual as to verge on irresponsible.
It's still a classy show, though. McPhee gives a beautifully weary performance, setting the tone for a mostly British cast that treats the serious bits seriously and goes balls-to-the-wall on the daft stuff. Sara Bareilles's country-rock-ish songs are funny, literate and enjoyable, with one stone-cold banger in 'She Used to be Mine'. And Paulus really shows us why they pay her the big bucks: she keeps everything moving with a slick dynamism that frequently belies the changes in set, scene and tone. There's really a lot to like; I just struggled to like all of it all at once.
Details
Venue name:
Adelphi Theatre
Address:
409-412
Strand
London
WC2R 0NS

Transport:
Tube: Embankment
Price:
£15-£150. Runs 2hr 30min
Average User Rating
4.3 / 5
Rating Breakdown
5 star:

6

4 star:

4

3 star:

1

2 star:

1

1 star:

0
First and foremost, if you're a Sara Bareilles fan, you will most likely enjoy this show. It's very much her style of music.
I saw Waitress a few years ago on Broadway with the OBC. Wasn't a lover of it but I thought I'd go along again to see the London cast give it a shot.

My biggest annoyance about this show is that it has SO much potential but poorly executed.
The songs for me are nothing special. The script is very wishy washy. It runs through some of the most important parts of the play such as the domestic abuse scenes. I wanted more from this so I could really connect with Jenna but instead this plot line is limited to just two scenes so it's only seen as a 'glimpse'. I really enjoyed Kat McPhee's voice but she didn't fill the shoes of the character enough for me. Becky's character (not relating to Marisha Wallace's performance who I love) is also problematic. She goes between this strong independent figure who hates her boss to ending up loving him situation which only circulates her characters storyline and gives it no linear direction. It really goes nowhere. Dawn's character was funny and Laura Baldwin saved this show if I'm honest. However, her other half struggles to hit the notes correctly and I really found it difficult to listen to him. I really don't mean to cause offence but it is a very obvious hindrance to the whole show. (Why they casted an American actor for this part baffles me when they could have hired local talent that was on their doorstep...but let's leave that for another conversation).
Now let's get onto the humour of this piece. The comedy is very much 'American' humour. It's cute and safe and doesn't really test any limits of the imagination. Doctor Pottimer is an integral figure in this. But for me, the humour in this piece is just SO American (no shade, it's just not my thing). I found it more cringe-worthy than entertaining.
Wasn't mad about the set. The lighting was strong. The fact that the ensemble aren't given any chance to shine (I think their most technical choreography consisted of a hand clapping sequence and holding a coffee mug) really frustrated me. They are always sitting upstage in the shadows with the occasional character coming downstage. Make use of the ensemble please! They are talented people!
Overall, a very problematic show which I doubt will survive for very long unless Bareilles fans keep it going. Having only being opened a few weeks, both myself and my friend thought that the whole show felt incredibly tired. If you told me it had been running for 5+ years, I would have believed it.
Having visited the Adelphi Theatre to see Waitress my friend and I were rather disappointed. Although the Musical was quite good, we had difficulty in understanding the words to the songs. Either the music was too loud or was it a fault of the technician? As the story was told by the songs it was irritating not to be able to hear the words to the songs. I would not advise my family or friends to see Waitress because of this.
Very touching show! Amazing voices and songs. Vey simple set but it works really well. So I would say differently must see!
This play is cute and twee and fine.
It was enjoyable in terms of good ol' "safe" fun - but at times the story was confusing and the thick American accents made the dialogue and songs hard to decipher. I think the moral of the story is that it's okay to cheat because everyone deserves a slice of happiness? Which isn't morally satisfying. It isn't a musical of big drama and moments.
But like, the songs were fun.
This new addition to the west-end scene is a breath of fresh air. Waitress has all the components a feel-good musical should; a great story line, brilliant songs, lots of laughs and a heart warming finish. This truly has something for everything, a true all-rounder – highly recommend!
Without any hesitation I would recommend this play to anyone (except those that don't enjoy phenominally performed songs written by Sara Bareilles). When you walk into the theatre you are transported to a small dinner in middle America, complete with the distinct aroma of freshly baked pie. Full of energy and charm, this hit Broadway musical tells the story of Jenna, the small town waitress with big dreams. Hitting all the right notes (I couldn't resist), Waitress knows when to crack a joke, or when to slow down for a somber song (without taking itself too seriously).
Fabulous, fabulous, fabulous! If ever there was a show to fall in love with, it's Waitress. An amazing all-female creative team, phenomenal on-stage talent and crowd pleasing numbers all the way through. So much fun!
We were lucky to attend this on dress rehearsal day, surrounded by family friends of the production and Sara Bareilles. The moment the curtain rose and Katherine McPhee started singing, I had all of the memories of SMASH flooding back and had tears in my eyes. And then the guy from 30 rock shows up and also smashes it out of the park. The musical is as indulgently sweet as the pies our main character makes. Butter, sugar, flour.
Although Katherine Mcphee has an amazing voice, the real show stealers are her two fellow waitresses and partners in crime! Absolutely hilarious, and a surprise appearance form a 30 Rock alum makes this one of the best I've seen in a while. Sara Barellies' songs really suit the performance and the story doesn't stray far form the film original. Definitely worth a watch.
We attended the dress rehearsal preview and it was a really special show. Sara Bareilles herself was even there! It had a great soundtrack and was well cast, it had some difficult subject matters included but for the most part was funny and uplifting. Katherine McPhee's voice was truly mesmerising, I think I could listen to her sing anything! Definitely one to go and see!
With a cast that includes Katherine McPhee and Marisha Wallace plus lyrics & music by Sara Bareilles, you know that Waitress is going to be a good musical. We were lucky enough to attend the open rehearsal before previews and what a pleasure that was. The story is cute and it's a real feel good musical, even though there are real moments of sadness. It's a fun show and the cast is brilliant. The staging is also fun and quirky. There were moments that I was actually crying with laughter. It's hard to leave this show sad and, for me, that's exactly how a musical should make you feel!

A perfect escape with a heartwarming tale, uplifting songs and packed with humour.
The show has a lot of hype prior to it's move across the pond and it lives up to it and more.
With such a small cast you really see the talent in every member with the leads each having a show stopping number.
Also a positive the theatre has hardly no bad seats, comfortable and a great view.