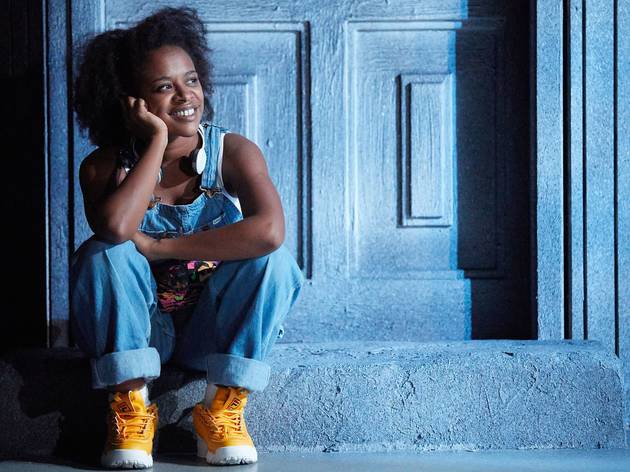 1/11
© Mark Douet
Ayesha Antoine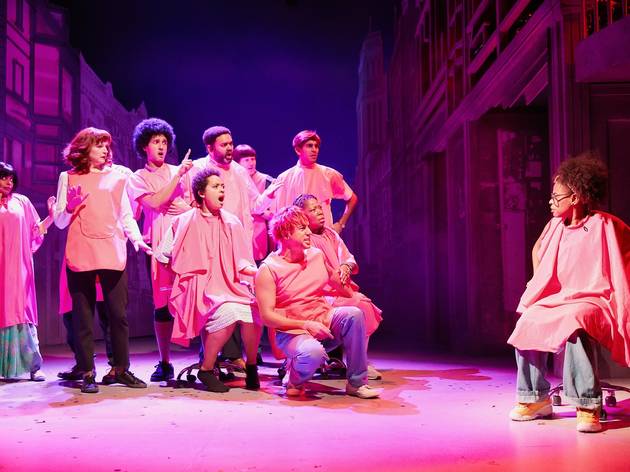 2/11
© Mark Douet
A Antoine, M Austin, P Bird, A Dharker, N Frederick, T Jayawardena, K Queensborough, S Sagar, A Wilkin, A Zaman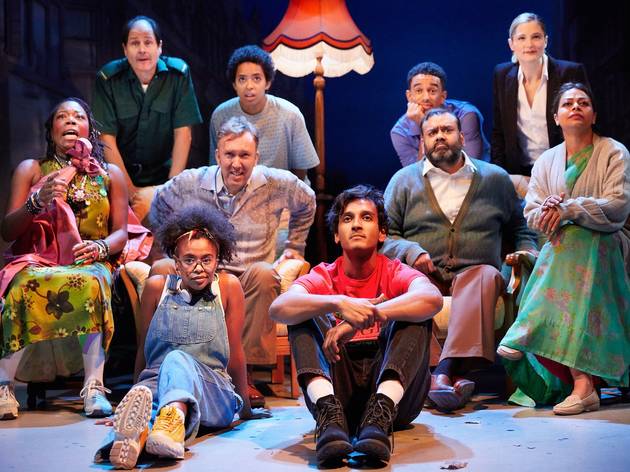 3/11
© Mark Douet
A Antoine, M Austin, P Bird, A Dharker, N Frederick, T Jayawardena, R Lumsden, K Queensborough, A Wilkin, A Zaman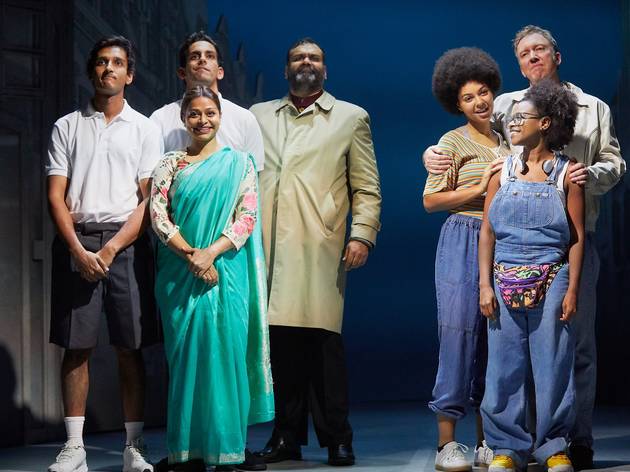 4/11
© Mark Douet
Ayesha Antoine, Ayesha Dharker, Tony Jayawardena, Richard Lumsden, Nenda Nuerer, Sid Sagar, Assad Zaman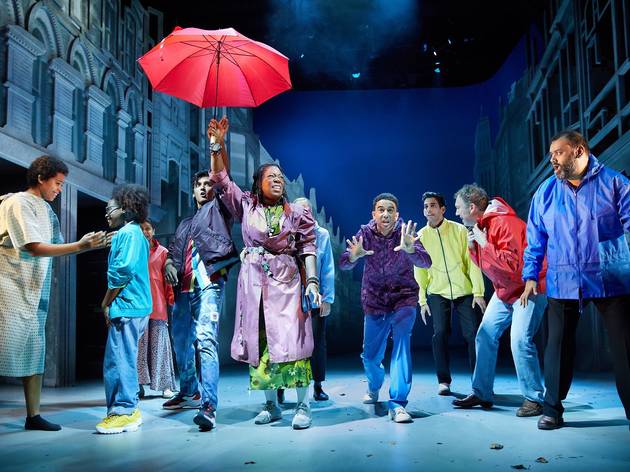 5/11
© Mark Douet
Ayesha Antoine, Michele Austin, Ayesha Dharker, Tony Jayawardena, Richard Lumsden, Karl Queensborough, Sid Sagar, Amanda Wilkin, Assad Zaman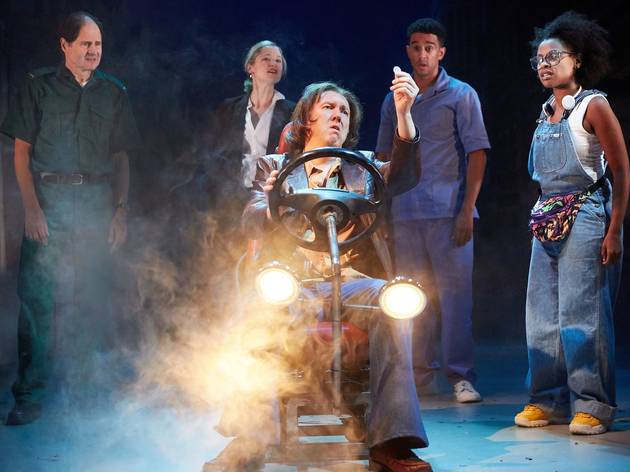 6/11
© Mark Douet
Ayesha Antoine, Philip Bird, Naomi Frederick, Richard Lumsden, Karl Queensborough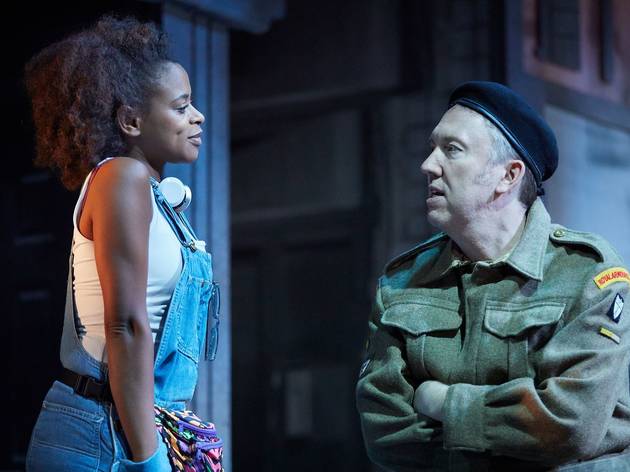 7/11
© Mark Douet
Ayesha Antoine, Richard Lumsden.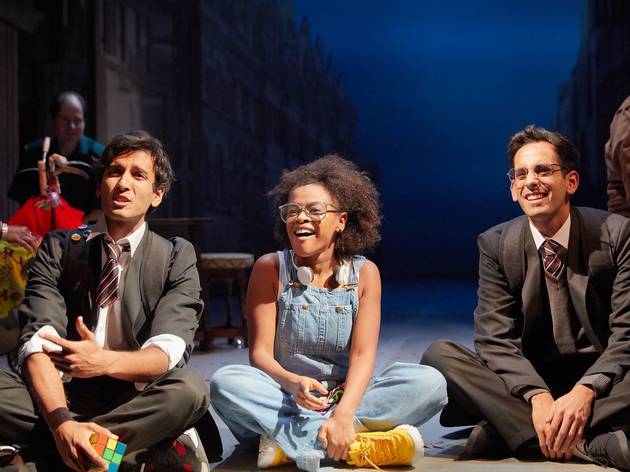 8/11
© Mark Douet
Ayesha Antoine, Sid Sagar, Assad Zaman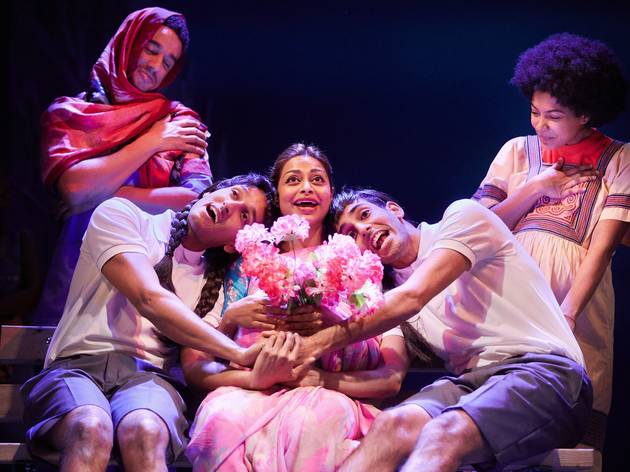 9/11
© Mark Douet
Ayesha Dharker, Nenda Nuerer, Karl Queensborough, Sid Sagar, Assad Zaman. White Teeth at Kiln Theatre
10/11
© Mark Douet
Michele Austin, Tony Jayawardena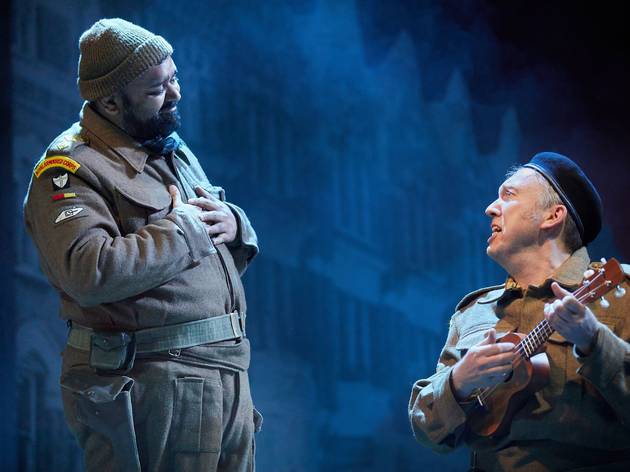 11/11
© Mark Douet
Tony Jayawardena, Richard Lumsden
Time Out says
This bright, bustling and eccentric adaptation loses the nuance of Zadie Smith's novel
If you're going to stage a musical version of Zadie Smith's vivid, sprawling breakout novel 'White Teeth', then the Kiln Theatre couldn't be a more perfect place for it. The cast of playwright Stephen Sharkey's adaptation dances along a cut-out version of Kilburn High Road that's a photo-perfect replica of the real street outside: the one where Smith's characters collide, grow together, and grow old. Directed by Kiln Theatre boss Indhu Rubasingham, it's full of stomping energy and jokes to delight a local crowd. But it picks a less than sure-footed path through a hard-to-adapt book.

For starters, Sharkey makes the peculiar choice of adding a framing device to Smith's novel that revolves, rather literally, around teeth. At the end of her novel, central character Irie (Ayesha Antoine) is pregnant. This adaptation starts out with her now-25-year-old daughter Rosie falling into a coma after an accident at the dentists where she works, and hallucinating pretty much the whole narrative: Amanda Wilkin's role involves much raising of eyebrows at each fresh plot twist, overseen by faintly menacing local Mad Mary (a totally hilarious Michele Austin). Yes, it's a device that makes sense of some of Smith's fruitier narrative choices (this is a book that's stuffed with outlandish twists, including a genetically modified mouse and twins linked by fate). But it also makes it harder to invest in the story, adding so much extraneous detail that the book's actual narrative unfolds at a dizzying clip.

Loosely, it's the tale of two families, tied together at every point: their fathers served in WWII together, their mothers were pregnant together, their kids fancy each other. Tony Jayawardena and Richard Lumsden make a great double act as sad, bewildered dads Samad and Archie, always itching to escape to their favoured hide-out for a fry-up. And Rubasingham fills their tumultuous home life with incident and detail: a surreal song where Samad's wife Alsana (Ayesha Dharker) imagines her future kids is a particular masterstroke. But the weirdness of this adaptation is that Sharkey and composer Paul Englishby's songs are almost entirely extraneous to the story. They don't drive the narrative on, and sometimes they hardly reference it, like the naff second act number that basically exists to list a lot of things the audience might remember about the '80s.

Nor do they summon up the cultures that 'White Teeth' draws on, those of Jamaica, Bangladesh, and the north London 'melting pot' that Smith digs around in and critiques. The best moments in this show come straight from Smith's novel, especially her biting observations on British hypocrisy, and on the sting of being patronised or erased by a not-entirely-welcoming city. But their emotional impact gets crowded out by its relentless, pantomime-style explosions of noise, music and light.
Details
Best selling Time Out Offers