Who's Afraid of Virginia Woolf?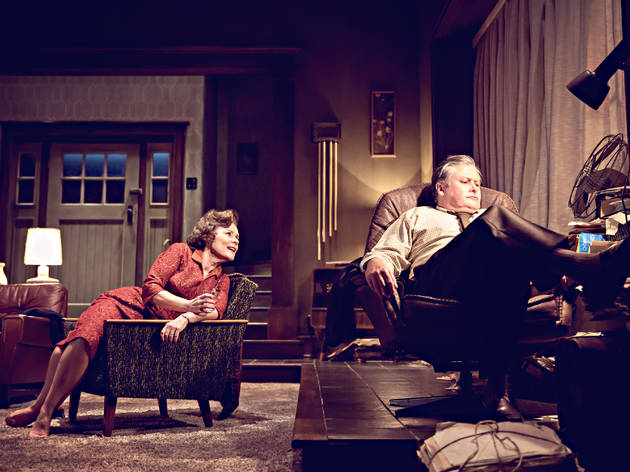 1/9
© Johan Persson
Imelda Staunton and Conleth Hill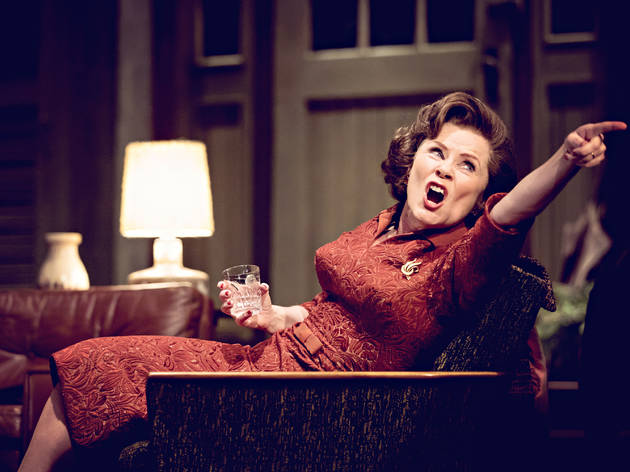 2/9
© Johan Persson
Imelda Staunton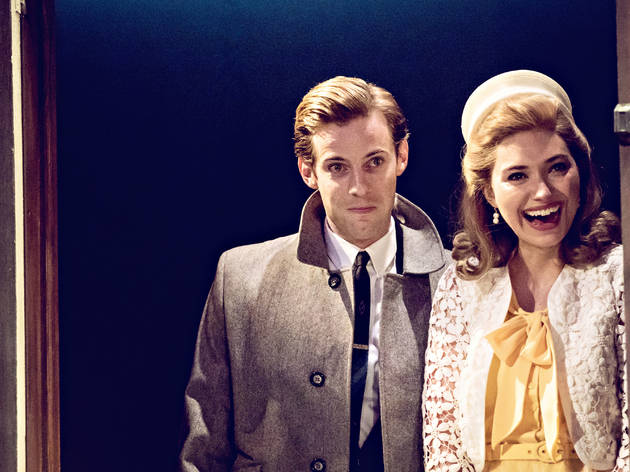 3/9
© Johan Persson
Luke Treadaway and Imogen Poots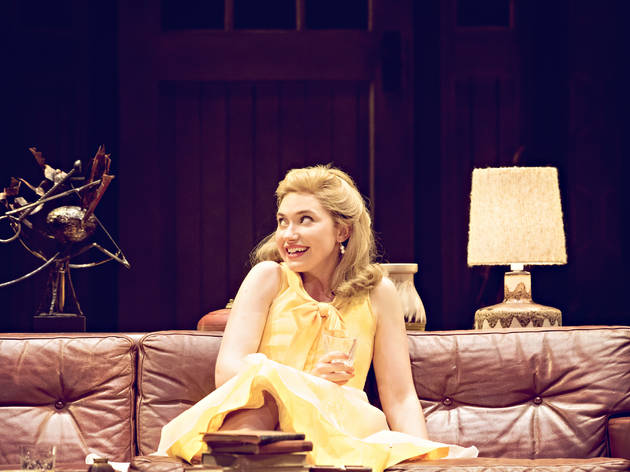 4/9
© Johan Persson
Imogen Poots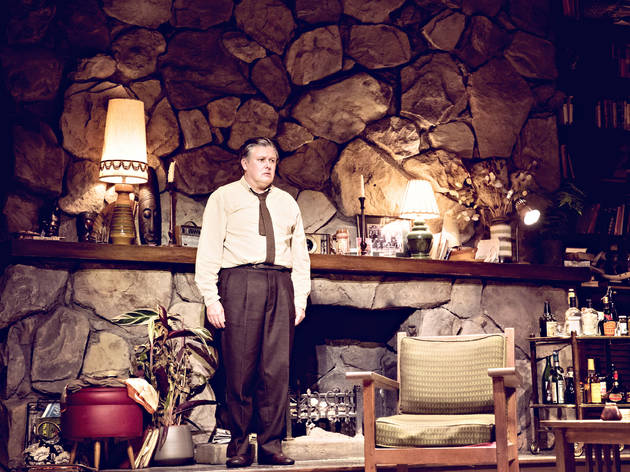 5/9
© Johan Persson
Conleth Hill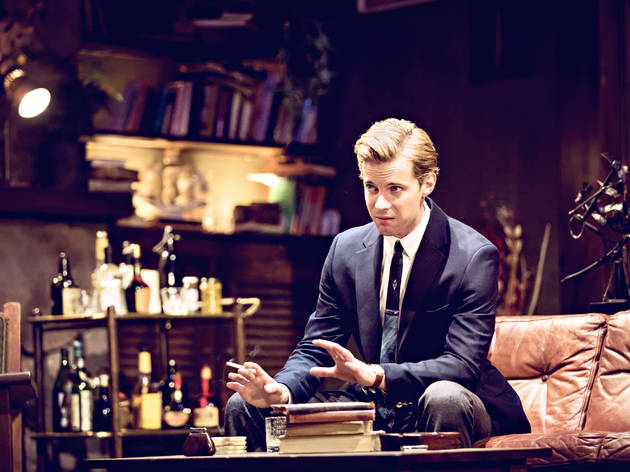 6/9
© Johan Persson
Luke Treadaway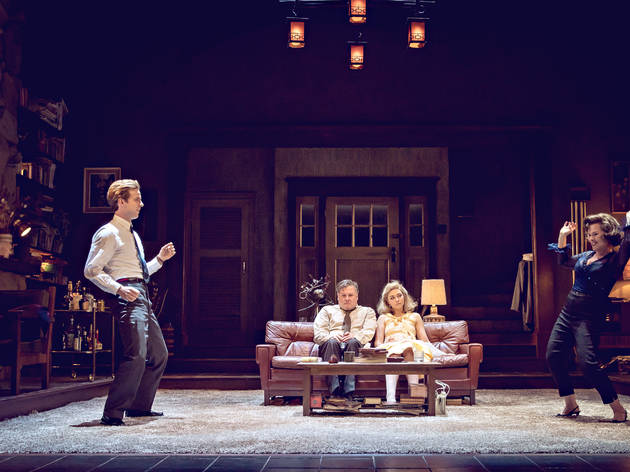 7/9
© Johan Persson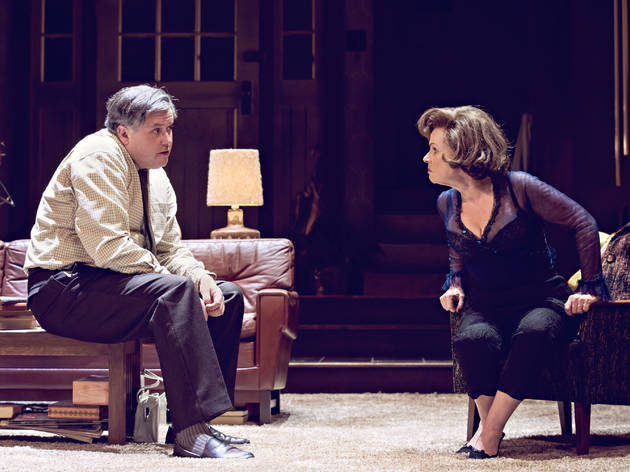 8/9
© Johan Persson
Conleth Hill and Imelda Staunton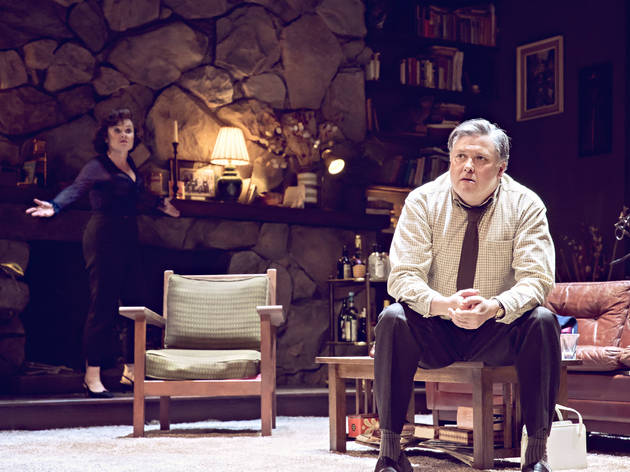 9/9
© Johan Persson
Conleth Hill and Imelda Staunton
Imelda Staunton and Conleth Hill are devastating in Albee's iconic play
You go into the late Edward Albee's 1962 masterpiece 'Who's Afraid of Virginia Woolf?' already braced for impact. Maybe you studied it, maybe you saw the film, maybe you just know its reputation.
But bloody hell: in the hands of director James Macdonald - and his world class cast, headed by Imelda Staunton - it feels unexpectedly shattering. Not because of how extreme it makes the world of embittered New England couple George (Conleth Hill) and Martha (Staunton) seem, but because it makes it all horribly, plausibly human.

Under too-bright lights, accompanied by the headachey hiss of Adam Cork's white noise soundtrack, a nightmare plays out. It is 2am, and Martha has invited Nick (Luke Treadaway) and his wife Honey (Imogen Poots) back to their house. He is a new, young academic at the university George works at and her father runs, and she has been instructed to be nice to him.

This does not go so well: George and Martha tear strips off each, then their guests. Bitter secrets are unearthed. But where sometimes the hosts' performance feel like a familiar ritual being reenacted, here it all feels horribly fresh and avoidable. Staunton and Hill are sensitive live wires, not fossilised weirdos. If they'd just gone to bed at a sensible time, if he'd felt a little less humiliated by her, if she'd been a little less goaded by him, if everyone had had just a splash less liquor, if just one barbed insult fewer had been tossed, if Treadaway's Nick had been less of a douche, if Poots's Honey was less of a lightweight, if, if, if... then the awful events that follow might have been avoided. There is a terrible, pit-of-the-stomach sense of free fall, of something uniquely disastrous occurring as the strutting, jaded Nick proves receptive to the older couple's special brand of psychological warfare.

At some point in the last several years, Staunton took her place as an official national treasure, her generation's heir to Dench and Smith, the sort of actor who you expect to blow you away. She is as good as you'd hope - playful, witty and malicious, but also desperately, desperately vulnerable, lonely and sensitive and frightened of the world outside her constructed realm of barbs and sneers. When she breaks down at the end, it's not just desserts, but the final failure of an elaborate coping mechanism.

For me, though, the real revelation was Hill. His George is a peculiar, frightening mix of Bill Murray and Steve Bannon (who he looks the spit of): deadpan, charming and even likeable, but with a shockingly caustic nastiness underneath. There is a real sense that if the couple are matched in intellect, it is abuse from him – as much as anything else – that have led them to this point.

Treadaway and Poots have the smaller roles, but make good on them. After goody two shoes lead parts in 'War Horse and 'Curious Incident', Treadaway clearly relishes the chance to be a selfish drunken shit, who gripes about his wife and almost has it off with the hostess. And Poots is painfully sad and sweet, a free spirit only saddled with her grumpy husband because the times and their families expected it – she is ripe for becoming a new Martha.

Many aspects of this production feel pretty trad - Tom Pye's set, for starters - but none of that stifles this revival's horrible, vertiginous sense of fast-moving tragedy, of crashing descent.
Rating Breakdown
5 star:

11

4 star:

5

3 star:

1

2 star:

2

1 star:

2
Loved it. Car crash play watching. A classic that's been brilliantly delivered in 2017.
The heart of any show is the text, and while some see this text as a "masterpiece, " I would say what it lacks most is heart. Granted, a picnic in the park was not expected or desired, but Albee's work here, like most of his work, is labored, manipulative, and does nothing to motivate the audience to care enough to live out these arduous three hours of uncomfortable torture. Having said that, I found myself deeply disappointed in the performance of Ms.Staunton -- and may I say this saddens me to say this. She was a revelation in Sweeney Todd, and her Mama Rose was riveting. However, here this tremendously talented actress violates the cardinal rule of acting -- that is I caught her trying too hard ... acting too much ... reaching where existing and trusting the text should have been enough. When she stops acting and just listens she is devastating. When she works at it she falls back on some rather annoying physical "tics" that have been seen in previous roles. I still think she is at the apex of her career, but this was not the performance so reverently praised in other reviews.
Really thoroughly enjoyed the show. Great performances from the entire cast, and never a dull moment.
A few scenes feel contrived, and it's hard to know if I feel that way because of the writing or the staging, but despite one or two events not feeling naturalistic, they manage to make you feel fully invested in everything that unfolds.
Whether or not you know the story, this is guaranteed to be one of the most powerful and gripping productions you'll see all year. There isn't a moment where the acting even remotely slips up, and all four actors and actresses were perfectly cast and absolutely incredible in their own right. One thing I would say is that it is quite long, and although there are two short breaks, there were a few brief moments during the play where my mind wondered as there's a lot of dialogue to take in and not all of it is essential in understanding the story. Aside, from that, i've little hesitation in recommending this to anyone and everyone that wants to witness an intense, riotous theatrical masterpiece.
The problem with this play (& for me this was insurmountable) is that each & everyone of the 4 characters are either irritating or intensely unlikeable. The central relationship between Martha & George is toxic & made for uncomfortable viewing. The audience were laughing while my teeth were gritted. It goes without saying that Imelda Staunton gives yet another tour de force performance but it's a shame this is such an unsympathetic vehicle for such a star turn. I left at the first break because I was finding the whole experience too much of a downer to stay on!
The acting was fabulous but it was certainly not enjoyable and we left after an hour. Martha (Imelda) relationship with her husband (Conleth) was uncomfortable to watch. Her belittling and bullying, over and over, made me want to jump on stage and stand up for the poor guy. Unless you have marriage problems and want to see how much worse your relationship could be, I'd save your money