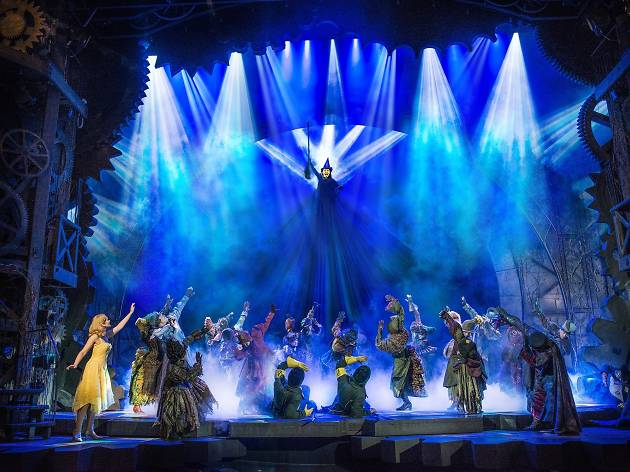 The musical witches of this 'Wizard of Oz' prequel are still casting a spell over the West End
The film world continues its love affair with werewolves, vampires and all things 'Twilight'. But theatre types have always known witches are where it's at. After its 2006 opening at Apollo Victoria, Oz prequel 'Wicked' continues to fill this massive theatre with an international crowd of voracious consumers (glass of champagne and a choccy for £16 anyone?). But this stylish and bombastic musical still delivers, sailing over its patchy score thanks to a gravity-defying performance from its current leading lady Rachel Tucker, as the intense green-skinned undergrad who goes on to become the Wicked Witch of the West.
'Wicked' is a spectacle that rises or falls around its central performance. In the midst of a gigantic production full of bangs, bells and whistles Tucker, with her small frame and searing vocal ability, simply flies off with the show.
She's closely followed by Gina Beck, who plays good girl, Glinda. Glinda and Elphaba's relationship forms the heart of this story and, as the Good Witch, Beck is a consummate clown, playing up the silliness of her character at every turn. But she can raise a tear, too, and her final duet with Tucker, 'For Good', is genuinely heart-rending.
The Tim Burton-inspired ensemble oscillate between the hypnotic and grotesque and a sweet but thin voiced Matt Willis charms as the rather superfluous Prince. As in classical ballet, this is all about the women and, even by previous lead Idina Menzel's standards, they are in soaring form here.
This review is from 2015. The current cast of 'Wicked' is Alice Fearn (Elphaba), Sophie Evans (Glinda), Bradley Jaden (Fiyero), Melanie La Barrie (Madame Morrible), Andy Hockley (The Wizard), Martin Ball (Doctor Dillamond), Sarah McNicholas (Nessarose), Jack Lansbury (Boq), Laura Pick (Standby for Elphaba) and Carina Gillespie(Standby for Glinda).
Check offical website for full cast details.
How to get cheap tickets: a limited number of front row stalls day seats for night's performance will go on sale at the box office every morning from 10.30am, priced £29.50 each. In person only.
Venue name:
Apollo Victoria
Contact:
Address:
17
Wilton Road
Westminster
London
SW1V 1LG

Opening hours:
Check website for show times
Transport:
Rail/Tube: Victoria
Price:
£19.50-£175. Runs 2hr 45min
Event website:
http://www.wickedthemusical.co.uk
Average User Rating
4.2 / 5
Rating Breakdown
5 star:

68

4 star:

36

3 star:

11

2 star:

9

1 star:

4
We went to last Saturday night's show. The theatre is directly opposite Victoria tube station so easy to get to and find. We got to the theatre at 7.15pm which allowed plenty of time.
I really enjoyed this fun show - Emma Hatton is a great Elphaba, with an amazing voice! Best moment for me was the 'Defying Gravity' number just before the interval. I did sometimes struggle hearing the words in some songs but the story itself was easy to keep up with and there were many good references to the Wizard of Oz film! The cast was great and the costumes were stunning!
I didn't leave this show feeling speechless as I did when I went to see the Lion King but I did thoroughly enjoy it and would recommend it!.
Wicked is simply magical. If you love the Wizard of Oz, fairytales and music. This is the west end show for you. The singing is beautiful. The show is funny and tells the story of two unlikely friends! Located in Victoria which is very easy to get to. There are restaurants nearby. I would definitely recommend the show.
I saw the show from cheap seat on the far side of the stalls. The one downside was the loud speakers right in front of the seat (I had to put on some headphones to block some of the sound). However, the show was amazing!
Wicked was a great show with interesting storyline and moral. The show had a happier ending than the book, which I actually really enjoyed.
The obvious moral is not to judge someone by their appearance (both the Wicked Witch and the prince turn out to be more than their appearances might imply). The show also hints that people shouldn't blindly trust in authority figures -- the wicked witch originally believes too much in her headmistress and Oz. Finally, I love how the story touches on character development and why it's worth befriending even the most unlikable people. No one is completely evil, just as no one is wholly good.
In saw this on Valentines day with my girlfriend. Our experience was great! apart from the seats we chose. Which weren't that good in the middle to the side right. The story was great and we enjoyed the show. Only problem was the seats. My vision failed me. they were the cheaper seats. We got pins afterwards.

Had the opportunity to watch this show Friday 9th Feb 2018 Evening Show - it was brilliant. I first saw the show in 2010 I think and was wow'd back then, but I found myself spirited away in this magical story again with the gift of both Glinda & Elphaba singing there hearts out which was spot on and full of emotion complimenting each other.
I have to say I lost myself in Elphaba's (Aimée Fisher) performance reducing me to tears a couple of times and been blown away especially listening to the Gravity......
The special effects, lighting, sound and scenery were magical and the costumes were so beautiful especially the emeral city costumes. I particularly loved the wizard special effects/scenery which was larger than life.
The seat's I had (in the stalls) were perfect and brilliant visually and good audio. Considering this was a late booking - the box office were really
helpful.
Before going home I waited near the stage door for a time and observed Aimée Fisher spend time with a number of 'fans' who had patiently waited especially for her and were obviously not disappointed like myself. She clearly made one young girls day by signing the programme and talking the time to both to talk to her and answer questions. Aimée Fisher (Elphaba) was so humble. What a brilliant night and I can't wait to go again taking my youngest daughter to see this fantastic show.
We found this show very disappointing and really not worth the money. The sound quality was poor, so one could not hear the words clearly. It was very frustrating and We would certainly not recommend or go back to this theatre.
Slow and meandering first half. Didn't stick around after the interval.
Lacked pizazz or any sort of wickedness! Wasn't what I was expecting.
I have seen this show 4 times and it never gets old. The costumes are amazing, like the set, and the cast + ensemble is phenomenal!
A pretty good production with a very convincing Elphaba, I definitely wouldn't say I had the best seats in the building, but even from my obscure position in the audience, I still could enjoy the stunning voices of most of the cast (particularly Emma Hatton who played Elphaba). I even cried when she sang 'Defying Gravity' - so i think this one is a winner!
This is official my first 5 start review ever (I pretty sure...).
Amazing musical, beautify story and stunning voices, I was absolutely speechless.
I'm fortunate to have seen many of the musical in London and Wicked is now my favorite.
Please go and see it and in the end join the rest of the audience in a standing ovation because I'm sure it will happen. :)
I'm not the biggest fan of musicals, but given what I have heard about it, (mostly very positive), I decided to give it a go.
The theatre is small but you do get a good view of the stage. I was up in the gods, and other than the acoustics being a little load at times, I was happy with the seat. The story is a little on the thin side and a tad cliche. But, the actors and staging was decent.
For a non musical fan, there are plenty of laughs to enjoy and it is worth a trip. Plenty of good deals on at the moment too.
Savannah has broken her leg so is out for a bit.
It was a great show and the music was spellbinding. The leading actresses had exceptional voices. A great night out!