1/5
© Steve Tanner
Showgirl Nora (Melissa James)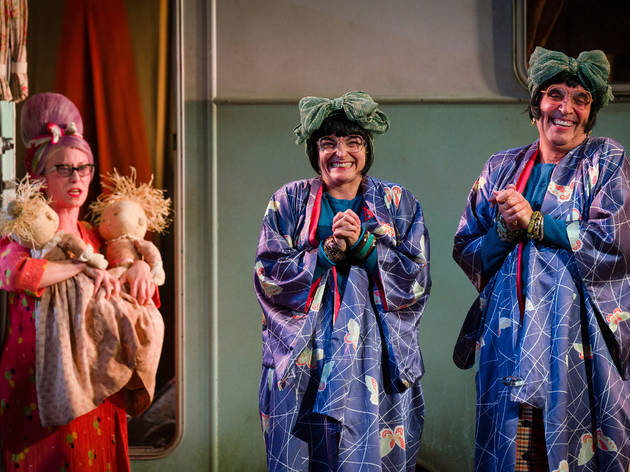 2/5
© Steve Tanner
Grandma Chance (Katy Owen), Nora (Etta Murfitt) and Dora (Gareth Snook)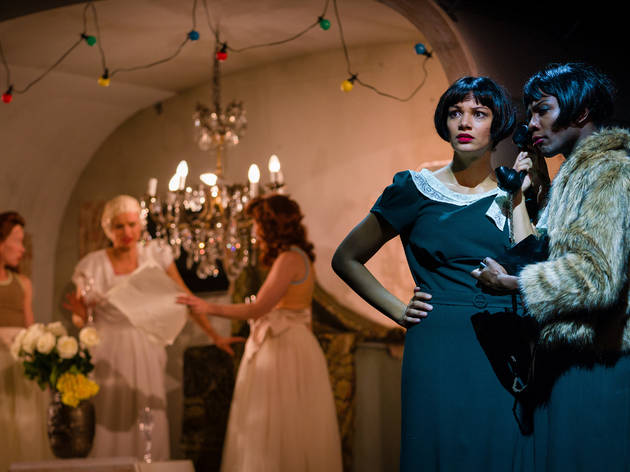 3/5
© Steve Tanner
Showgirl Dora (Melissa James) and Showgirl Nora (Omari Douglas)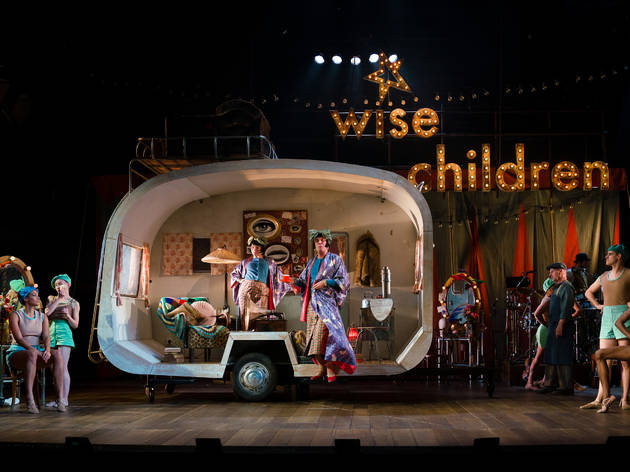 4/5
© Steve Tanner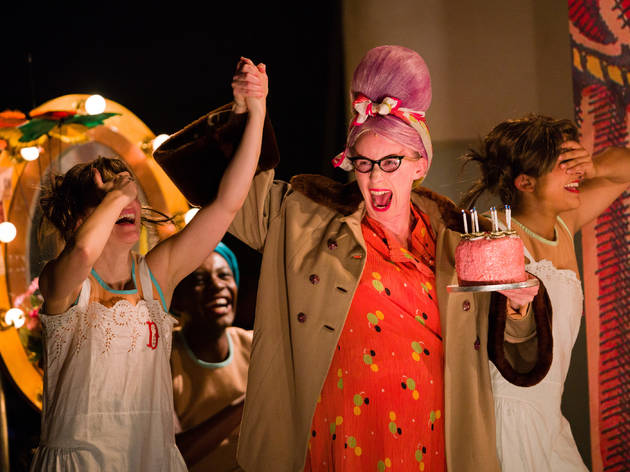 5/5
© Steve Tanner
Young Dora (Bettrys Jones), Grandma Chance (Katy Owen) and Young Nora (Mirabelle Gremaud)
Time Out says
Emma Rice bounces back with this gale-force take on Angela Carter's final novel
Emma Rice's first new show since being ousted from the Globe is not a dramatic departure. And why should it be?
'Wise Children' is the second Angela Carter novel she's adapted (following 'Nights at the Circus', with her old company Kneehigh). The cast and creatives are dotted with familiar names, notably Kneehigh founder Mike Shepherd. And the Rice style – a sort of wild, knowing, joyous descendant of vaudeville – is very much in evidence.
She is an auteur, and it's great to be back on Planet Rice as we're introduced to gleefully fourth wall-breaking septuagenarians Dora and Nora Chance, who proceed to offer a potted history of their extremely complicated family.
Part of what makes 'Wise Children' (the book) a good fit for the stage is that there's so much of it. 'Wise Children' (the play) is a gleefully breakneck night of storytelling that relishes in the many lurid details of the extremely complex story of intertwined Chance and Hazard clans. Bits have been cut, but the show revels in the epicness of the tale. LOADS of stuff happens, at a great giddy clip, as we journey from twin brothers Melchior and Peregrine Hazard's fraught conception in the late Victorian era, on through the twentieth century and up until 1989 and Melchior's hundredth birthday.
Full of bonking and bawdy and wilful staginess, Rice's adaptation careens forwards on sheer brio, with the Chances played by one set of puppets and three pairs of actors – most notably, at their dancing peak, by Melissa James and Omari Douglas – whose genders and ethnicities switch at each turn.
There is an absolutely sensational turn from another Rice regular, Katy Owen, as the foul-mouthed, nudity-happy Grandma Chance, who raises the girls after their father, Melchior, abandons them. But her snarling remove from the entertainment world is the exception here, not the rule. Carter and Rice portray theatre as a feverish, thrilling disease of the blood – a pathological need for the stage animates these people's bodies and desires, even as it subtly corrodes their souls.
The air of crazed exuberance is finally ditched in the climactic, Lynchian, party scene, in which the cost of this wild life is finally rammed home with a force that (as I recall) goes beyond the book. Carter contrives a happy ending – but it's deliberately double-edged, a suggestion that this will never end. Which is glorious, in its way, but in the Old Vic of all places it's impossible to forget the darkness that lurks beneath the smell of the greasepaint and the roar of the crowd.
It's a bit galling to think what a good fit the wilfully Shakespearean plot of 'Wise Children' would have been at Rice's old address, where it was originally intended to run. But it's here, and it is good, and maybe this is the last time we need to mention the Globe in connection with Rice. 'What a joy it is to dance and sing,' say Carter's characters, repeatedly, and for all the bumps along the way, maybe that's all there is to it.
Details
Average User Rating
3.6 / 5
Rating Breakdown
5 star:

1

4 star:

11

3 star:

6

2 star:

1

1 star:

0
Emma Rice's "Wise Children" is an intriguing and thoroughly creative piece of theatre. However, for me, the cabaret style created an emotional distance that left me cold.

In this adaptation of Angela Carter's final book, twin sisters and ex-showgirls, Nora and Dora take centre stage once more to share the secrets of their tumultuous family history. But in this cabaret show, full of dancing, music, stand-up comedy and mime, is a tragic tale of abandonment and abuse.
The ensemble give exuberant and playful performances, with Gareth Snook and Omari Douglas being personal highlights, in a superb use of gender and ethnicity blind casting. The production design is equally full of whimsy and invention, and the use of song is often very poignant.


For some reason the intentional contrast that develops between the razzle dazzle of the show and its darker themes clashed too harshly for me. As I often find when viewing Brecht's work, I felt uncomfortably detached in moments of real tragedy.

I have much admiration for Emma Rice and would encourage people to see this production as it is a feast for the eyes and ears. I'm just disappointed that it didn't resonate with me as much as it has with so many others.
I adore Emma Rice productions. She has a uniquely whimsical take on the world & her shows have a nostalgia & charm yet still are satirical & fresh. This has many of Ms Rice's hallmarks from quirky musical interludes, strong ensemble & a cheeky knowing humour. The set is fabulous, cast uniformly perfect & the nudity & sex scenes were hilarious. It's not all jollity though- there are some dark themes & some of the final scenes were shocking. This is an unusual & quirky evenings entertainment which I thoroughly enjoyed
As soon as you enter the theatre you notice the shining star overlooking the set. 'Wise Children' is spelled out in bright lights and, in that moment, you know you're in for a show.
The first song kicks off and from then on the energy is relentless. The ensemble carries you through the memories of sisters Nora and Dora, from their birth in the 1910s, to their 75th birthday in the 1980s.
With some clever use of set and staging, lots of sing-along moments and panto-esque humour, expect to be highly entertained through this wacky tale of an unusual South London family.
Another great Emma Rice production! This play has great actors, some amazing singers and dancers. The story can feel a little confusing at times but just seat back and enjoy and it all makes sense in the end. Nora and Dora tell you the story of their lives including the highs and the lows of growing up on the 'wrong side of the tracks', which is very interesting and tacticals a number of difficult issues / situations.
This adaptation of Wise Children was the telling of what is essentially quite a tragic story, in a funny and compelling manner. The humour is a bit slapstick and some of the jokes are a bit carry-on for my taste. But despite this I was very invested in the characters by the end of the first half, each has their own distinct personality and are played very well. It was quite refreshing to see roles treated with such a gender fluidity, it added interest to the the same roles played by very different actors.
Overall I would recommend and I'm excited too see what Rice produces next...