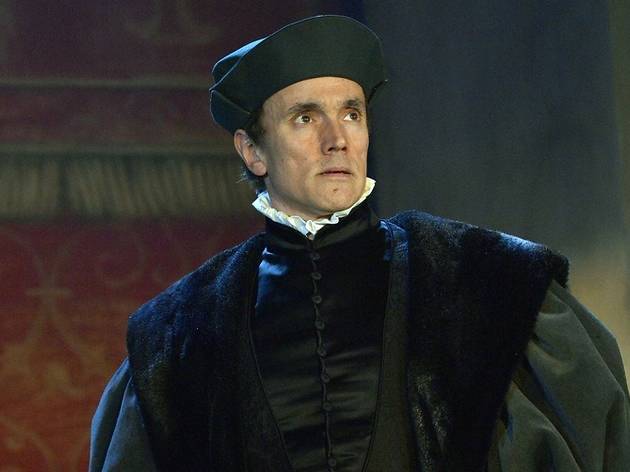 1/8
© Keith Pattison
'Bring Up the Bodies'
2/8
© Keith Pattison
'Bring Up the Bodies'
3/8
© Keith Pattison
'Wolf Hall'
4/8
© Keith Pattison
'Wolf Hall'
5/8
© Keith Pattison
'Wolf Hall'
6/8
© Keith Pattison
'Wolf Hall'
7/8
© Keith Pattison
'Wolf Hall'
8/8
© Keith Pattison
'Wolf Hall'
This is a combined review of 'Wolf Hall' and 'Bring Up the Bodies'
Back in Tudor times, the good yeomen of England would probably have burned writer Mike Poulton as a witch for pulling off the superhuman feat of turning Hilary Mantel's titanic historical fiction novels 'Wolf Hall' and 'Bring Up the Bodies' into a pair of manageable stage plays. In our more enlightened era, I just hope he gets all the credit he deserves for the RSC's triumphant brace of plays set in the fractious court of Henry VIII.

Each book is well over 600 pages long, and the sprawling 'Wolf Hall' has a 'main' plot in only the loosest sense. Yet with director Jeremy Herrin's help, Poulton makes Mantel's mass of subplots and secondary characters sing. The result is a brooding but snappy dance of microscenes and short vignettes in which Poulton unerringly pulls out the wittiest and most important bits of each novel, delicately cutting or consolidating everything else.

Even so, there's too much story to allow for such conventions as scenery changes – Christopher Oram's fixed set is a vast concrete-and-steel box with a huge cross at the back, an imposingly impressionist rendering of Henry's troubled kingdom.

Omnipresent but never flashy is Ben Miles as Machiavellian politician Thomas Cromwell. It is a stupendous, steely turn that holds both plays together like a scaffold, but it's also disarmingly down-to-earth. Where in Mantel's writing there's a temptation to see Cromwell as infallible in his rise from low birth to Henry's most powerful servant, Miles makes him more human and more intriguing. Darkly handsome but a mass of nervous tics – constantly scanning the room, smirkingly turning away from the person he's speaking to – Miles's Cromwell is a gambler, whose initial overtures to Henry are born not of confidence but nothing-to-lose desperation.

In the books, Cromwell's motives can seem inscrutable, but with the story condensed into six hours, it's richly rewarding to watch his passions unfurl and finally combust at the climax of 'Bring Up the Bodies'.

Miles is the looming constant, but he allows others into the foreground, notably the excellent Nathaniel Parker as terrifying manchild Henry, Lydia Leonard's tantalisingly ambiguous Anne Boleyn and Leah Brotherhead's savant-like Jane Seymour.

The two plays do stand alone – indeed, 'Bring Up the Bodies' probably works a tad better thanks to a more digestible plot – but the build and momentum is very much that of one lengthy show. If you have a passing interest, do yourself a favour: book the day off and see both together, so you can journey all the way into this heart of English darkness.
Average User Rating
3.7 / 5
Rating Breakdown
5 star:

1

4 star:

1

3 star:

0

2 star:

1

1 star:

0
Hilary Mantel deploys about half a million words to bring her huge cast of characters to life and portray all the political intrigue and social fabric of Tudor England.That's a lot to shoehorn into five hours or so of theatre. It starts questionably, with a superfluous song & dance routine that sounds more Europop than Tudor galliard.It adds nothing, unlike Cromwell's brutal beating at his father's hans (and boots) which opens Wolf Hall and explains so much about his character. But such omissions are a necessary aspect of the transformation from page to stage, which Director Jeremy Herrin manages well, with evident and essential input from author Hilary Mantel.
Ben Miles' scheming yet sympathetic Cromwell stops at nothing – contradictions, bullying, legal chicanery and the invention of a new religion – to fix the seemingly impossible for Nathaniel Parker's self-delusionary Henry VIII.Lucy Briers impresses as Katherine of Aragon: cruelly wronged, occasionally acerbic but always dignified.
The single stand-out image of both productions?Back of the sparse set that neatly avoids distracting us from the real action…A giant Christ-less crucifix.Catholicism marginalised; superseded by Anglicanism: the gaunt cross of St George.The single most momentous event in English history encapsulated in two crossed lines.
Absolutely fabulous! So, you know the story, but Mantel's books are unique, telling it from the Master Secretary's point of view. Her use of 'he' throughout is at first confusing as the male dominance in general is so apparent; once one begins to distinguish the primary 'he' as Cromwell, the story becomes deeply seated in his thoughts, words, and actions. The play is tremendously successful instilling this distinction. With so many dominant characters --- Henry, Wolsey, More, Katherine, Anne --- Cromwell has always been in the shadows, but here, he maintains command, and the others orbit this dark sun. Brilliant cast. Brilliant set. Brilliant.

I was encouraged to see these two plays by my friends and we went together. They had the advantage of having read the books which they had enjoyed very much. Without this benefit I had to wait until the end to discover that I was seeing a piece of history through the eyes of Cromwell which would definitely have made more sense of the first of these two plays.
I have rarely been so bored in a theatrical production and so bewildered as to why critics are raving about it. I have also never seen so many people get up and leave after the first half. Two of my friends left during Wolf Hall, the other two didn't bother to come back for Bring up the bodies. We noticed that there were several people outside trying to cut their losses by selling off their tickets.
I now understand what the plays are about - obviously I am familiar with the history - however I and my friends are completely mystified as to why this production has received such good reviews as we would unilaterally rank it as he worst theatrical experience we have had in a long time.
The actors did a fine job but the experience was bewildering, tedious and very very long!!!
By the way I am trying to enter a one star rating but the system will only allow a minimum of two.