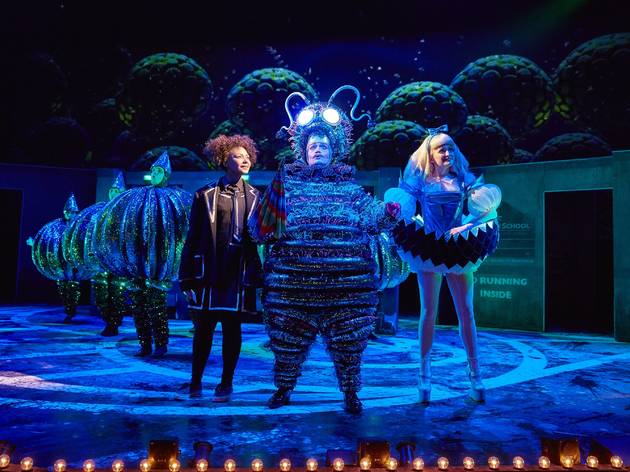 1/18
© Brinkhoff/Moegenburg
Lois Chimimba (Aly), Hal Fowler (Caterpillar) and Carly Bawden (Alice)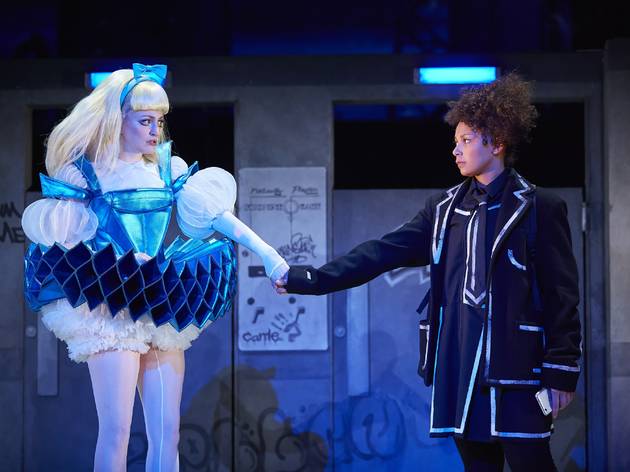 2/18
© Brinkhoff/Moegenburg
Carly Bawden (Alice) and Lois Chimimba (Aly)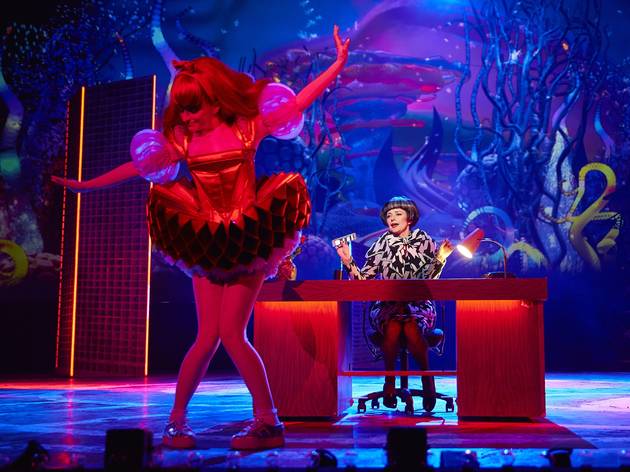 3/18
© Brinkhoff/Moegenburg
Anna Francolini (Ms Manxome)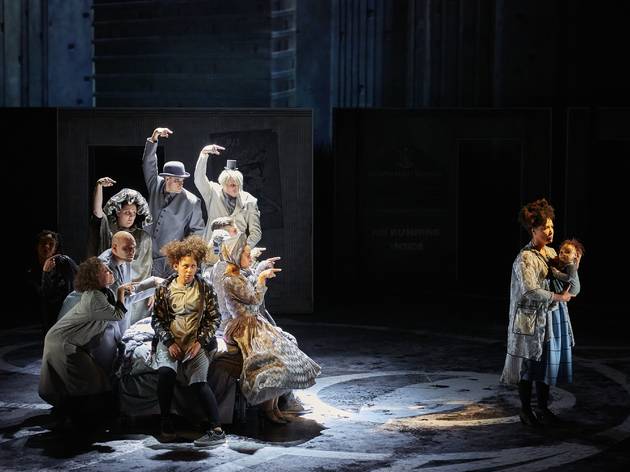 4/18
© Brinkhoff/Moegenburg
Lois Chimimba (Aly) and Golda Rosheuvel (Bianca)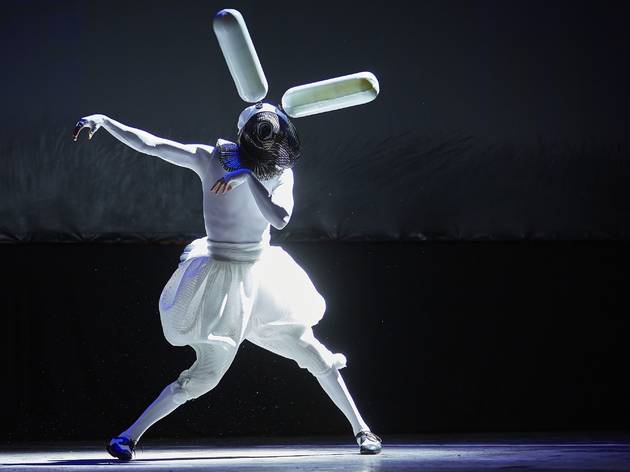 5/18
© Brinkhoff/Moegenburg
Joshua Lacey (White Rabbit)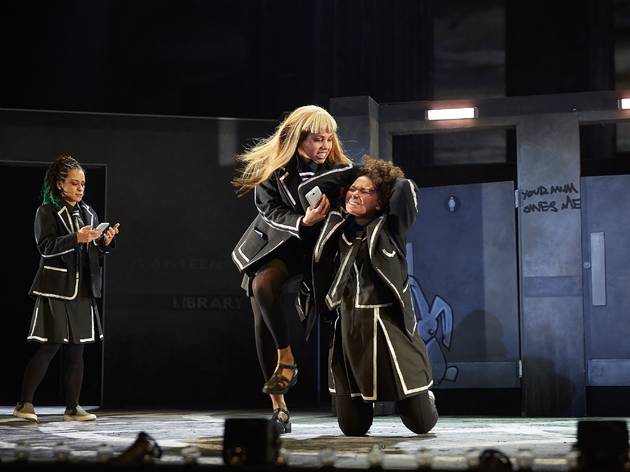 6/18
© Brinkhoff/Moegenburg
Stephanie Rojas (Mary Ann), Witney White (Dinah) and Lois Chimimba (Aly)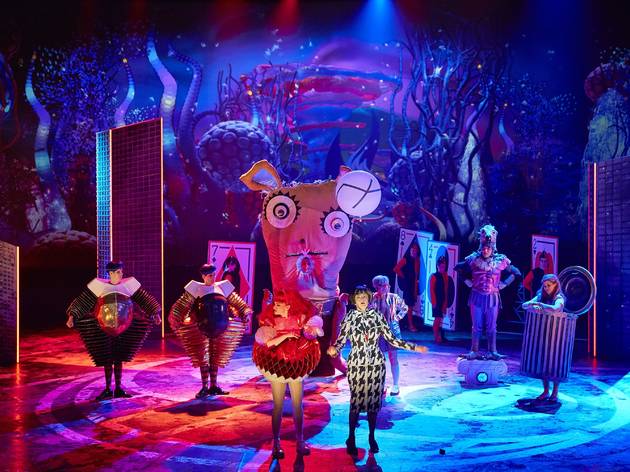 7/18
© Brinkhoff/Moegenburg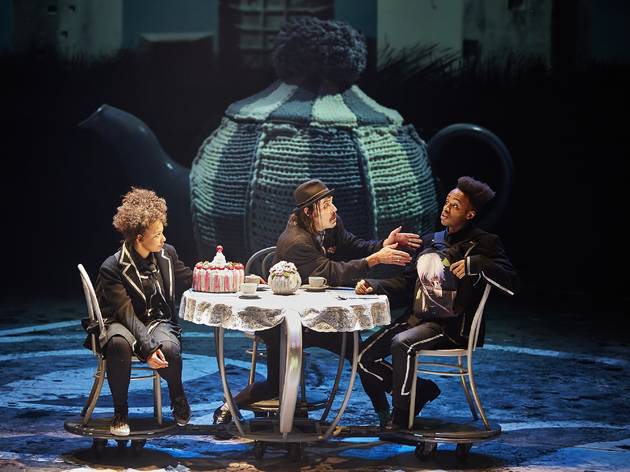 8/18
© Brinkhoff/Moegenburg
Lois Chimimba (Aly), Paul Hilton (Matt) and Enyi Okoronkwo (Luke)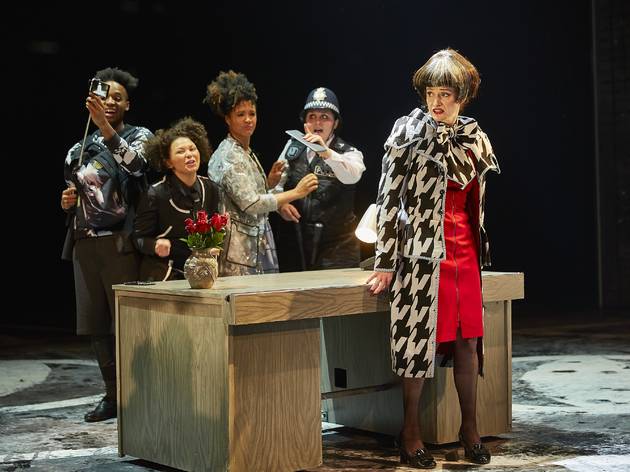 9/18
© Brinkhoff/Moegenburg
Enyi Okoronkwo (Luke), Lois Chimimba (Aly), Golda Rosheuvel (Bianca), Nadine Cox (WPC Rook) and Anna Francolini (Ms Manxome)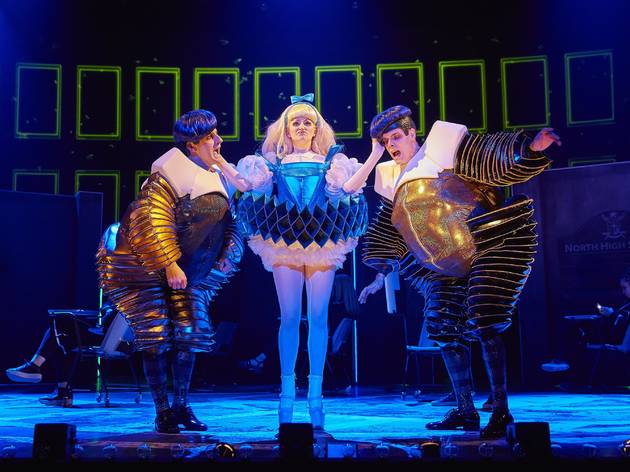 10/18
© Brinkhoff/Moegenburg
Leon Cooke (Dee), Carly Bawden (Alice) and Sam Archer (Dum)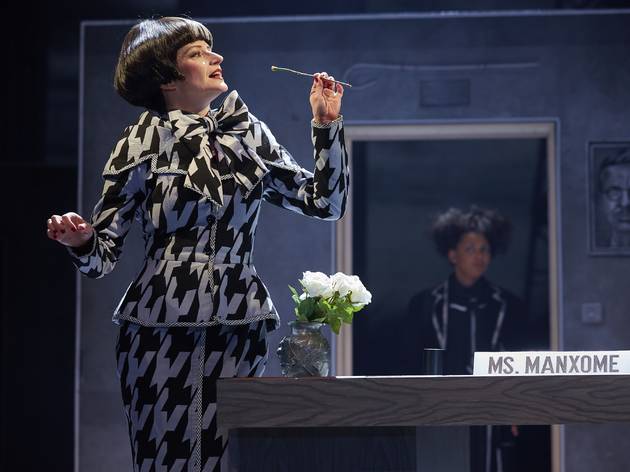 11/18
© Brinkhoff/Moegenburg
Anna Francolini (Ms Manxome)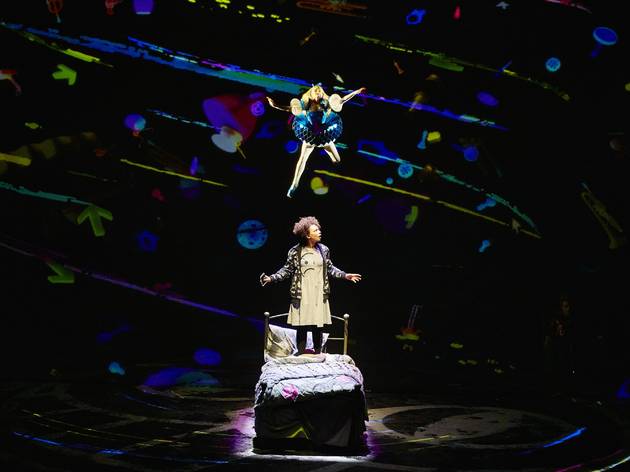 12/18
© Brinkhoff/Moegenburg
Carly Bawden (Alice) and Lois Chimimba(Aly)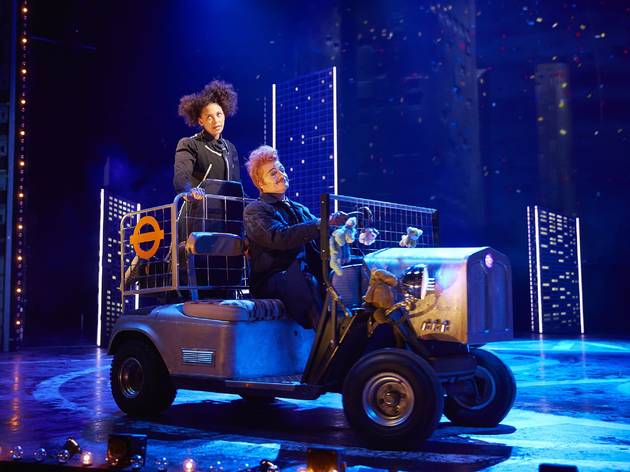 13/18
© Brinkhoff/Moegenburg
Lois Chimimba (Aly) and Hal Fowler (Cheshire Cat)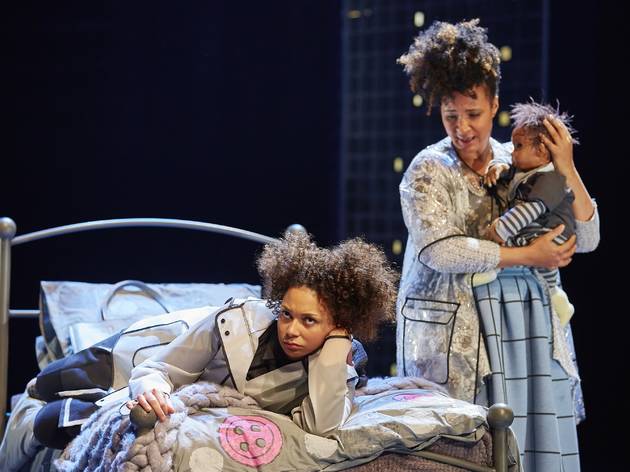 14/18
© Brinkhoff/Moegenburg
Lois Chimimba (Aly) and Golda Rosheuvel (Bianca)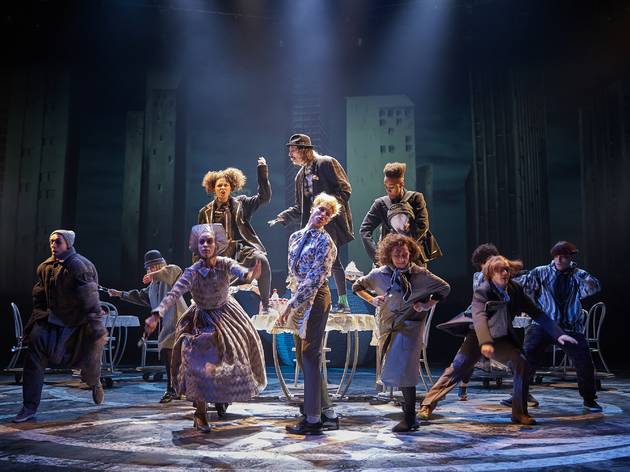 15/18
© Brinkhoff/Moegenburg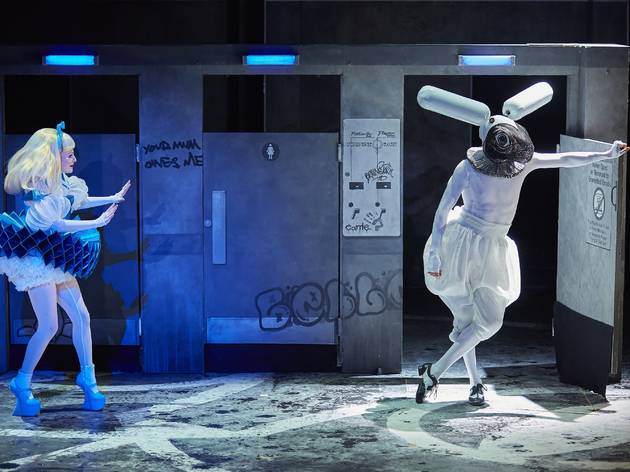 16/18
© Brinkhoff/Moegenburg
Carly Bawden (Alice) and Joshua Lacey (White Rabbit)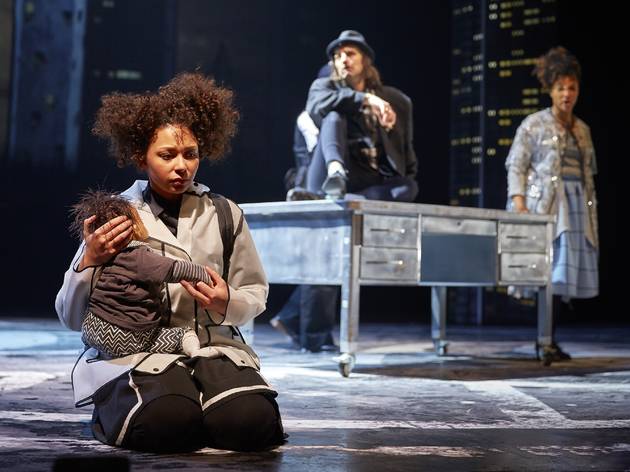 17/18
© Brinkhoff/Moegenburg
Lois Chimimba (Aly), Paul Hilton (Matt) and Golda Rosheuvel (Bianca)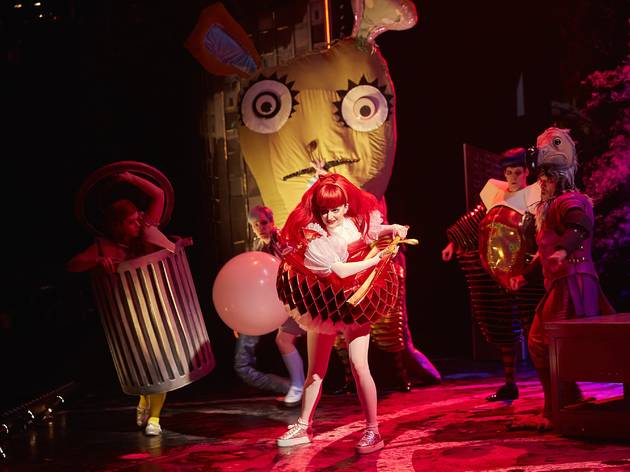 18/18
© Brinkhoff/Moegenburg
Cydney Uffindell-Phillips (Mock Turtle), Daisy Maywood (Humpty), Carly Bawden (Alice), Sam Archer (Dum) and Ivan de Freitas (Dodo)
Time Out says
Damon Albarn's Alice in Wonderland musical has somehow got worse since premiering this summer
Oh dear. Following a mixed reception for their musical rewrite of 'Alice's Adventures in Wonderland' at this summer's Manchester International Festival, Damon Albarn, Moira Buffini and Rufus Norris seem to have drunk from a potion marked 'worse'.

If the original problem with 'wonder.land' was that it lumbered clumsily between two settings that weren't very integrated – a gothy 'real world' and a luridly excessive online realm (the titular wonder.land) – then their solution has created an even bigger problem. Basically the two worlds are now shown concurrently, which does make everything more integrated, but also means it's impossible to work out what the fuck is going on. At one late stage I counted five different plot lines set across two different world unfolding on stage at the same time. It's difficult to feel for Lois Chimimba's down-at-heel schoolgirl heroine Aly – who finds comfort in the virtual realism – when at any given time she might be vying for attention with a man on a hoverboard, or a troupe of dancing zombies, or a giant mechanised teapot, or all three.

Some actors do cut through the razzle dazzle, notably Anna Francolini, excellent as Aly's malevolent headteacher Miss Manxome (she probably benefits from the fact you're too distracted by everything else to pay attention to the fact that her only real crimes are confiscating Aly's iPhone and being a bit lonely).

But really they're on a hiding to nothing trying to compete with the overwhelming spectacle marshalled by director Norris and his creative team: minor denizens of wonder.land stalk the stage in lavish costumes the size of small bungalows; the air is heavy with eruptions of glitter; strange vehicles trundle on and off for brief, throwaway scenes. It's like one enormous, exhausting set piece. The right songs might have imposed order on it all, but it's slim pickings here: Blur and Gorillaz leader Albarn has written some of the greatest tunes of the last 30 years, but despite a couple of keepers, the deal is substantially wordy, bucolic, piano-y numbers (with lyrics by Buffini) that desperately try and drive on the garbled narrative when something simpler and catchier might have made all the difference.

Norris, Albarn and Buffini are all great talents, and having seen both incarnations, it's clear they've really toiled over 'wonder.land' since Manchester. But it just hasn't worked. With four months left to run, I can see that this show could still be salvaged, but I think for the sake of its creators' sanity it might be time to back away from the rabbit hole.
Interview: Damon Albarn and Rufus Norris on the making of 'wonder.land'
Details
Best selling Time Out Offers