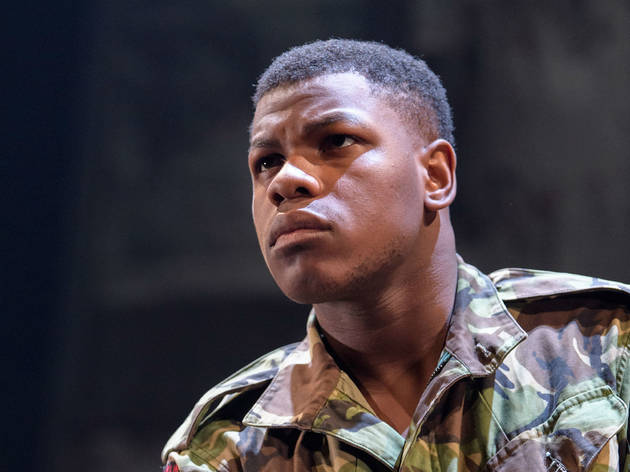 1/7
© Manuel Harlan
John Boyega as Woyzeck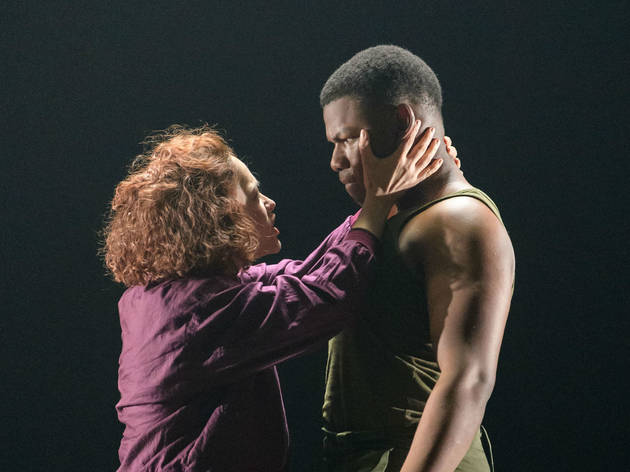 2/7
© Manuel Harlan
John Boyega as Woyzeck Sarah Greene as Marie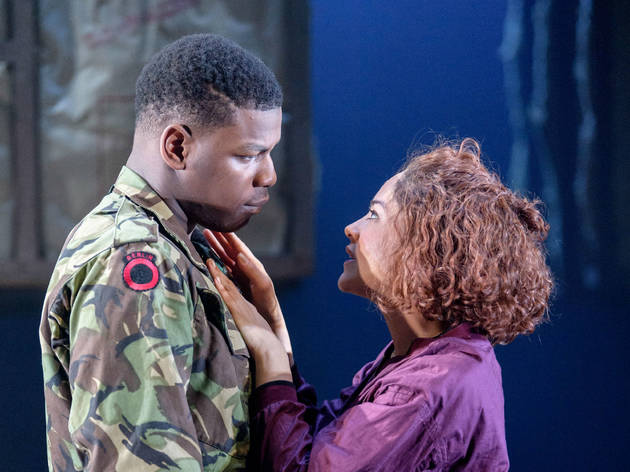 3/7
© Manuel Harlan
John Boyega as Woyzeck Sarah Greene as Marie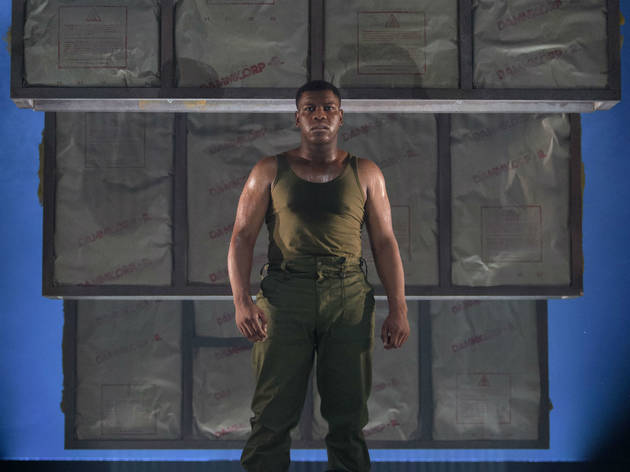 4/7
© Manuel Harlan
John Boyega as Woyzeck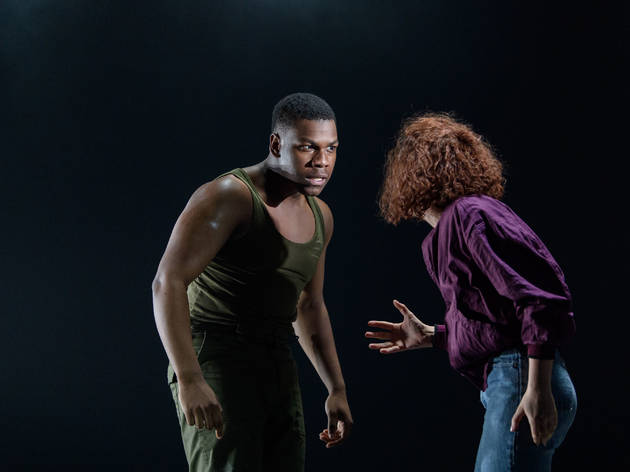 5/7
© Manuel Harlan
John Boyega as Woyzeck Sarah Greene as Marie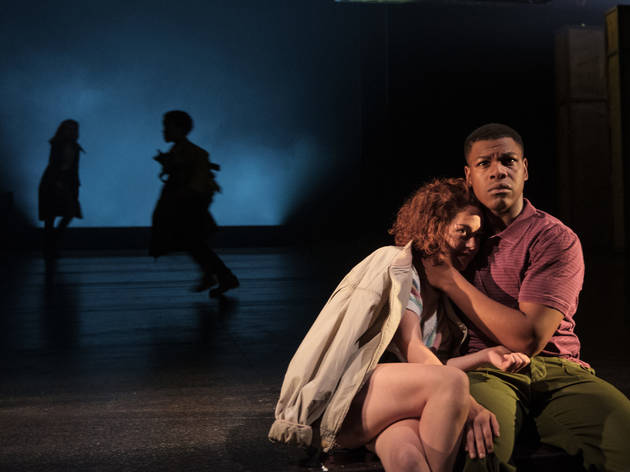 6/7
© Manuel Harlan
John Boyega as Woyzeck Sarah Greene as Marie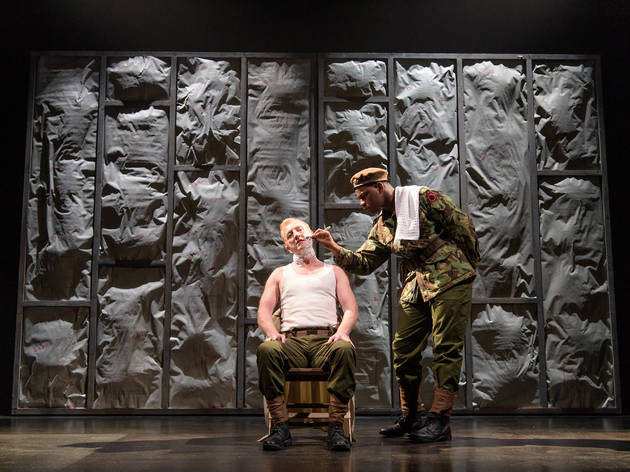 7/7
© Manuel Harlan
John Boyega as Woyzeck, Stefan Rhodri as the Captain
Oh mother! John Boyega returns to the stage in a very Freudian take on the timeless tragedy
It's been eight years since John Boyega last acted on a stage – Kilburn's Tricycle Theatre in 2009 – but it might as well be a lifetime. Back then he was a teen actor in an ensemble cast. Now, playing lovable ex-Stormtrooper Finn, he's one of the leads in the new 'Star Wars' trilogy, the first part of which – 'The Force Awakens' – was the third-highest grossing film in history.
The cliché, of course, is to show everyone you're a Serious Actor now and return to the stage with 'Hamlet': exactly what his TFA co-star Oscar Isaac is up to right now in New York. Boyega has saved that for another time, but he's opted for something almost as weighty in the form of Georg Büchner's 'Woyzeck', a mainstay of the European tragic canon that's a world away from the giddy larks of the space franchise.
But before it all turns into a weird Freudian nightmare in the second half, culturally savvy 'Harry Potter and the Cursed Child' scribe Jack Thorne's new version makes total sense for Boyega. Here, Frank Woyzeck is a British soldier posted in West Germany during the Cold War. The character's puppyish enthusiasm, cornball humour, underlying insecurity and intense love for his partner Marie (an enjoyably fiery Sarah Greene) are a perfect fit for Boyega's youthful brio. He shows he can act, if that was ever in doubt, but he also brings an ebullience and fun to a play not exactly famous for either of those things.
It gets pretty weird, though. Amongst other things, it's the politics of 'Woyzeck' that have kept it popular for 140 years: its depiction of the titular soldier's brutal destruction by a cold, class-bound system that recoils in horror from his poverty has chimed with all manner of European revolutions. It feels like a shoo-in for an update for the age of austerity, not least from Thorne, whose bigger hits have been supplemented by smart, socially conscious plays like 'Hope' and 'Junkyard'.
But instead he turns the whole thing into a delirious Freudian dream, a parable of toxic masculinity, in which Woyzeck – whose relationship with his prostitute mother is depicted in a series of increasingly naff flashbacks – grows ever more paranoid, struggling with childhood demons, adult insecurities, his almost obsessive love for Marie, and the side effects of a drug trial he enrols on to make ends meet. Some of it is very compelling: Boyega makes Woyzeck's descent into madness impressively gruelling stuff. Some of it doesn't hit the mark at all: a strand about Woyzeck's uncertainly as to his child's gender feels vague and thrown away; the bit where he suckles at his prostitute mother's teat feels 'a bit much'. There's nothing wrong with layering on the psychoanalytic symbolism if you have a point to make, but it all feels far too dense and fiddly.
It's still pretty entertaining, mind. Joe Murphy's production zips along, greatly enhanced by Tom Scutt's Giger-ish monolith set and Isobel Waller-Bridge's grandiose synth score, and the cast attack it with tremendous energy. If Boyega took the job to show us there's more to him than Finn then he's succeeded, at least until 'The Last Jedi' rolls around.
Average User Rating
3.6 / 5
Rating Breakdown
5 star:

2

4 star:

8

3 star:

4

2 star:

2

1 star:

0
This really is a case of style over substance. So much is thrown into the mix to try and titillate the audience - dynamic staging, a Hollywood star, simulated copulation, hallucination, pill popping, and even a freshly waxed penis played for shock value - yet none of this can hide the fact that it is a cliché-ridden script that might have been put together for an undergraduate treatise on mental health. And John Boyega's theatrical attempts to hammer home these clichés do not help - it is not really realistic to have someone suffering mental health issues writhe around on the floor foaming at the mouth - that only happens in the worst horror films!
And one huge complaint I have is that there are extended scenes in German spoken by Doctor Martens (Darrell D'Silva) which really should have been subtitled for the audience (the set is the real star of this production, so why not go the extra mile and show subtitles when needed?).

However, on the plus side, Nancy Carroll is excellent in the dual role of the Captain's sexually frustrated wife and Woyzeck's cruel mother, and Steffan Rhodri is convincing as the Captain who seems to enjoy Woyzeck's massages that bit too much.
I think that there is enough in Georg Büchner's original work for a convincing production to be put together - but this is most definitely not it.

What can I say?
If you want to see Woyzeck, Don't see this. It is not Woyzeck in anything other than Names and basic plot. the first half, filled with adolescent humour (only really working for the 'Forces Humour' soldier roles) Barely concealed comedic homoerotic Moments and a blasé attitude to any kind of pace. The scene before the interval has at least three points where it should have ended but didn't, Unless the aim was for an Artaudian style 'make the audience feel pain' it dragged on for far too long.
The second act comes around with surprising and raucous sex, nudity and a flirtatious 'Andres' (here Andrews). The acting ranges from believable and incredible to painful and unwatchable. Reactions are late, the fight scene leaves realism to be desired and at points I buried my face in my hands to avoid seeing the GCSE style of acting.
Now, John Boyega, The only thing other reviews seem to focus on, The title outside the theatre says 'JOHN BOYEGA in Woyzeck' this for me was instantly painful, and it felt as though we were supposed to accept the sometimes frightfully poor examples of acting due to his fame and renown. Some actors are for film and some are for Stage. Boyega did have moments of clarity where the character shone through as a cerebral, yet troubled individual struggling under the pressures of society and the ranking classes. But in the whole play this only happened about 50% of the time. Woyzecks descent into madness feels like a caricature of a Monty Python Insane character. In the moments of dark self pity you see a very real and believable person but when amped up it borders on comedic. All in all I was left wanting more from Boyega's performance.
Other characters were not without their faults but they were, I feel mainly bred from the writing. Marie (played by Sarah Greene) Is endearing and, at points, whiny with none of Buchners original fierceness or fire. Her piety is hammered home through 'Christainan aide-esqe' collecting and the running 'Joke' "The Pope's Been Shot'. Andres (Here Andrews played by Ben Batt) Is well needed comedic and professional relief, Dirty, Humorous, sexual and deeper than one would expect, Batt is the only person who I feel didn't fall into the trap of absurdity and over acting, a very stripped back (at one point literally) Performance.
The writing of the piece left much to be desired. Calling something Woyzeck then not using the actual script of Woyzeck even in reference, Is like announcing the sound of music, but showing Snow White. Yes there is a Woman and seven small people but they are vastly different. Instead of seeing Buchners original underlying currents of turmoil and discomfort, these elements do not come in until after the interval, leaving the first act almost as 'Character development'. The Woyzeck 'Origins story' is meaningless, Giving a name to underlying problems which Buchner undeniably left unknown for a reason. The writing panders to a younger audience dragging things out and over explaining circumstances.
The set, lighting and sound on the other hand were perfect, In tune with the action on stage and symbolic, yet still abstract enough to be Getting in touch with the german expressionistic roots of Woyzeck.
In conclusion, This version of Buchners Woyzeck is many things:
- Not Buchners Woyzeck
- Gritty
- Dark
- Unapologetic
- Powerful
and yet I just can't get behind it...
Seriously impressive stuff, particularly from John Boyega. Dark and sometimes gruelling but the whole thing never outstayed its welcome. Stunning set design. What a contrast to the joy flowing from the audience floating on clouds after Twelfth Night at the Globe, but having seen that fairyfloss of giddy delight, in some ways made this resonate even more. Love to see JB in something else. The guy has serious acting chops.
Marvellous and thought provoking. Beautifully staged at the glorious Old Vic, this is a powerful theatre experience. While the cast are all solid, the play's the thing here. Like The Goat, Woyzeck is not a welcoming or easy play but both are triumphs and stand easily as among the best theatre currently in London.