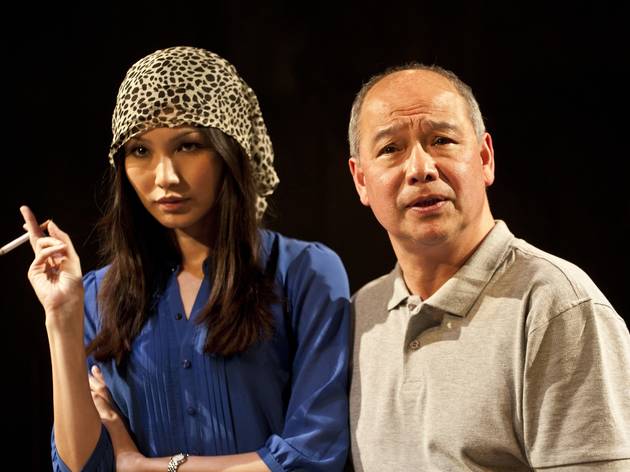 We've come a long way since Mickey Rooney's cod-Japanese turn in 'Breakfast At Tiffany's'… haven't we? Even today, British Asian actors remain woefully under-represented on our stages. Only last year, the RSC was forced to defend a largely Caucasian cast performing Chinese play 'The Orphan of Zhao'.
That event recalled the controversy over 'Miss Saigon's Broadway run, when 'yellowed-up' actor Jonathan Pryce drew huge protests. They were led by Asian-American playwright David Henry Hwang and this 2007 mockumentary play starts with that debacle.
Hwang becomes his own protagonist and he's not afraid to send himself up. In 1993, he writes a farce about cross-racial casting and – in an almighty faux pas – accidentally casts a white actor in an Asian role. Desperate to save face, he convinces the actor to stress his non-existent Siberian Jewish ancestry. The play bombs, but its lead, Marcus G Dahlman (connivingly renamed Marcus Ghee), becomes the biggest Asian-American star in the country. Oops.
'Yellow Face' is a thesis of a play, unafraid of complexities and contradictions, pepped up with a light dramatic fizz. It asks whether race is skin-deep, actable or even fakeable, and it does so with huge wit and brio. Hwang's self-mocking mea culpa is delicious and Kevin Shen plays him with fumbling aplomb.
Alex Sims directs with real whip – building momentum as the play moves into heavier territory – addressing the Yellow Peril banking witchhunt of the late-1990s, which saw Hwang's own father draw unwarranted FBI suspicion.
Most exciting of all, though, is Ben Starr, making his stage debut with a scorching performance – sleazy and sympathetic, earnest and egotistical – as Marcus Ghee. Remember the name: he'll go right to the very top.
By Matt Trueman
Average User Rating
4.7 / 5
Rating Breakdown
5 star:

2

4 star:

1

3 star:

0

2 star:

0

1 star:

0
YELLOW FACE is a surprisingly funny play, which makes you think about racial categorisation in new ways. No one's right, but there's some obvious wrongs out there, which Hwang addresses masterfully. The cast are all superb, including Kevin Shen. And the Park Theatre (newly refurbished) is my new favourite theatre! The idea of racial ambiguity is something that the UK needs to address better. Because of our history, 'Asian' here usually means South Asian. Yet East Asians have been in this country for generations, and form a huge portion of the population. Same for Southeast Asians, although more recent. Yet there is almost no obvious coalitions involving East Asians and South Asians (and certainly not with Southeast Asians) in London that I know of. Hwang, being American, comes out of a very different Asian immigrant community history than we in the UK. Yet attending his discussion at the Park before the play was enlightening. He stressed not 'Chinese American' identity, or 'East Asian' identity, but 'Asian American identity.' An articulate question from the audience, about US-style 'pan-Asian identity' prompted a fascinating response by Hwang. He stressed that we need to remember that the experiences of different Asian minorities in the US (and in this country) are more similar to each other than to the experiences of people in tehir homelands. He encouraged pan-Asian coalition-building. He encouraged us to understand that coalitions are more powerful than small groups. Last year's Orphan of Zhao contraversy with the RSC-- where almost no East Asians were cast in a famous Chinese play -- should emphasise this. South Asian arts companies -- which have much more prominence than East Asian ones -- while working in the background, were nowhere in the forefront. How much further would the issues have been pushed if there were an obvious coalition with South Asian and East Asian artists on this issue? We can gain a lot from embracing ethnic coalition work in the arts. I enjoyed YELLOW FACE, and all the dialogue it has encouraged.
A Fantastic play! I was sitting right next to the cast, who begin the play sitting in the audience- I felt like I was in the performance!! I laughed all the way htrough. The actors were fantastic, their ability to embody multiple characters one after another at some points was spectacular.This play is a must see!

For someone who doesn't go to the theatre much, I had a great evening! The story was hilarious and the actors were just perfect for the roles. Really nice theatre too and right next to Finsbury Park tube. Lovely bar with large variety of different beer and wine and nibbles. Great evening all in all.