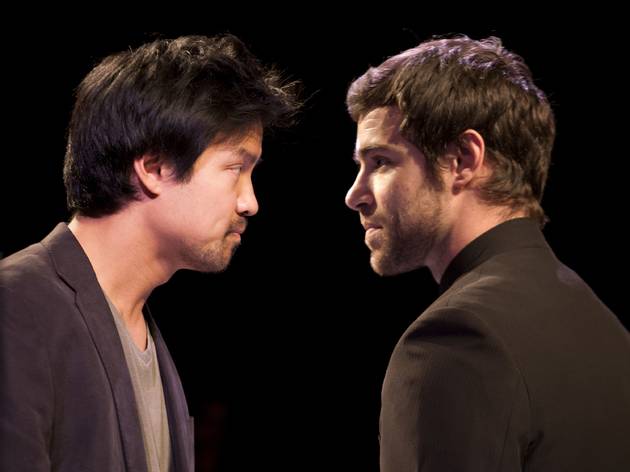 1/4
© Simon Annand
Kevin Shen and Ben Starr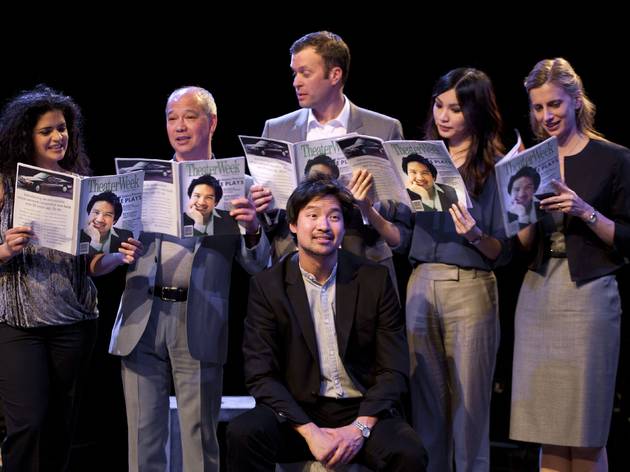 2/4
© Simon Annand
Davina Perera, David Yip, John Schwab, Kevin Shen, Gemma Chan and Christy Meyer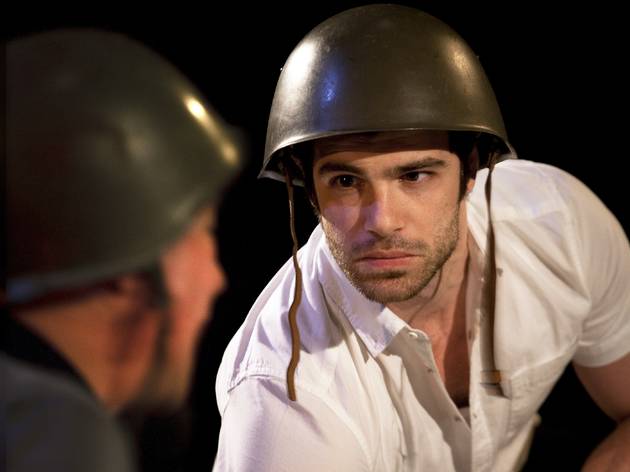 3/4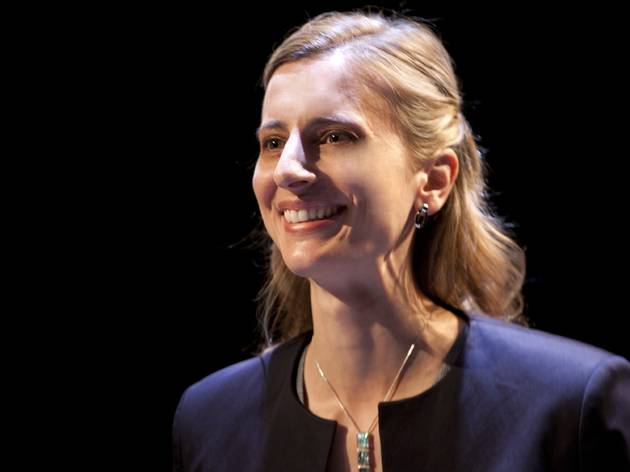 4/4
© Simon Annand
Christy Meyer
There's something truly magical about the timing of this National Theatre transfer of David Henry Hwang's mischievous comedy about race and identity politics in America.

For starters, it begins by telling the true story of how Asian-American 'M Butterfly' playwright Hwang (Kevin Shen) led the protests against the yellow-face casting of Jonathan Pryce in the Broadway production of 'Miss Saigon'. It is notable that the director of that production was Nicholas Hytner, who has amusingly programmed 'Yellow Face' to run at the NT in the exact month 'Saigon' returns to the West End.

More serendipitously, a play that askes a lot of very provocative questions about identity is actually running in a theatre which literally has no name – the NT's temporary venue had a lease on the name 'The Shed' until the end of April, but now that's expired, it is nameless.

With most of the myriad parts plays by a small ensemble cast who are themselves forever shifting identity, race and gender, 'Yellow Face' takes the 'Saigon' controversy as a starting point and then evolves into a delicious shaggy dog story, as a combination of desperation, stupidity and excessive political correctness leads Hwang to casting a white man (Ben Starr's Marcus G Dahlman) in the lead Asian role in his new play. Trying to cover up his tracks by claiming Dahlman is 'Siberian-Jewish', Hwang hilariously creates a monster after his protégé – redubbed Marcus Gee – goes on to become a pillar of the community and a much 'better' Asian than Hwang himself is.

The first half of Alex Sims's production is delightful, an effervescent shower of self-mocking silliness sprinkled with the odd thorny moral poser. Towards the end, Hwang gets more serious about white America's distrust of the Asian 'other' and it doesn't exactly work, mostly because the shift from ironic fiction to earnest fact isn't terribly well signposted.

Nonetheless, if the production's fringe roots are betrayed by the uneven tone, it's great fun and a terrific cast. Kevin Shen is excellent as the coddled, yuppyish Hwang, and veteran actor David Yip shines in a variety of roles, particularly Hwang's hysterically blunt father.