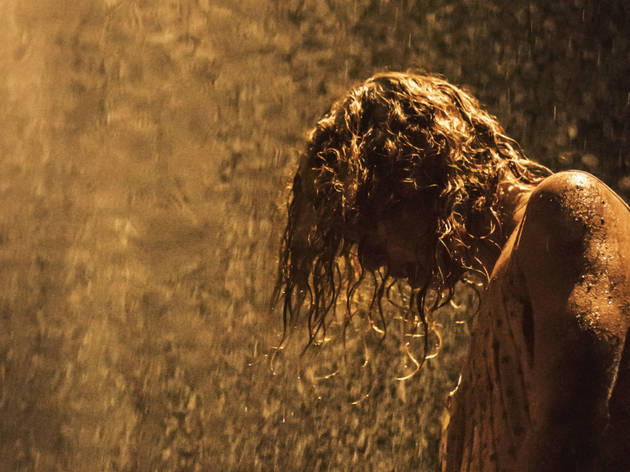 1/7
© Johan Persson
Billie Piper (Her)
2/7
© Johan Persson
Billie Piper (Her) 
3/7
© Johan Persson
Billie Piper (Her)
4/7
© Johan Persson
Billie Piper, Maureen Beattie and Thalissa Teixeria
5/7
© Johan Persson
Brendan Cowell (John) and Billie Piper (Her)
6/7
© Johan Persson
Brendan Cowell and Billie Piper
7/7
© Johan Persson
Brendan Cowell (John) 
Time Out says
Simon Stone's radical update of Lorca's play is astonishingly powerful
'Yerma' returns to the Young Vic in July 2017. This review is from the 2016 run. Tickets for the 2017 run go on sale Feb 1 at 10am
As swearwords fly and Billie Piper strides through a cream-carpeted loft, it's hard to believe we're watching Lorca's 1934 play 'Yerma', a story about a farmer's wife broken by her longing for a child. But then again, we're not, quite. This heartbreaking classic is almost unrecognisable in Australian auteur-director Simon Stone's hands – turned into a fiercely modern story that's electrified by Billie Piper's central role. He's razed Lorca's country village to the ground to build something stark and new where it used to stand, but it's still haunted by the ghost of the woman that lived there.
Women are no longer defined by the state of their wombs, or ostracised for their childlessness like the original Yerma was. But Stone has turned her into an entirely plausible twenty-first-century creation. She's a hard-drinking journalist who's settled down with her boyfriend John (a gently exasperating Brendan Cowell), in what they hope is a rapidly gentrifying corner of London.
Billie Piper squeezes every laugh from the opening's faintly groan-worthy social satire. She and her husband start out as champagne socialists, whose bid to start a family won't interfere with having a good time. There are cracks about pre-pregnancy yoga, Veuve Clicquot and avocado-on-toast. But as her desperation for a child grows, so does the play. It becomes huge, cavernous, an arena for Billie Piper to deliver a performance of career-defining horror.
Lizzie Clachan's design is a reminder that the Young Vic is a place where theatre magic happens: the actors are trapped in a soundproofed glass tank that transforms from luxurious apartment to garden to wild music festival. It's a strikingly effective visual metaphor for the way that the woman at its heart becomes an animal to be watched, with her thousands of blog readers poring over each fresh update on her ovaries. The actors' amplified voices fill the auditorium, emphasising every last, agonising word.
With credits like a stunning turn in 'The Effect' at the National Theatre to her name, Billie Piper's career has long since shaken off its cheesy beginnings as a teenager popstar-turned-Doctor Who companion. But her performance in 'Yerma' is something else. She's fearless, furious, wildly funny – then utterly destroyed, as she realises that neither yoga nor bravado can overcome the vulnerability of her own body.
Details
Rating Breakdown
5 star:

8

4 star:

0

3 star:

0

2 star:

0

1 star:

0
I saw this in 2016 & it was amazing- a must see theatrical event. Billie Piper is flawless as the leading lady. She's so engaging & charismatic making you really empathise & root for her character even though at times she's being completely selfish or cruel to her loved ones. The set is remarkable & creates an intense intimate environment as the play gradually builds to it's dramatic & devastating finale. There are laughs too along the way to break up the darker moments. Can't recommend highly enough- a thought provoking & mesmerising production.
Electrifying performance by Billie Piper as a young woman obsessed with having a child. Brilliant theatre.
Although I do not personally identify with the core theme of this play, there were so many related areas that drew me and indeed the audience into the play. Yerma is difficult to digest and as it has been modernised to present day, it is not far from being completely relatable. The main character played by Billie Piper yearns to have a child due to that whole biological ticking clock rubbish women have been drip fed from day 1. At first you so want her to conceive even though you feel uneasy about it because of her somewhat reluctant partner John, played by the brilliant Aussie actor Brendan Cowell. You start to get to know what Yerma is like through her interactions with her unmotherly mother, her sister who is accidentally pregnant and becomes the kind of mother you don't want! Then there's her assistant who encourages Yerma - a prolific blogger, to document her every thought no matter how controversial. An ex for whom they share a regret from the past but with opposing perspectives. As Yerma descends to "batsh!t crazy", it seems inconceivable that such yearning could become so destructive in all aspects of her life. It is hard to feel sorry for her, and personally I started to side with her now husband, John. It is harrowing to watch as the performances of the key characters are so raw and intense. If not for some light touches, humour and even moments of happiness, it would be draining and far too dark. When the lights dimmed for the last time, the cast and crew were rewarded with a standing ovation - although Billie was still visibly affected by her portrayal of Yerma. I would hate to have to go thru those emotions night after night though. A special mention to Young Vic and the crew for the amazing set changes and the wonderful director Simon Stone who provided a funny intro being night one of previews.