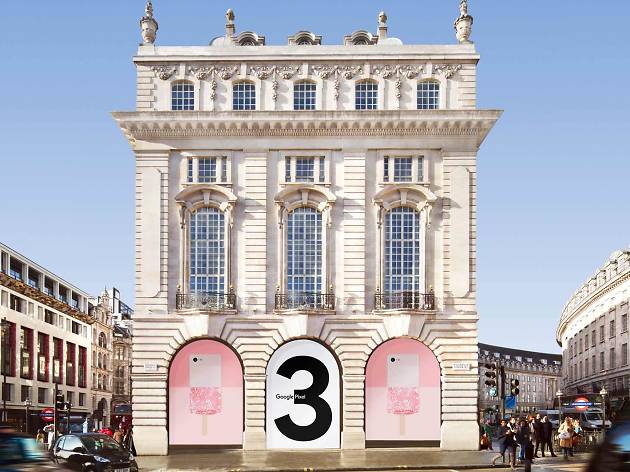 10 reasons we're excited about the Curiosity Rooms
Google Pixel 3 is launching a hub of discovery at 55 Regent Street this month. Here's everything you need to experience
London is a city full of things to discover. But as the biggest, boldest, weirdest and wildest stuff out there loudly demands our attention, we can sometimes overlook the simple everyday things that make this city so damn special. To mark the launch of the Pixel 3, the folks at Google think it's high time we opened our eyes to the beauty of the mundane. That's why they're opening the Curiosity Rooms (located a stone's throw from Piccadilly Circus), a three-floor hub of free events, workshops, talks, pop-ups, experiences and installations. After all, Google is a company built on curiosity – and their Google Pixel 3 smartphone is designed to ignite your own curiosity and rediscover the extraordinary in the everyday. Here are ten things we're looking forward to:
The Slumflower
1. Hear inspiring talks
Forget staying home reading the paper – instead, head to one of the Guardian Labs sessions where each weekend they'll be hosting impressive interviewees like gal-dem founder Liv Little, asking them to bring an everyday object that represents an extraordinary moment in their lives. Another highlight is sure to be a talk from Emma Gannon (of Ctrl Alt Delete podcast fame); plus a talk from award-winning Peckham writer Chidera Eggerue, AKA The Slumflower. Things are going to get deep.
View this post on Instagram
2. Peek into the world of glossy magazines
Top dogs from Condé Nast will be popping down Regent Street to give an exclusive insider insight into what it takes to create one of their iconic covers. Watch a panel discussion hosted by GQ editor and menswear aficionado Dylan Jones who'll talk about shooting this month's GQ front cover on the Google Pixel 3 phone. See the results for yourself at a GQ and WIRED photography exhibition, or swing by the Vogue photo booth to be captured on a Vogue set of your own.
PAQ
3. Get front-row seats for a DIY fashion first
Cult streetwear YouTube crew PAQ are four stylish mates who shoot fun weekly fashion challenge videos, and they'll be bringing their creations to a live audience for the first time ever at the Curiosity Rooms. This time, Pixel 3 has challenged them to transform ordinary staples into runway-ready looks, which they'll unveil on the catwalk. Come along to this one-off event (tickets are free!) to find out which of them will take out the top prize.
4. Get up close with London's hottest creatives
Arbiters of London cool i-D magazine are bringing together some of their favourite designers for a one-off live recording session of their 'FASH ON FASH OFF' podcast where they'll be discussing how everyday elements inspire their collections. Listen to the chat and take part in workshops guaranteed to get your creativity flowing.
5. Explore the art of the everyday
The whole point of the Curiosity Rooms is to get you to see familiar things and experiences with fresh eyes. So they've filled the whole central atrium with an eye-popping installation made out of everyday objects which you'll want to snap from every angle. Good thing Google Photos lets you store as many photos as you want online without clogging up your phone.
Scarlett Curtis
6. Witness the art of podcasting
As part of the weekly podcast sessions, writer and activist Scarlett Curtis will be in the house recording a live version of her 'Feminists Don't Wear Pink' podcast, a series of honest talks with inspiring women, inspired by her book of the same name. Previous episodes have featured actor Saoirse Ronan, author Helen Fielding and presenter Jameela Jamil, so you know this is going to be worth getting a ticket for.
7. Glimpse the future of shopping
We've all been there: your friend shows up wearing your dream bag/top/jacket and you chicken out of asking where it's from. Well, now you can avoid that whole awkward situation by taking a quick snap and using Google Lens to identify similar versions for sale online. Give it a go at Curiosity Rooms before unleashing it at the pub.
8. Meet some makers
There's nothing more inspiring than watching creatives in the zone, and that's exactly what you'll be able to do in the Makers Studio. You'll be able to browse the wares of London makers including Earl of East candles and houseplant experts Patch, and get a coffee from The Fields Beneath, Old Spike Roastery, Flotsam & Jetsam and Perky Blenders. Make sure you drop in when the space becomes The Studio presented by HYPEMAKER (presented by HYPEBEAST) – when designer-in-residence Liam Hodges will work his menswear magic.
9. Take your best shot
Londoners can't get enough of slides – remember the queues for the ones at the Tate, the Hayward and the ArcelorMittal Orbit? – so it's no surprise you'll find one in the Curiosity Rooms. But taking a good photo on a slide? Now, that's another matter altogether. Luckily, the new Pixel 3 Top Shot function means you know you're going to get a good 'un.
10. Have an immersive dining experience
You've read her column, and now you can try some of her favourite dishes: Grace Dent will be teaming up with Time Out to host a memorable dinner party, choosing tasty bites from seven of London's top neighbourhood eateries and hottest chefs. And for once, no one will get annoyed with you for photographing your food.
The Curiosity Rooms is open at 55 Regent St from Thursday to Sunday between November 15 and December 16. Event tickets are free – book now.