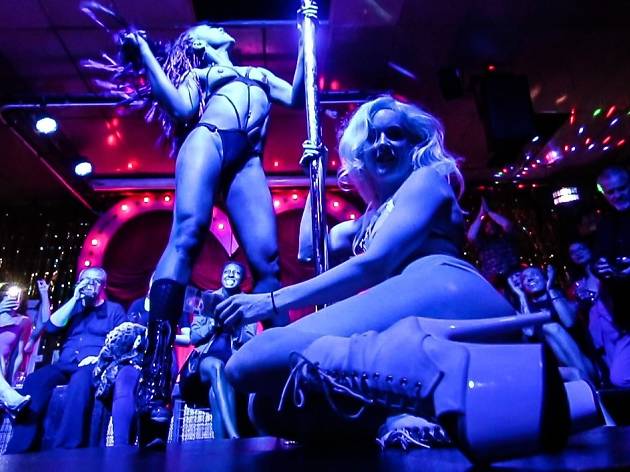 Time Out says
Get ready for a night of booty shakin' and bewitching samba at this queer Latin disco
Have you ever been to a club night that offered a midnight mass? No? That's because you've never been to Brazilian Wax, a filthy-gorgeous queer Latin dance party that's about to rock your world. It started out as a fundraiser for a stripper-stigma-smashing theatre show called 'Fuck You Pay Me' by playwright Joana Nastari. It's now upping its game for another massive late-night party at The Vaults.
The idea is to create a safe, political nightlife space that champions sex workers, queer minorities, immigrants, non-binary and trans people and, well, everyone – while making sure they're all having a fucking good time. 'As we sink further into political tragedy and everyone sinks head first into their mobile phones, we're even more desperately in need of spaces that bring us together in real life to celebrate each other,' says Ellen Spence, co-organiser of Brazilian Wax.
So what will it actually involve? There's a show from Samba Sisters Collective along with some tassel-swinging performances and a sign-up-on-the-night strip off contest with a cash prize of £100.
To help everyone feel at home on the night, the team have enlisted the help of trained 'Care Bears' who anyone can turn to if they feel unsafe, 'It just makes it really clear to everyone that we won't tolerate racism, whorephobia or any of that rubbish at our party,' says Nastari.
The Care Bears will be out in force on the night at the all-bodies, all-identities pop-up strip club, a radical new alternative to conventional hetero spaces that can be found in a side room at The Vaults. For the 2020 edition, the pop-up will operate as a co-op profit share to raise money for United Voices of the World strippers' union. 'We've been dreaming of what a truly queer strip club would look like,' says Spence, 'one that not only caters to the varied tastes of the queer community but is also run by the dancers themselves.' In the Brazilian Wax world of strip clubs, the dancers set their own rates and their own rules, and wear whatever the hell they want.
If you're still wondering what that 'midnight mass' bit is all about, you'll have to come on the night and find out...
Brazilian Wax XXL is back for Vault Festival 2020. This write-up is from 2019.
Details
Best selling Time Out Offers