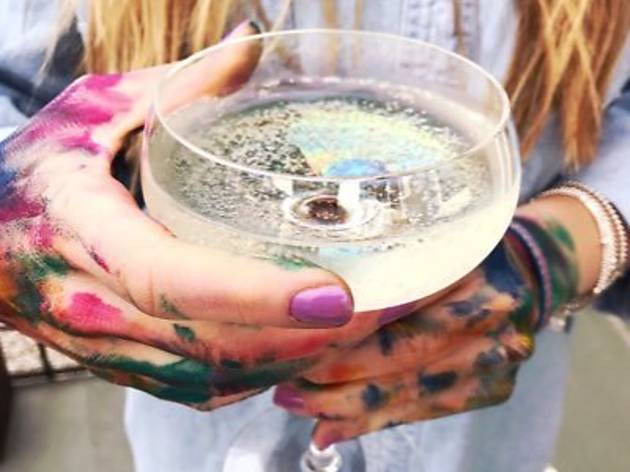 Paint your masterpiece while getting pissed on prosecco at relaxed art class Brush & Bubbles. Van Gogh and Toulouse-Lautrec has absinthe, why shouldn't you have a bottle of bubbles? Find out more here.
Average User Rating
4.6 / 5
Rating Breakdown
5 star:

12

4 star:

6

3 star:

1

2 star:

0

1 star:

0
I have to admit, at the beginning of the night I was skeptical. How wasI going to make my blank canvas look like the masterpiece at the front of the room? But as the night progressed, as I looked at the canvas's around me, I could see the paintings taking shape.
The instructor gave us step by step instructions so that we could create our own masterpieces. Being relatively new to the brush, I thought I might be embarrassed by my final product, but the instructor was so kind and helpful that I will proudly be hanging it on my wall.
This isn't just for amateurs though, the instructor gave helpful hints to push each of our paintings to the next level.

By the end of the night all of my anxiety had washed away, and I was happy with my 'not exactly perfect' creation.
I cannot recommend Brush and Bubbles enough. I have so far been to three sessions with friends and have booked to go again by myself. The girls who run it could't be sweeter and more helpful. It's a friendly, casual atmosphere and everyone has a chat and a giggle along the way. The instructions are simple and easy to follow and the prosecco helps get the creative juices flowing! I cannot wait to go again.
What a wonderful thing to do!! Did this class with friends and we had the best time! Got to paint a lovely picture, catch up with friends in a social, creative, relaxing environment whilst drinking bubbly! Lovely girls who run the class, very friendly and welcoming. Even though I can't paint at all I had the best time and actually left with a painting I am proud of. Highly recommend for groups of friends or a great, usual date!!!
Myself and my husband love to look for new ideas for dates, this fit the bill! Painting AND bubbles, yes please!!
Painting isn't really my thing (kicked out of GCSE Art... yep that bad) but I did love the concept of painting and bubbles. FYI bubbles definitely help make your creative juices flow. There's no pressure to produce a master piece just relax and enjoy yourself! The girls running it (Lara and Tiff) are so helpful and obviously love what they do and the artist are incredibly talented... and very patient!
Such a great idea! I've been twice now (already booked the 3rd on the 17th August!) and absolutely LOVE IT! I have already got my husband, aunt and cousins into it... now will be taking my girlfriends...