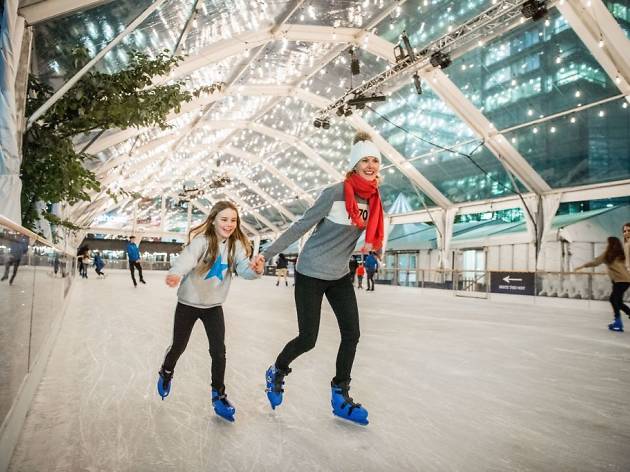 The ice rink at Canary Wharf is back once again, filling the business district with frosty fun. The 80 metre long rink is open for 16 weeks of skating, there's a dedicated children's rink, and a winter-themed bar serving festive drinks. Novice skaters can book sessions to get them up to speed, and a skate path breaking off from the rink will take visitors through a series of twinkling trees.
Find more places to go ice skating in London
Average User Rating
3.8 / 5
Rating Breakdown
5 star:

7

4 star:

8

3 star:

0

2 star:

2

1 star:

2
The worst experience I've ever had on an ice rink. The water was pooling on the 'ice', and I don't mean like a thin layer, I mean 5cm of water. The ice was bumpy and jagged and my skates were so tight around the middle of my foot, regardless of how loosely I clipped them, that I had to stop and take my foot out every once in a while.

Canary Wharf is my favourite place in London and I loved visiting ice rink. I have been to here with my friends. The area is really stunning offering excellent views of high rise buildings, restaurants and bright twinkling lights. Our experience was very very good. We were quite excited to visit this place and we did enjoyed a ton. Though it was little expensive but that ok but its worth a visit at least once.
http://www.thesqua.re/london/canary-wharf/attractions-nearby.html

The worst skates I've ever tried...
The ice is good quality, also the location has a good atmosphere. But, for such a high entry fee I really do expect basic quality skates, as the ones given were cheap and rigid, made my feet hurt after 5 minutes and after an hour I have left with dirty wounds... (I'm not a beginner, I know how to skate)
recently visited the ice rink with my grand children who came up from kent, they enjoyed it so much we are going again today. staff great and to be in the open air is so different and more enjoyable. roll on next year,
excelleent excellent staff all excelent
I've been to this ice rink on many occasions AND I've loved it every time and I think the customer service is amazing and the rink its self is wonderful
Amazing skate path, great food at the bar the my little one loved the polar bears to aid them skate. Worth a visit and great experiance.
Amazing skate path, great hot-dogs at the bar the my two little ones loved the polar bears to aid them skate. Worth a visit and great shopping afterwards.
open 10 to WHAT???? is it secret?
Great outdoor rink in a dramatic setting surrounded by the canary wharf buildings. The rink as an unusual shape and allows for fun laps.
WARNING: Suggest people DON'T book on-line or over the phone (book in-person), as their website demands personal information (name, address, email, post code, phone number) to be disclosed over an unsecured (unencrypted) connection. - This is negligence. The website administrators should at least introduce https encryption to provide some protection for individuals.