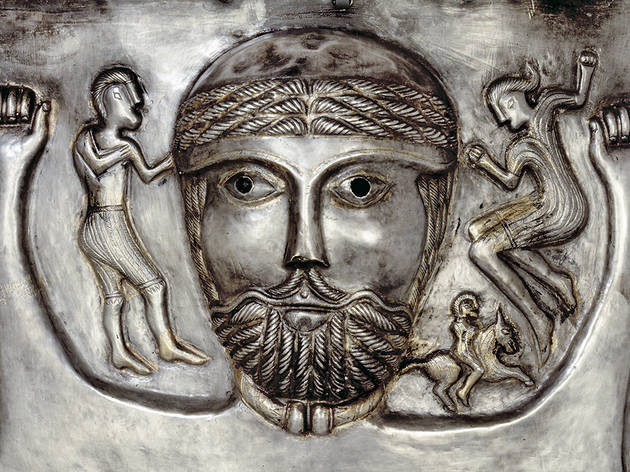 1/9
Gundestrup Cauldron, Gundestrup, northern Denmark, 100 BC–AD 1 © The National Museum of Denmark
2/9
Iron Age Coin, Ruscombe, Berkshire, England, 50–20 BC © The Trustees of the British Museum
3/9
Horned helmet, From the River Thames at Waterloo Bridge, London, 200-50 BC © The Trustees of the British Museum
4/9
Hunterston brooch, Hunterston, south-west Scotland, AD 700–800 © National Museums Scotland
5/9
The Riders of the Sidhe, Tempera on canvas John Duncan, 1911 © Dundee City Council (Dundee's Art Galleries and Museums)
6/9
St Chad gospels, Vellum, AD 700–800, Used by permission of the Chapter of Lichfield Cathedral
7/9
Gundestrup Cauldron, Gundestrup, northern Denmark, 100 BC–AD 1 © The National Museum of Denmark
8/9
Iron Age pony cap, Torrs, south-west Scotland, 300–100 BC © National Museums Scotland
9/9
Balmaclellan mirror, Balmaclellan, south-west Scotland, AD 80–250 © National Museums Scotland
Time Out says
The British Museum makes a good fist of tackling the knotty problem of the Celts.
Retrospectively defined as a people from the seventeenth century onwards,
the 'Celts' were originally identified by the Ancient Greeks as basically anyone they encountered in Europe who wasn't them: rough, hairy, shouty and not given to partying with young boys every night. In other words, uncivilised. Through the succeeding centuries, the culture and languages of these various tribes and peoples spread around Europe (exactly how is still debated), becoming what we understand today as 'Celtic', with a rich, complex, but decidedly unclassical worldview and style of art.
The displays include a wealth of beautiful objects, from France, Germany and the British Isles. There are treasure hoards, weapons, sacred pieces and domestic items. Several are from London, such as the famous Battersea Shield, pulled out of the Thames mud in 1857. The evolution of the art is fascinating: animal forms develop across the centuries, from representational to mythic and stylised, later becoming decorative and abstract.
The show also has a story to tell: one about what we understand by cultures and peoples, and how they can be appropriated for different ends. The most obvious example is how Celtic identity became a tool in Irish nationalism at the end of the nineteenth century, with a progressive 'Celtification' of culture. You have to applaud this exhibition for tackling all this, on top of the basic problem of defining the Celts. I was expecting the crosses and the torcs, the shields and the helmets, and the weird Victorian reimagining of history. I wasn't expecting paramilitary Belfast murals or Boston Celtics vests. It's brave of the BM to present a subject in such an open-ended way, and it's done a cracking job.
So, plenty to think about next March 17, when you're stood in a pub next to a woman dressed as a pint of Guinness.
BY CHRIS WAYWELL
Details
Rating Breakdown
5 star:

0

4 star:

4

3 star:

0

2 star:

0

1 star:

0
Really interesting exhibition. I visited on a Monday afternoon so it was nice and quiet. Many different items on display, the Gundestrup Cauldron was a particular highlight.

Incredible loot and one or two real treasures here. The Gundestrup Cauldron is one of the weirdest and most magical things I've seen. It's a massive silver cauldron decorated inside and out with beasts and warriors. Definitely not for making the porridge!