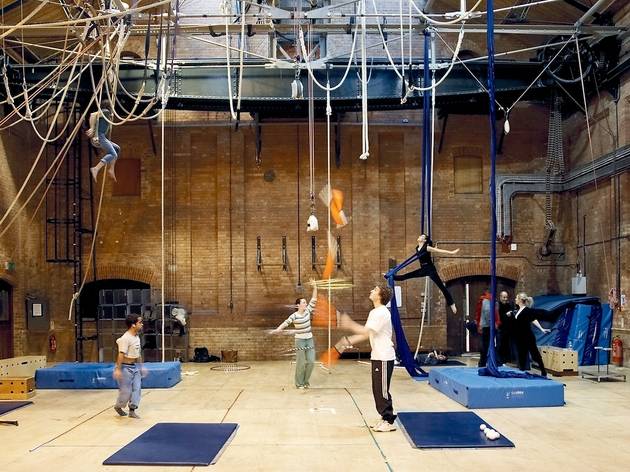 You know that fantasy you have when life gets difficult, the one about running away to the circus? Yes?
Then I'm afraid I have some bad news: joining the circus is really, really hard work. I arrive at the National Centre for Circus Arts Experience Day with vague notions of flying through the air with the greatest of ease. My preparation involves selecting a pair of garish leggings - and two decades of exercise avoidance. The warm-up comes as a bit of a shock.
'Well, what did you expect?' asks my much fitter companion as I huff and puff my way through a star jump. I mumble something about sequins and elephants while wiping the sweat from my eyebrows.
The workshops offer a taste of circus basics. The acrobatics session begins with the dreaded star jumps and culminates with handstands against a wall. Thanks to the trainer's enthusiasm and clear instructions, even I manage to chill out upside down.
The big draw for most people is the trapeze. Swinging back and forth through the air is exhilarating but after about five seconds my arms are screaming for mercy. Those with actual biceps canít get enough.
The tightwire, strung just a few centimetres above the ground, is a pleasant surprise. I skip across it with only one finger on the balance stick my buddy is holding. Time to try without the stick. Oh. Bugger. Turns out the circus is no place for a fitness-phobe. For less lazy types, though, this is a fantasy come true. Louise Schwartzkoff
Find other weird and wonderful hobbies to try in London

Rating Breakdown
5 star:

1

4 star:

0

3 star:

0

2 star:

0

1 star:

0
A truly great afternoon. I attended a family day taster session with my 9 year old son. The tuition was amazing – delivered in a fun and enthusiastic way by friendly staff that encouraged you every step of the way. There was a warm up session which included an obstacle course. Thereafter we were divided into small groups and each took our turn in learning trapeze, juggling, acrobatics and tightrope. I'd definitely go back and would urge anyone to sign up for a course.