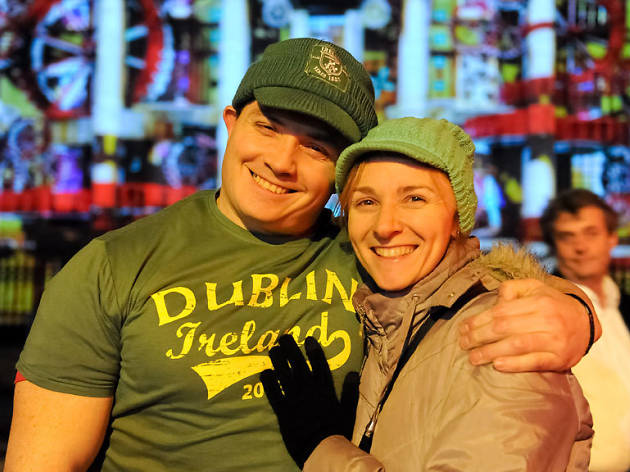 Don't miss the New Year's Festival Dublin
Got any plans for seeing in 2016 yet? Celebrate with the world's most welcoming city, with NYF Dublin – December 30 to January 1
With three days of culture, music and incredible memories, the people of Dublin really know how to celebrate the new year. Do as the locals do, and throw yourself headlong into New Year's Festival Dublin, where no-one's a stranger for long. In fact, you'll be at the heart of the action!
NYF Dublin – a unique experience
The party gets started on December 30, when everyone heads to the city's best-loved landmarks for special events, from pop-up poetry at the Spoken Word Festival to bathtub gin-brewing at Lillie's Bordello to a craft beer tasting class at The Porterhouse Bar.
From morning till night, the whole of Dublin is alive with events and activities to get your Festival off to an action-packed start.
Action-packed days and sparkling nights
You can refuel whenever you want to at the NYF artisan food village on Dame Street. This is also the location for the Festival Hub – the ideal place to catch up with mates and plan what you want to do next. Go shopping in Temple Bar? Get a culture fix at one of the city's great galleries? Or you can plug straight into one of Dublin's most celebrated exports – its bands and songwriters. Take the NYF Live Music Trail, moving from gig to gig around the funkiest venues to immerse yourself the city's incredible music scene.
As night falls on each of the three nights, it's all about Luminosity, when Dublin's elegant buildings come to life with 3D projections creating a stunning light show.
Hello 2016!
On New Year's Eve, whatever you're doing, make sure you're on the streets in the centre of town by 4pm to soak up the carnival magic of the Procession of Light, before joining the gathered revellers for the outdoor Three Countdown Concert, welcoming in 2016 with some of Ireland's top live bands.
On New Year's Day, Dublin gives itself an adrenaline-fuelled energy boost. Dubbed Resolution Day, it's a chance for everyone to get body and soul into shape for the new year, with lots of free fitness workshops and sporting entertainment along Dame Street.
But don't worry, there's a chance to relax, too. Escape for a romantic walk in the coastal village of Howth, chill out with friends at an outdoor
 cinema screening under the huge Meeting House Square umbrellas, or indulge in a lazy lunch in the upstairs grill room at Ryan's of Parkgate Street, one of the city's most atmospheric Victorian pubs.
Book now, don't miss out!
Make sure your Instagram feed never sleeps this New Year. Book your NYF Dublin trip now, for extraordinary days and happening nights. You'll find everything you need to know about events, attractions, travel and accommodation, plus great New Year travel deals, at www.ireland.com. #NYFDublin