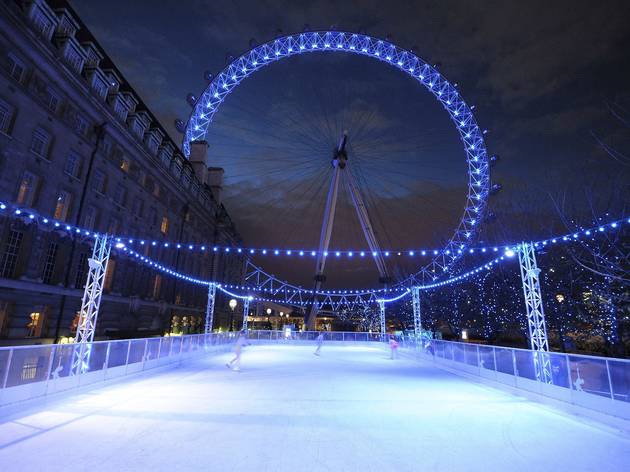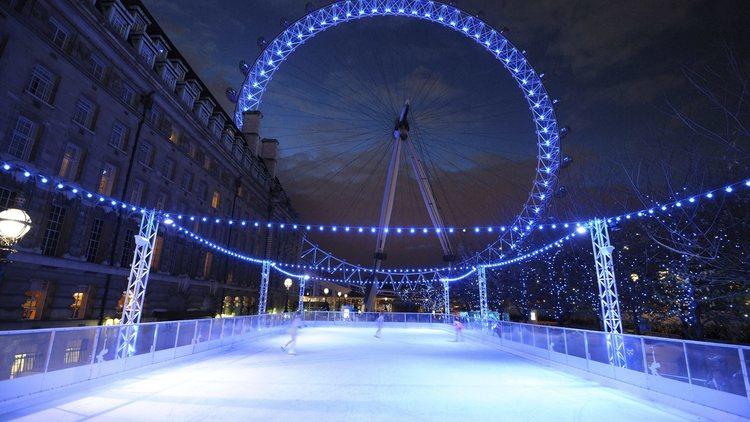 The open-air London Eye ice rink is situated in front of the big wheel itself, its pods gently floating past you as you glide. You don't need to book a flight on the Eye in order to skate but various packages are on offer for those who wish to do so. Sessions last 45 minutes. Under-8s must be accompanied on the ice by an adult. Booking recommended (and cheaper).
Find more London ice rinks
Average User Rating
3.3 / 5
Rating Breakdown
5 star:

2

4 star:

1

3 star:

1

2 star:

1

1 star:

1
Went there today with my 5 year old, who has been begging me to take her skating for the past two years. Although the staff were friendly enough, the rink is far too small for the number of people let in. Despite pre-booking, I had to queue with people buying tickets on the day to swap my print out for tickets (which were never looked at anyway), it was chaos trying to get skates because it was a total free for all - no organisation, so there were people trying to get skates and people trying to hand them back at the same time in a very small area. Getting on to the ice was equally as chaotic as people pushed and shoved to the front. Thankfully one of the staff managed to get us a "seal" to help our daughter though, as there were a lot of adults and older children grabbing them when they didn't need them. In the end, my little girl just wanted to be pushed around on the seal, in part because she had fallen and was too nervous to try again, and partly because it was far too chaotic and dangerous for small children. There were a few groups of teenagers who were showing off, going to fast and crashing out, occasionally taking others with them. All in all, it was OK, but not the best ice rink I've ever been to. They need to improve the system for new people coming in to queue in a civilised manner to collect their skates, and have a separate area for those coming off the ice to de-skate and get their shoes back. The "changing" area is far too small for 250 people (125 going in, 125 coming out), and I was concerned for my little girl's safety as we were trying to leave, because she almost got crushed. They either need to make the facility bigger and keep the number of people allowed in the same as it is now, or decrease the number they let in. Oh, and bring a spare pair of socks - the floor is sopping wet! Cold, wet feet for the journey home! Yuk!
Terrible. The rink is small and not atmospheric at all (unlike the photos which exaggerate everything), much worse than the others in London. But we didn't even get on the ice. I booked tickets for us and our 3 year old online, and everything was fine. But sometime between that and arriving they changed their policy so that the minimum age was 4, and due to 'health and safety' our 3 year old couldn't skate (even though he's allowed on any ice rink we've ever been to). I specifically booked Eyeskate because I checked he could go, so I know I checked thoroughly. Another lady at the same session had exactly the same problem after booking online, so I wasn't dreaming it (and that suggests many more suffered the same problem). They didn't contact us to inform us of their chance of policy, and were downright rude to us when we got there - £80 in rail fares completely wasted. Really not worth it given it is such an awful rink anyway
Looks amazing can't wait to go with my daughter and granchildren
I loved it,really awesome to go