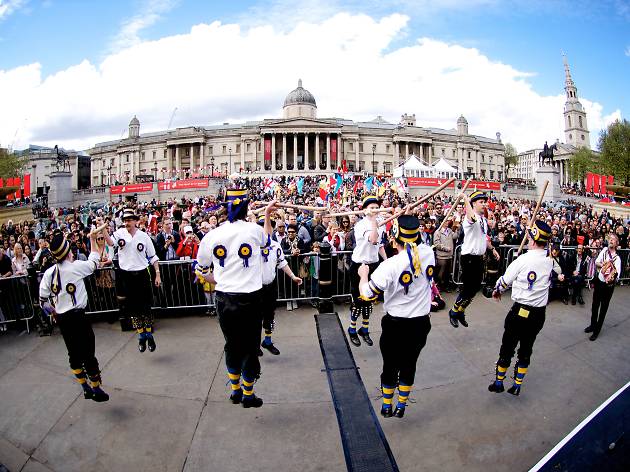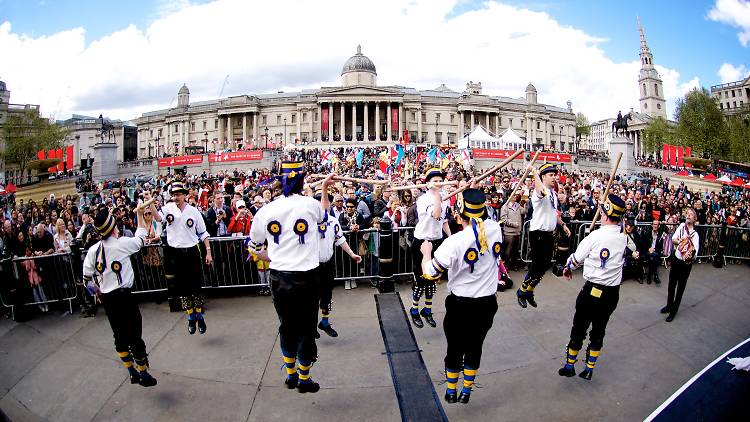 Join the Mayor of London's party in honour of St George. St George's Day started out in the thirteenth century as a national day of feasting, so look out for the live demos from leading London chefs as well as an English farmer's market and banqueting area. Family games, brass bands, a medieval jousting tiltyard and plenty more silliness will keep you entertained once you've feasted fit to burst.
Rating Breakdown
5 star:

1

4 star:

0

3 star:

0

2 star:

0

1 star:

0
St. George Day brings vivid memory of my son's writings for which he won prize in year 7. He had to describe his struggle with the dragon in 500 words and his narration was far beyond his age.
-------------------------
Titel : Myths, Mysteries and Magic
St George and the Dragon
Ice froze his veins, while fire demolished his hopes. Knuckles paper white, he urged himself to move forward. The countryside transformed into a blur of green and red as George galloped on. Sweat poured freely from his forehead, three days of nonstop riding catching up on him. Here was his chance to become a hero, though there was no excitement or optimism inside him, only a deep, deathly black abyss. The cave of his enemy loomed above him, blocking out the sun's custard yellow rays. The dragon inside must die, he told himself, almost desperate for courage. The killing would only stop with the beast's last breath.
Suddenly, he plunged into darkness, for he had entered what could be his burial chamber, the dragon's lair. A spark of red flickered to his left, though it seemed to be edging its way closer. His body turned into jelly, in a tin can consisting of his armour. In horror he held his breath, and turned his face to the side, to find the swollen tail of the dragon inches from his face. Terrible as it was, George could not help but stare at the creature with awe. Blood red scales hardly contained its bulging muscles, leaving no weaknesses. The fiend had wings, large as a plane's that exploded from its side, strong enough to uproot a tree. Its head brushed the roof of the cave, eyes glowing pieces of charcoal. Teeth jutted from its mouth glinting like stalagmite sized diamonds. Horns sprouted from its back, oozing with bubbling acid green poison. The dragon's thigh muscles bloated as it stepped forward, casting an unseen shadow which covered all.
Mustering all of his remaining strength, George ran to the dragon, his glimmering spear expanding as he brought it up, to no positive effect. The spear's mahogany shaft splintered uselessly on the dragon's impenetrable hide. Blood pounded in his ears as the dragon roared, a sound louder than thunder. Knife like claws extended, the monster reared towards George, in attempt to puncture his skin and inject him with venom, which would freeze his heart, extinguishing his inner flame as if he was a candle. Instead, it found a puncture in one of its feet, a large blade protruding from one of its talons. Anger overwhelmed it like an inferno as it rushed on, out of the cave, where George was waiting upon his magnificent silver stallion. With ground trembling might, the dragon snapped its tail to the side, cracking it like a whip. Screaming in agony, George was thrown into the air like a rag doll, landing with a thump.
Bravely, his steed charged to his side, urging George to move. Coughing up blood as if it was spit, he struggled onto the horse, and prepared himself for the final fight, a fight which would end the battle one way or the other. A half hearted cry of war tumbled from his mouth as he held his feeble sword up to the heavens, and charged.
(500 words, titles not included)
------------------------

I hope you enjoy it as much as I did few years back... Thanks.