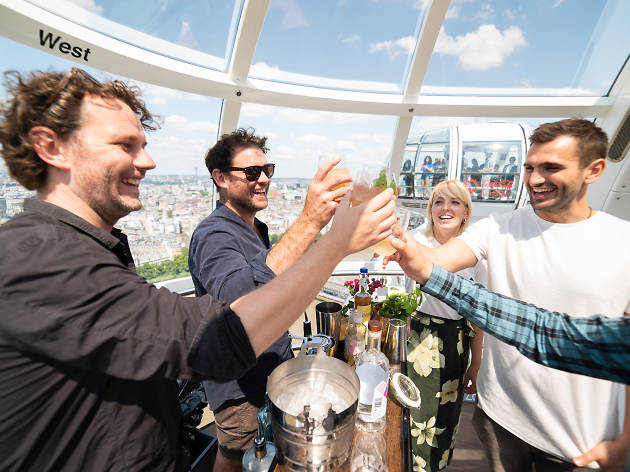 Foodie fun and cocktails are coming to the London Eye
Time Out is taking over the London Eye once again, and the chance to sip brilliant bevs at over 400ft is just one of the awesome experiences on offer
Over the course of 2019, Time Out has spent so much time on the London Eye, it's a wonder they haven't got us a set of keys cut (or at least set aside a drawer where we can keep our clean pants and things). Now, after sell-out yoga sessions, oversubscribed sketching classes, crammed-out kids' events and plenty more besides, Time Out's Eye-Openers is back for its final run of 2019. That's right – if you had 'do something amazing while cruising through the sky' on your check list this year, it's now or never.
This time round, Time Out's Eye-Openers comes with a culinary slant. In particular, it's about three very important food groups: cocktails, biscuits and syrup. Hey, we said culinary, not nutritious. Here's everything you need to know about what's going down (or rather, er, up) this September.
If you've ever found yourself wandering through a cloud of gin, drunk a cocktail prepared by a merman or attended a sausage seance, you'll already be familiar with the work of Bompas & Parr. Basically, if it's a food-based happening and your immediate reaction was along the lines of 'WHAT THE ACTUAL FLIP' then chances are they're behind it. For their stint on the London Eye, they'll be revealing what famous London landmarks taste like (yes, really), through the medium of flavoured syrups. So, given the diverse blend of features that makes up the London skyline, expect nothing less than a sensorial rollercoaster.
September 21, £25 until August 31, £30 thereafter.
Ever wonder why London's drinkers suddenly went bonkers for the Cosmopolitan in the late '90s? Curious to know what you'll be ordering from the bar in the next decade and beyond? Join the boozy prophets from events company Hidden Door for a whirlwind tour through the drinks of yesteryear and the likely tastes of tomorrow. They'll explain how popular culture helped shape the drinking trends of the past and what current crazes mean for the future of drinking. Expect clattering ice cubes, flamboyantly poured spirits and – oh yes – plenty of liquid samples.
September 28, tickets £30.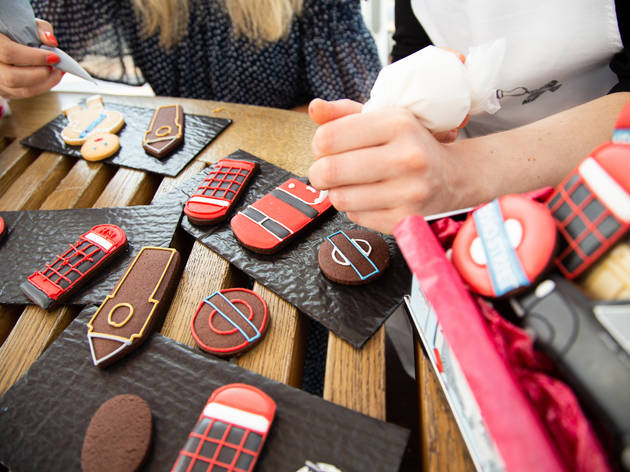 We'd be willing to bet that if a cataclysmic confectionary disaster occured and all of London's biscuits suddenly disappeared, the city's kids would stage an uprising the like of which we've never seen before. Okay, so it's not that likely to happen, but the point is that biscuits are brilliant, and this bound-to-get-messy masterclass is the perfect way for your little ones to celebrate this fact. Master icers from Biscuiteers – London's most revered creators of beautiful biccies – will be on hand to show kids the fine art of 'flooding' (colouring in the big bits), as well as how to use piping bags to add fine details to a selection of London-themed biscuits. Pinch one of their creations to dunk in your afternoon cuppa at your own risk.
September 29, £25 (parent and child) until August 31, £30 thereafter.