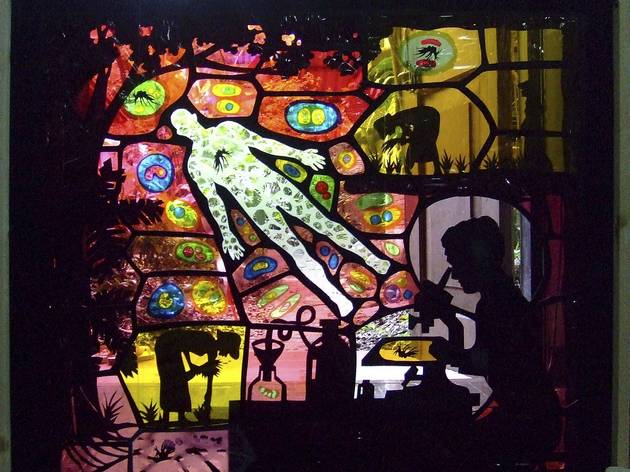 An exhibtion exploring the state of global health, featuring work by resident artists from medical research centres in the UK, Kenya, Malawi, South Africa, Thailand and Vietnam. The display is a mixed media one, made up of photographs, paintings, sculpture and films.
Rating Breakdown
5 star:

0

4 star:

2

3 star:

0

2 star:

0

1 star:

0
Wellcome Collection has funded six artistic residencies at medical research centres around the world. This exhibition is the result of the six month placements in Kenya, Malawi, South Africa, Thailand, Vietnam and the UK. The pieces on show are as diverse as the locations that inspired them. The standout piece has to be Katie Paterson's Fossil Necklace, a beautiful string of beads. Each bead is a pearlised fossil fragment, dating from a series of critical junctures in the evolution of life on earth (some are billions of years old). Themes of simplicity and elegance continue in Lêna Bùi's Where Birds Dance Their Last. This stunning twin-frame film shows traditional Vietnamese feather gathering. As unlikely as it sounds, it is completely hypnotic. In Invisible Currents, she depicts bacteria in Indian ink - and makes them completely spellbinding too. The rest of the show comprises a range of photography, traditional ethnic art, sculpture and installation. Despite touching on some serious issues (bird flu, gender inequality and nutrition to name a few) there are moments of humour and beauty throughout. There is also just enough interpretation to help you learn new things without it feeling like a chore. Highly recommended for adults and children alike. For more of the latest art reviews, check out www.curatedlondon.co.uk
Innovative ideas which have been beautifully translated into artistic photos, clips, installations and more. This is a meaningful way of portraying global health issues and biological research. Personal highlights were the shadow installation and the fossil necklace.