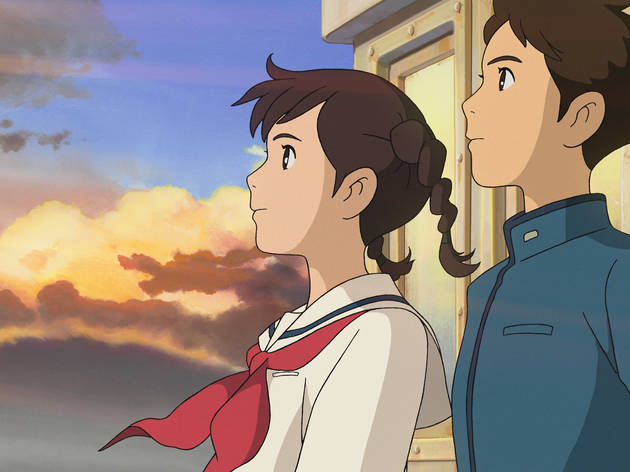 Time Out Live are delighted to present a screening of a new adventure from Japan's legendary animators. The night of animation will host an onstage Q&A with a panel of Time Out's Dave Calhoun, Robbie Collin (tbc) and David Jenkins (tbc) discussing 'The Future of Studio Ghibli' upon the retirement of Hayao Miyazaki and a screening of 'From Up on Poppy Hill'.
We have tickets to give away to readers. Email your name and telephone number to liveevents@timeout.com. Successful applicants will be notified by email by 2pm on Tuesday, Sept 24.
'From Up on Poppy Hill' DVD, Blu-ray Double Play and Double Play Collector's Edition is released on Sep 23 from STUDIOCANAL.
Rating Breakdown
5 star:

0

4 star:

1

3 star:

0

2 star:

0

1 star:

0
A Midsummer Night's Dream The Delfont Mackintosh Theatres released as part of their Michael Grandage Season 5 plays with pretty impressive casts to be played at the Noel Coward Theatre over this year, this included Dame Judy Dench and Ben Wilshaw in Peter and Alice, Daniel Radcliffe in The Cripple of Inishmaan and now it's David Walliams (Bottom) and Sheridan Smith (Titania) in A Midsummer Night's Dream. If you have studied this play at school you will have a general idea of what it is about and it is one of Shakespeare's few comedies so slightly lighter hearted than his other works! Lysander loves Hermia and Hermia loves Lysander. Helena loves Demetrius; Demetrius used to love Helena but now loves Hermia. When Hermia's father insists she choose Demetrius as a suitor she escapes with Lysander into the surrounding forest where Oberon and Titania, the King and Queen of the Fairies are having their own battle of love. As the human and magical worlds collide mischief with Puck and chaos erupt as love at first sight proves a reality for some and makes an ass of others. It's a slightly different take on the versions I've seen before, it shows the fairies more like party animals but this play was 2 hours 20 with the break and for me this went really quickly. David Walliams was perfect as Bottom getting some good laughs at his role. Sheridan Smith was great also as the teasing Titania. The cast were energetic, engaging, and generally very entertaining. Even with the language I found the play very easy to follow though I do think that if you do not know the play that well, you would be at a slight disadvantage. The set was fantastic, really simple but really effective and the moon made the scenes look amazing. The costumes were basic but worked really well, causing some confusion. There are limited tickets released everyday for £10 and if you like this play then I would recommend seeing this version. It was a nice entertaining way to spend an evening and you'll leave with a smile.