Heads up! We're working hard to be accurate – but these are unusual times, so please always check before heading out.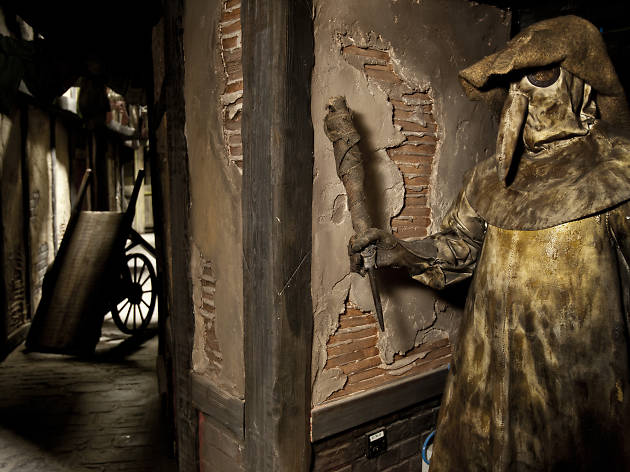 Is The London Dungeon just for tourists?
The prosthetics playground is a popular destination, but is it worth steeling your nerves and braving the crowds?
They say
'Are you ready to journey through London's darkest history?'
We say
Are you ready to journey through nearly two hours of loud bangs, prosthetic entrails, boat rides, flickering lights and a lot of drama graduates dressed in jerkins leaping out of shadows?
The set-up
Once you've joined the queue and walked down a corridor full of torture devices (with hilarious names like the 'shrew's fiddle'), you're sent from one murky vignette to the next: basically, a trip through the foulest things that have happened in London over the past 500 years. (Even the stuff that didn't happen. A quick disclaimer to tourists: 'Sweeney Todd' is fictional.)
What's the sweetest spot?
There are loads of jumpy moments – the Ripper set-piece is particularly scary – but curiously, it's the little touches that really work, like in the Great Plague section when the lights go out, someone sneezes, and a spray of vapour hits you. Gross!
Did you learn anything?
A wench made an attempt to show on a map exactly where the Great Fire of London happened, but in all honesty, no. The Dungeon's about as historically rigorous as an episode of 'Blackadder'. Luckily, it's also just as funny in places.
Is it worth the money?
Assuming you'll only go once, yes. Prices start at £21 for adults, and you can always buy combo tickets with other attractions, like the London Eye next door.
Insider's tip
Don't go to the pub first: this can be quite a slog if you've got a full bladder. You're only meant to figuratively piss yourself.
Just for tourists?
There's no point denying who this is aimed at. But the Dungeon wears its camp, tongue-in-cheek sensationalism on its sleeve. And it's got Brian Blessed's face projected on to a mannequin of Henry VIII. What's not to like?
Is the Tower of London just for tourists? Find out here.
Find out more about The London Dungeon
Take a trip down a cobbled, shadow-laden alleyway, where you'll join the 90-minute immersive tour that basically guides you through just how grim it was to live in London in the days of yore.