Jarv Is... Stream 'Beyond the Pale'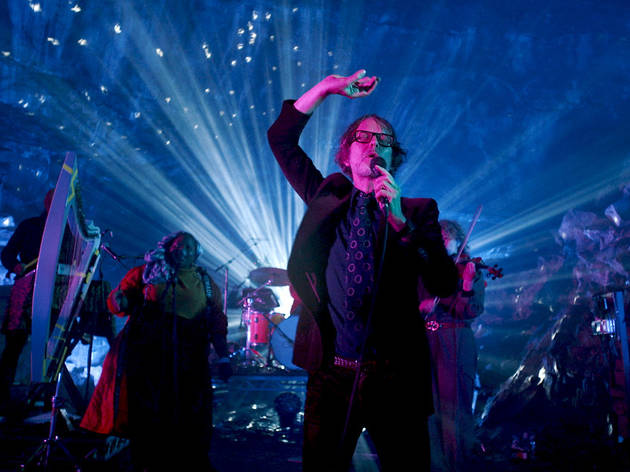 Time Out says
Jarvis is being Jarvis all right. He opens and closes his hands as if plucking his words out of thin air, then flashes a look that suggests he's surprised at what's coming out of his own mouth. He spins around, hands thrust towards the ceiling. Then the gawky, magnetic ex-Pulp frontman looks up, freezes: he's in a cave.
Considering how fraught and claustrophobic life in lockdown can feel, it's apt that this streamed performance of 'Beyond the Pale' – the debut album from Cocker's new band Jarv Is – was recorded inside an actual grotto, known as the Devil's Arse, in Derbyshire. Somehow, the resulting film from directors Iain Forsyth and Jane Pollard, 'Live From the Centre of the Earth', doesn't amplify the sense of being hemmed in. In fact, it's a mesmerising – if fleeting – ticket out of there.
A so-called 'alive album' (it's a bunch of overdubbed live recordings), 'Beyond the Pale' feels as though it was made to be consumed this way. The record alone can't capture the thrill of the live experience, but the band are experimenting with another medium – the concert film – creating a rare example that isn't an afterthought, a memento for those there.
The camerawork by Erik Wilson ('Paddington') is full of edgy angles and effects. The lighting veers from dancefloor lasers to glittering galaxies to a burning sun that appears to engulf Cocker entirely. His excellent and unsurprisingly cool band look like they've been swiped at random off Stoke Newington High Street. There's creepy Jarv ('Sometimes I Am Pharaoh', a song narrated by a living statue) and there's disco Jarv ('House Music All Night Long', an anthem for the cooped-up and fed up). Predictably, his between-song patter is on point.
If anyone could win me over to the gig-streaming cause, it's Jarvis Cocker. I twirled and finger-wagged and teetered like a stick insect. This home-working troglodyte was transported. For 50 glorious minutes, I got to do that thing we all secretly dream of: hide in a cave, and wait for this whole thing to blow over.
Details