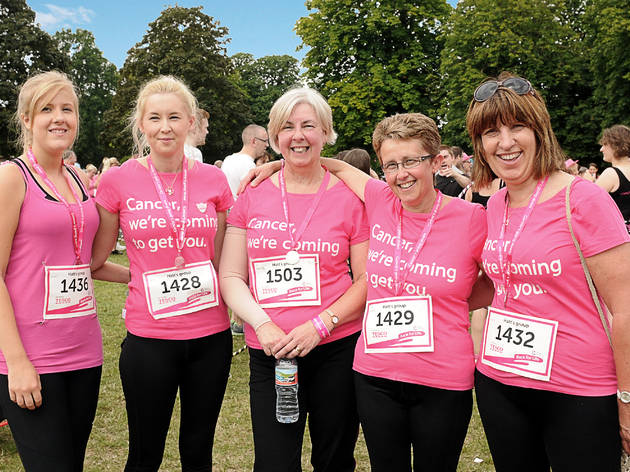 Join the Race for Life 5k
Do something different in your local park this summer – join the thousands of women supporting Cancer Research UK at 5k events across London
Take on the 5k challenge
Women of all shapes and sizes, ages and abilities can walk, jog or charge their way around a Race for Life 5k event in partnership with Tesco. If you run or jog the 5k (3 miles) you can usually complete the course in about 30 to 45 minutes. If you're walking, it takes about an hour. But there's no rush – this isn't about racing to the finish line, it's about uniting to fight cancer.
With 150 5k Race for Life events happening across the UK this summer (including ten in London) you're bound to find one local to you.
Find your 5k
The entry fee is £14.99, children £10, under-sixes free (no registration needed). Many of the 10k events are happening at the same time as the local 5k events (see below). Join the Pink Army on one of these dates:

Battersea Park, SW11 Wednesday June 8, 7.30pm

Trent Park, Enfield Sunday June 12, 11am

Crystal Palace, SE19 Sunday June 12, 11am

Victoria Park, E3 Saturday June 25, 11am

Blackheath Common, SE3 Sunday July 3, 11.30am

Hampstead Heath, NW3 Saturday July 9, 11am

North Weald Airfield, Epping Wednesday July 13, 7pm

Finsbury Park, N4 Saturday July 23, 10am

Hyde Park, SW7 Sunday July 31, 11am
Join us!
Why not ask your girlfriends or your mum and sisters to join you? Signing up as a group is a great way to reach your goal and it's a great chance to celebrate life together. Find out more on fundraising here and sign up now at raceforlife.org.