Heads up! We're working hard to be accurate – but these are unusual times, so please always check before heading out.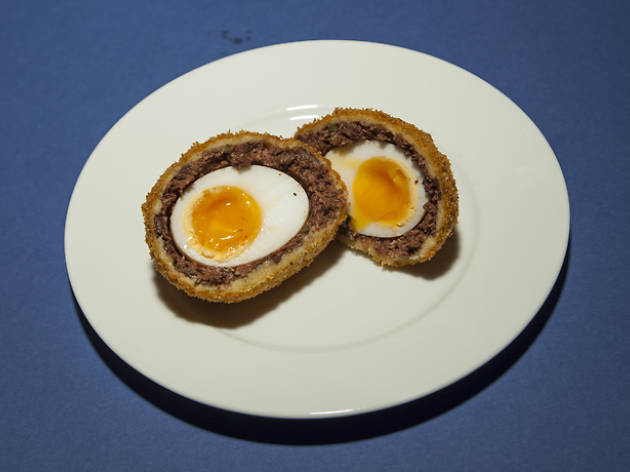 London's top ten inventions
Table tennis, magazines and miniskirts – check out the ten greatest inventions created in the capital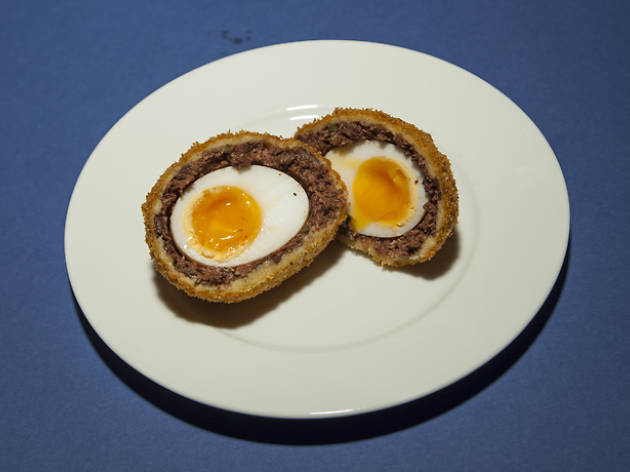 Rob Greig
What could be better than an egg inside a sausage? Well, how about an egg inside a breaded and deep-fried sausage? That's the logic Fortnum & Mason followed in 1738: the royal grocer lays claim to the very first version of this Russian doll of the snack world. The 'scotch' bit is something of a misnomer these days; in the original recipe it referred to the provenance of the beef used, and not, as some uncharitable sorts might imagine, to the fact that the Scots will eat anything that's spent time immersed in hot fat.
Next time your train is stuck in the darkness between stations on another interminable commute, consider yourself lucky to be able to spend half your day in something so historically momentous: the London Underground was officially the first of its kind. The Metropolitan line debuted in 1863, running for almost four miles between Paddington and Farringdon Street. Overcrowding, delays and endless engineering works: London's gift to the world. No, no, don't thank us.
As quaint euphemisms go, 'spending a penny' is as about as far from reality as you can get. But it originates from this fragrant city: London can proudly claim to be responsible for the world's first public pay toilets. John Nevil Maskelyne, a Victorian inventor and performing magician, created a coin-operated lock for lavatory doors. Of course, inflation has meant that it now costs at least 30 pennies to spend a penny, if indeed you can find a public convenience in London: they're vanishing faster than Maskelyne's no-doubt lovely stage assistants.
Publisher Edward Cave coined the term in 1731 for his Gentleman's Magazine: a rather dry-sounding monthly missive containing wideranging reports on everything from 'Old and New Whigs' to 'Prices of Goods, Stocks, and Monthly Bill of Mortality'. But it was the first in an illustrious list that takes in titles such as Ackermann's Repository, Angling Times, Razzle and, of course, the fine organ you're clutching right now. London's top ten Inventions
In 1827 Isambard Kingdom Brunel created the world's first underground dining experience in a tunnel beneath the Thames. Last month the Brunel Museum (located above it) recreated it as a supperclub event. Candlelight and the Coldstream Guards' regimental band accompanied the original meal as 50 guests clinked crystal glasses. At the end of the evening, attendees climbed back up a staircase and appeared suddenly in the daylight. Thus making them the world's first pop-up diners.
The barroom sport of the modern hipster has its roots in London. Mad, thrillseeking Victorians kicked things off by batting small balls to and fro across their dining tables, before it was formalised by games inventor John Jaques III in 1901. In the years since it has gone from a genteel pastime of the leisured classes to the frantic Olympic sport we know today, variously taking on the names 'ping pong', 'flim flam' and – Boris's preferred nomenclature – 'wiff waff'.
It's an irrefutable fact that the Scots are responsible for a disproportionate number of great civilising inventions – penicillin, the telephone, anaesthesia and whisky. They're also responsible for some less civilising ones: haggis, golf and the television, first demonstrated by expat John Logie Baird to a group of goggling square-eyed onlookers in Frith Street in 1926. We're still claiming it as one of ours, though.
Thankfully, most iconic symbols of the 1960s have been largely forgotten – tie-dye, Mateus Rosé and Herman's Hermits. But one endures: the knee-baring miniskirt was brought to public attention in 1964 by designer Mary Quant at her King's Road boutique Bazaar. The raised hemline raised eyebrows at a time when ladies' legs were considered too suggestive to be on show, but as fashions come and go, short skirts display remarkable longevity.
The planet's first ATM was installed outside a Barclays in Enfield in 1967: inventor John Shepherd- Barron (yet another Scot) said his genius money-dispensing contraption was inspired by chocolate vending machines. Despite its near ubiquity in boroughs all over our city, this invention is yet to make it to the Shoreditch/Hoxton area, as anyone who has spent valuable drinking time trudging around looking for one there on a Saturday night will attest to.
Nowadays, laughter fans don't bat an eyelid at the thought of paying £45 to watch a John Bishopshaped blob somewhere on the horizon. But back in the '90s, live stand-up comedy was an antiquated business entirely lacking gigantic video screens, Britney-style headsets or £7 pints. Until David Baddiel and Rob Newman played the world's first stand-up stadium gig in 1993, selling out Wembley Arena as part of their 'In Pieces' tour. Feel proud, London. It's down to us that tens of thousands of eyeballs and earholes can simultaneously be subjected to Michael McIntyre…