Make London better: share your idea for how to make the city a better place
Tell us your idea for a way to improve the city and we'll help you make it happen. In partnership with GoFundMe.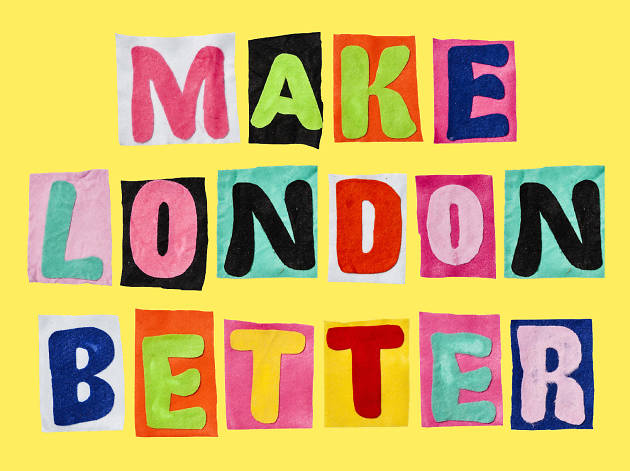 At Time Out we love London. We also love brilliant ideas. And when they come together, in a way that improves our city for everyone, we get really excited. Take for example the Brixton community fridge: a place where anyone can leave food for those who need it. Genius.
Now, Time Out has partnered with GoFundMe to launch a competition for two Londoners (or teams of Londoners) to turn their brilliant ideas into realities. It could be an event that will bring a community together, a social or environmental initiative, or that lightbulb idea you tell your mates about but never leaves the pub.
Whatever it is: we want to hear about it. Then we'll choose the best idea and help make it happen. (Although it does need to be something we can actually do – no fried-chicken-delivering drones. Soz.)
What's the prize?
Two winning ideas will be awarded a GoFundMe page, each preloaded with £5,000. The winners will then need to set a higher funding target, which Time Out and GoFundMe will help you hit and see your idea realised.
The competition will be judged by a panel of London experts including Caroline McGinn, Time Out Editorial Director. The judges will be looking for an innovative idea which will have a positive impact on Londoners.
How to enter:
Tell us your idea below using no more than 100 words. Get your entry to us before midnight on August 31, 2017. We'll be announcing the winner in September.
Full terms and conditions here.
Sponsored listing
Belushi's Bar Hammersmith
This Hammersmith Belushi's is one of six in London - there are more across the UK and Europe, too. It's clearly a successful enterprise, borne from accessible food, plenty of promotions on the drinks and a bit of a party vibe. Live music and the screening of big sporting events help too. A short wine list and recognisable beers on tap do good business but it's the cocktails that prove most popular when night falls. Expect classic concoctions served in jam jars, sharers served with straws and a number of shooters ranging from the well-known (tequila slammers and Jägermeisters) to the intriguing - honey pots and shots of peanut butter jelly, for example. Keenly priced breakfasts are served from 8am, and follow an American culinary theme that continues throughout the day. Expect pancakes, burgers, hot dogs, nachos, steaks, tacos, quesadillas, racks of ribs and wings.   
Venue says: "Check out our new-look menu with killer burgers, platters and much more!"