Heads up! We're working hard to be accurate – but these are unusual times, so please always check before heading out.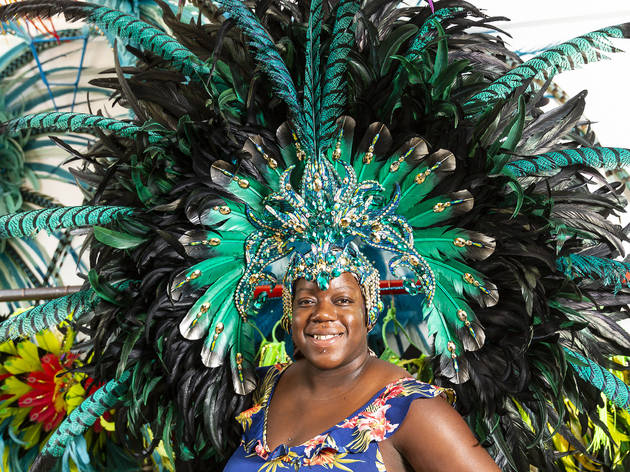 Meet the Londoners getting ready for Carnival
From costume creators to steel pan players, we speak to the Londoners preparing for Notting Hill Carnival
The costume makers: United Colours of Mas

It's hard to imagine that many of the spectacular costumes of Carnival start life on a light industrial estate in Leyton, but that's where you'll find the workshop of the United Colours of Mas. An Aladdin's cave of colour and feathers and sparkle, since 2007 Ucom has created amazing outfits not only for Notting Hill Carnival but for many other parades around the world: it's year-round mas production.
'This year we're incorporating Cirque du Soleil costumes and combining them with a Carnival style,' says founder Paul O'Donoghue. 'Expect big headpieces, lots of drama and lots of bling.' He's not exaggerating. As you walk through the doors of Ucom's work unit, you feel like you've been transported to the frontline of Carnival. It shimmers with colour. Headpieces, leg- and armbands sparkle. There are feathers everywhere – dyed in myriad colourful hues, decorating the elaborate bodysuits and leg-pieces which line the walls. Others are being carefully secured to the framework of headpieces. Ucom produces 700 handcrafted costumes a year, and it has held the Notting Hill Carnival crown for best national costume band for the past decade. Pretty impressive, given that it's very much a family operation run by around ten employees and volunteers.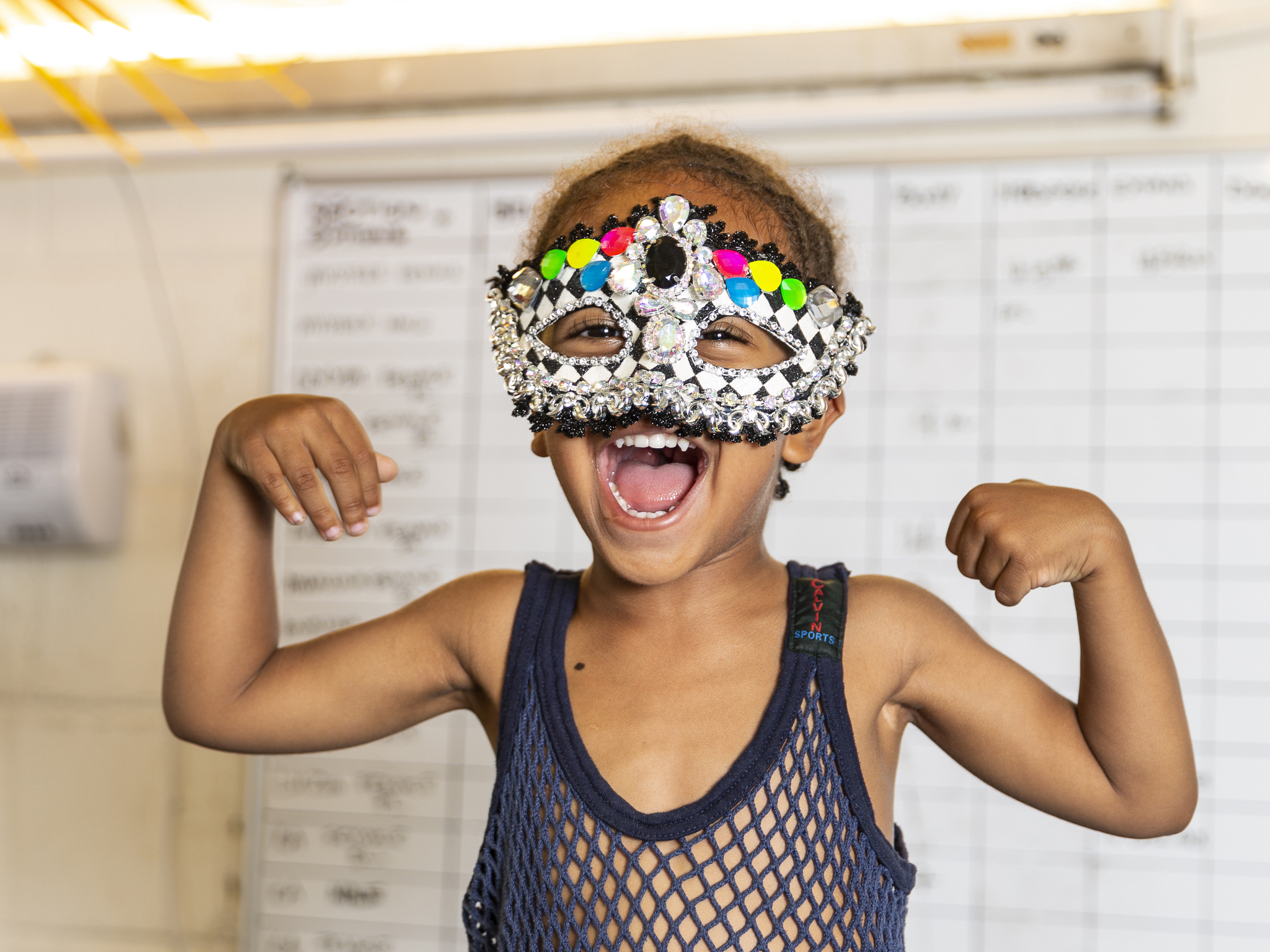 'Expect big headpieces, lots of drama and lots of bling'
'I'm currently working on a headpiece for a frontline costume,' says production manager Tylon McKenzie-Cooper. 'Each section has a frontline, with elaborate costumes: they cost around £500. The backline is slightly toned down: these are around £300. Each costume takes one to two days to make.'
Amid all the glitter and decoration, though, there is intense concentration. Carnival may be a celebration, and its costumes may be elaborately fantastic, but it's a serious business. 'Each person [here] plays a critical role,' says Ucom volunteer Vanessa McCorkle. 'We do it because we love it. It's our passion.'
The steel pan band: Ebony Steel Band

Steel bands are as much part of Carnival and Caribbean culture as the mas parade and soundsystems. One of the most revered, Ebony Steel Band was formed nearly 50 years ago by Trinidadian migrants to London. Now it has more than 40 members and is led by steel pan veteran Pepe Francis MBE. 'We're in our fifth generation of members,' says Pepe, explaining that there are two youth bands (with members as young as three) as well as a touring band and an adult beginners' group. Despite their dedication and professionalism, Ebony welcomes all: 'Whoever wants to play at Carnival can,' says Pepe.
The band is holed up in St Charles Sixth Form College on Ladbroke Grove to prepare for Carnival. Today it's hot and sweaty, full of the smiles of the 30 band members. The silver skins of their concave steel pans reflect the sunshine coming in through the school's windows, lending a carnivalesque energy to the space.
Pan bands have three sections: low bass drums, 'middle four pans' and high tenor instruments, all harmonising together. Kayleigh 'Loudmouth' Lewis is the leader of Ebony's fourpan section. 'There's more technique to pan than people think: wrist work, understanding the chords and chromatics,' she explains. 'The foundations of Ebony are community and competition.'
'We are in our fifth generation of members'
Ebony's bands take competition very seriously indeed. The different bands rehearse all year round – the beginners meet twice a week, while the touring band practise for three hours every day. The music is carefully arranged, but performances don't stick to rigorosly to the score. The result is that Ebony are at the top of their game: reigning European Steel Band champions and 23-time winners of the UK National Panorama Competition – a huge annual event that runs on the Saturday before Carnival.
But, as Kayleigh says, community is also right at the heart of what they do. She first played Carnival in 1995 as part of junior band Eboneek. 'I actually named my little sister after the group,' she says. 'She was born on Carnival Sunday and now she plays with the junior band!
The children's Carnival float: Heritage Social Arts & Dance Group

On a Friday night, the basement of the Church of St John on Bethnal Green vibrates to the sounds of soca. A throng of children and adults have gathered for Heritage Social Arts & Dance group's float rehearsal – they dip and dive between rooms, laughing, chatting and dancing. It's hard to tell whether it's a rehearsal or a party.
Founded in Tower Hamlets in 2003 by a group of parents who saw the lack of opportunities for local youth, HSA&D brings young people together through arts and performance. 'If you look at any organisation you'll see they need the youth to secure their survival,' says Kevin Antoine, founder and bandleader. 'They are the future.' The group also actively promotes Caribbean heritage. 'Carnival helps us recover what our community needs,' says Kevin, 'affirmation of our diverse Caribbean identity. This year's theme is Taíno, an indigenous people with ancestral roots in the Caribbean, Haiti, Puerto Rico and Venezuela. We'll incorporate their customs and vibrant colours into our costumes and dance.'
Heritage Social Arts & Dance spends nine to ten months rehearsing for Carnival. Dance is at the heart of what they do and the energy at the rehearsal is infectious. Toddlers, teens (and even the occasional parent) bounce to the vibrant beats of souped-up dancehall. Hips swivel to soca and feet pound the floor to the melodic patois of Stylo G, Ricky T and King Bubba, spun by resident DJ Papi. Each routine is energetic, performed in perfect unison.
'Carnival helps us recover what our community needs – affirmation of our diverse Caribbean identity'
'I've been part of the band for four years, choreographing for three,' says 21-year-old law student and float choreographer AJ. 'In two of those years we won at the Carnival judging point for both days. My confidence has grown massively.'
The group's float has appeared at Carnival for the last 15 years, and it's always been in the top three at judging. It receives no outside funding and it depends on the passion of its volunteers.
'Last year was my first time at Carnival,' says 16-year-old Tia. ' I saw the float and thought: I've got to join! I felt included immediately. We've got big feathered headpieces and jewelencrusted arm and body pieces to fit toddlers, teens and adults. Every year one person is selected to wear a back-piece and this year it's me – I can't wait!'
The soundsystem: KCC & The Rockin Crew

Keith Franklin recalls the first time his soundsystem played Notting Hill Carnival in 1991: 'We turned up on the Sunday at 10am with the system in the back of the van and our speakers on the street,' says Keith. Among the other soundsystems pumping out soca, calypso, dub and reggae, KCC & The Rockin Crew stood out: 'We were the first soundsystem at Carnival to play house music all the time.' says Keith. 'By 1pm the streets were packed with people dancing to us.'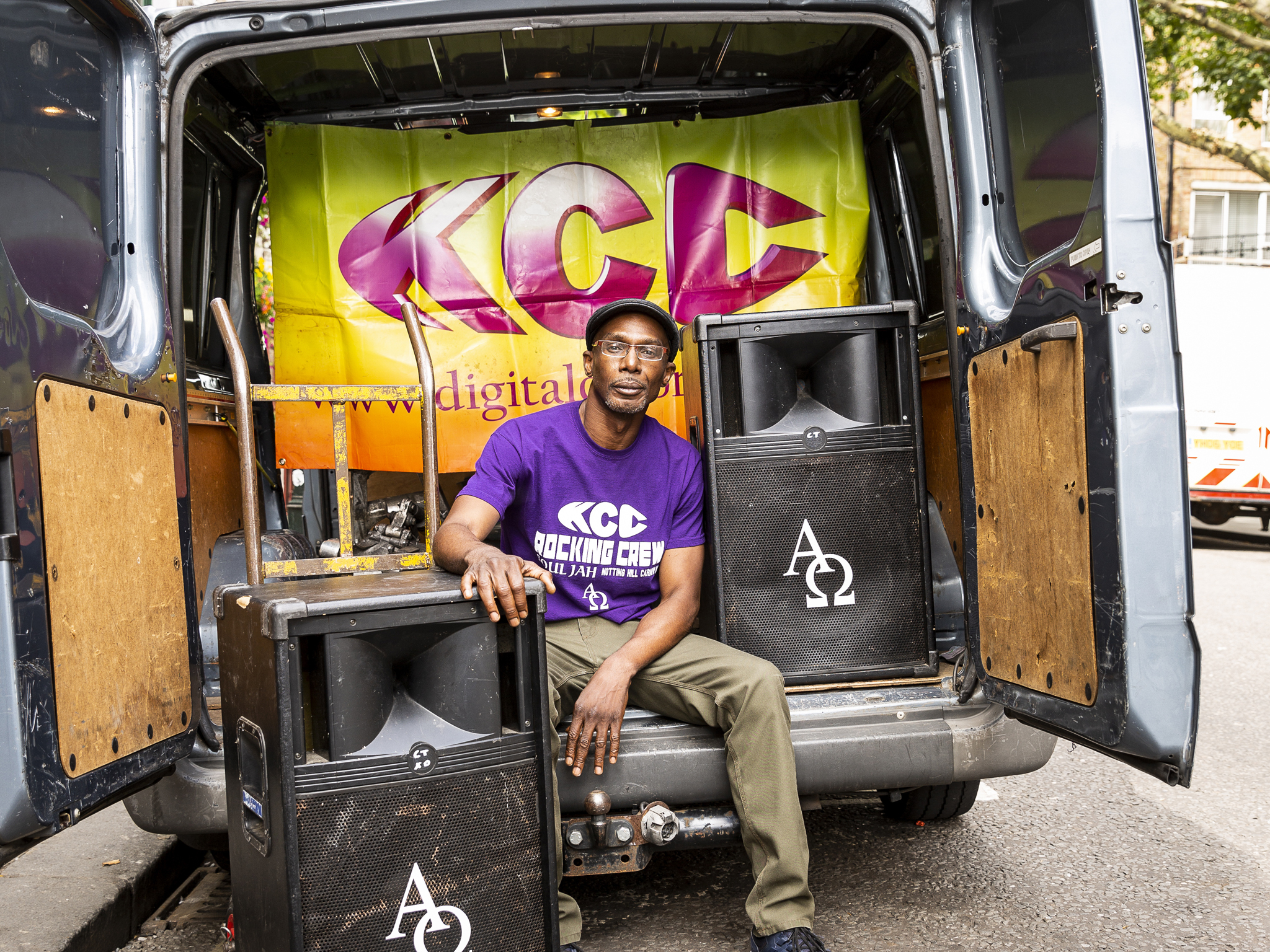 'We've had people meet at our set, get married and name one of their kids "Kacey"'
Keith and his soundman Mark are gearing up for this year's Carnival in Portobello Road's venerable, reggae-steeped Mau Mau bar. He and his decks are framed by towering speakers and red velvet curtains. Keith is mixing beats that oscillate between West African and '80s synth. In a few days he'll be doing the same from the back of a van to hundreds of people (with Mark on hand to fix technical hitches). The soundsystem is a stalwart of the weekend-long party. 'We've even had people meet at our set, get married and name one of their kids "Kacey",' says Keith.
In the 27 years KCC & The Rockin Crew have been blasting out the beats, the soundsystem has evolved. What began as a three-man group has blossomed into a network of producers, MCs and sound engineers. One thing hasn't changed in all that time, though.
'I never prepare a mix,' says Keith. 'Everything's spontaneous. I feed off the moment. Our soundsystem is creating a community vibe. That can't be preplanned.'
Photography: Scott Chasserot
Support Time Out
We see you're using an ad-blocker. Ad revenue is Time Out's main source of income. The content you're reading is made by independent, expert local journalists.
Support Time Out directly today and help us champion the people and places which make the city tick. Cheers!
Donate now