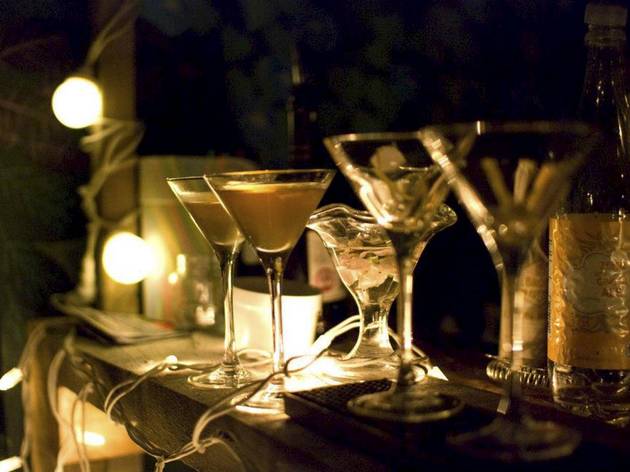 Time Out says
Sip botanical cocktails, pile round campfires, toasting marshmallows, tuck into Greek street food and venture into the Brunel tunnel - a giant subterranean concert hall - at this quirky cocktail takeover at the Brunel Museum's rooftop garden. On Friday's you'll find Piccalilli from Surrey Docks Farm on the roof providing a feast of fine food and artisan bread. On Saturdays, the Great Greek Grill will be dishing up grub.
Details
Average User Rating
3.3 / 5
Rating Breakdown
5 star:

4

4 star:

2

3 star:

1

2 star:

4

1 star:

1
Very underwhelming. Expensive drinks, dead atmosphere. wouldnt recommend or revisit.
What can I say about the midnight apothecary other than what a total disappointment it is. Rooftop cocktails? It's 5 steps off the ground. Your views are of housing estates. It's cramped. Botanical cocktails? The drinks are weak and shoved with flowers as some substitute for flavour. Staff range from either lazy and stood around doing nothing To overly in your face with cheesy chirpy sales speak. Avoid.
I was reluctantly dragged along to this for my friend's birthday last weekend and ended up having such a good night I wanted to share it. I forgot about the chilly weather when I was toasting marshmallows around a fire and drinking amazing concoctions made from plants and herbs in the garden. It's like nothing else I've found in London. Five stars!
A great little place that I really enjoy visiting! The bar is seasonal so it's closed for most of the winter (boo!) but it's a great spot for enjoying the delicious cocktails in the garden. The staff couldn't be more friendly and the atmosphere is relaxed and happy. Would deffo recommend!
Came here with my friend last night and my only disappointment was that it's closing soon! Amazing cocktails that look as good as they taste, brilliant staff and a magical garden that's like falling down the rabbit hole! Anyone who slates this place are out of their minds - it's a hidden gem!!
Strong drinks and a magical garden. I found this bar to be absolutely enchanting. Nothing like what other reviews have described. The place was thriving, strangers sat and befriended each other for the night amongst beautiful scenery and some of the best drinks I have ever tried. I had two and had to have a soft drink to pace myself. Simply a delight.
I was looking forward to the concept of Midnight Apothecary - cocktails in a summer garden with an open fire, but the reality was very disappointing. The garden is small and rather cramped, there's not much room to sit and then only on rickety planks, and though the fire is a nice feature, on a hot evening it was unbearable to sit nearby
Worst was the overpriced £8 cocktails.
I ordered an interesting-sound pine gin and smoked sage martini, which tasted faintly of washing-up water.
Between our party we sampled five cocktails, and they all mostly tasted of the small plastic cups they came in. Definitely the worst cocktails I've ever had in London.
On top of £8 cocktails we paid £5 entry, which presumably covers entrance to the museum (normally £6). The museum is an empty shed, and the much touted "descent" into the shaft is little more than a flight of stairs down to a circular hole in the ground, with a staff member giving a talk about the project, accompanied by the rumble of trains passing beneath. After which we left, having spent nearly £80 between six of us.
Given the great concept, it's very disappointing. It needs a better location with a larger or more comfortable garden, and decent tasting cocktails for the price, not served in small nasty cups that make everything taste of plastic.