Heads up! We're working hard to be accurate – but these are unusual times, so please always check before heading out.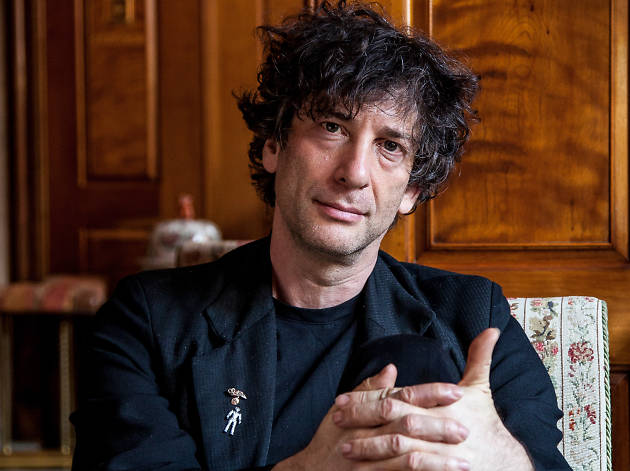 Neil Gaiman: 'My wife signs more boobs than I do, that's for sure'
Ahead of his new non-fiction book 'The View from the Cheap Seats', author and geek god Neil Gaiman talks fantasy, fandom and how to use Twitter for good instead of evil
When Neil Gaiman speaks, the world takes notice. More precisely, the internet takes notice. The English author has more than 2 million Twitter followers. A sentence from him can transform an obscure crowdfunding campaign into a money-spinner. His tweets regularly become headline news. It seems somehow appropriate that he'll discuss his new book at the Union Chapel this month, in front of an audience seated beneath stained-glass windows; for a worldwide community of sci-fi and fantasy readers, Gaiman is god of the geek universe. His new book, 'The View from the Cheap Seats', steps away from the magical worlds that made him famous into the strange territory of reality, with a collection of non-fiction essays, articles and past speeches covering everything from 'Doctor Who' to the refugee crisis.
You've said you're nervous about publishing non-fiction. Why's that?
'Because it's not actually what I do, at least in my head. I make stuff up. I lie to you and if I lie properly, I can teach you things and elevate you and break your heart. With this book, everything in there is true.'
In the book, you talk about your friend, the late fantasy writer Terry Pratchett. You're adapting 'Good Omens', the book you wrote together, for TV. What's it like working on it without him?
'Frustrating. Working with Terry was like having Michelangelo phoning you up and asking you to paint a ceiling with him. You were working with somebody who was the best at what he did. When I get stuck, all I want is to phone Terry.'
So it's important to be part of a community of writers?
'I'm somebody who writes novels, but I'm probably not a novelist because novelists are people who work best in solitude. I've loved my forays into television because there's a team of you. There are people who come up and give you Jaffa Cakes on set. Nobody brings me Jaffa Cakes when I'm writing.'
© Rob Greig
'If I lie properly, I can teach you things and elevate you and break your heart'
Speaking of collaboration, there've been rumours that you're helping George RR Martin finish his 'Game of Thrones' series. What's that about?
'I went to Santa Fe because my wife's sister lives there. The moment it got noticed I was there a local paper did a tongue-in-cheek thing saying, "He's here to help George RR Martin finish his next book." There's no tone of voice on the internet, so it turned into a news story. But the next time he murders a character everyone loves, I want it on his head, not mine.'
Any theories on why fans of fantasy and science fiction are so passionate?
'I don't know that it has anything to do with genre. If you go back into history, you'll find the same kind of fervour with Dickens. There's an amazing power in serial fiction. People have invested in these stories over time.'
Your wife, the musician Amanda Palmer, also has some pretty zealous fans. Whose audience is more intense?
'Amanda signs more boobs than I do, that's for sure. The most fun is when we hear people who say, "I found her music and I loved your books and then I discovered you were married."'
© Rob Greig
'I will start a new novel. It's looking like it's going to be the next "Neverwhere" novel'
Both of you have huge Twitter followings. What's it like to have so much power on the internet?
'It's dangerous and it's taught me a lot about responsibility. You have to be careful when you don't want to participate in internet pile-ons and instead encourage good things. But Twitter is so unpredictable. I can point people to something and it can explode. Or I can see a crowdfunding cause that seems important and tweet it and it winds up getting about 50 quid.'
What's next for you?
'My entire life is three months behind schedule thanks to a small and lovely baby. There was a point, where I got to look around and suddenly went: It's the end of December and what have I done? I'd held the baby and changed nappies … But I will start a new novel. It's looking like it's going to be the next "Neverwhere" novel [a fantasy set in London]. I feel like it's something to get my teeth into in terms of what London is and what it can be.'
Read an extract from Gaiman's new book
Neil Gaiman's new book 'The View from the Cheap Seats' features a piece he wrote for Time Out in 1988, just after he swapped journalism for fiction. Click here to read an exclusive extract about his all-nighter in London all those years ago