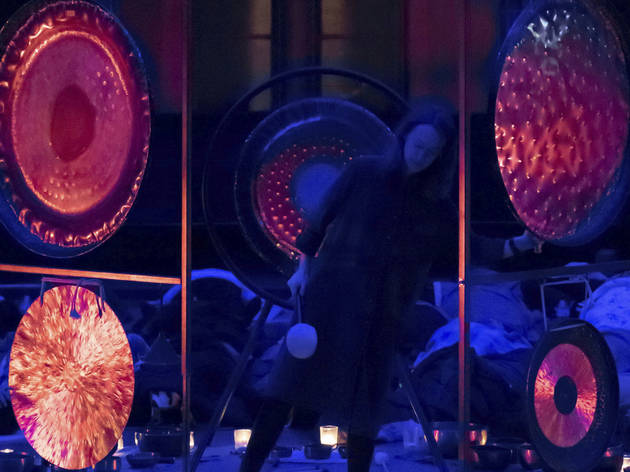 Time Out says
Friendly warning! We're working hard to be accurate. But these are unusual times, so please check that events are still happening.
The pursuit of wellness is a trend that's going nowhere soon, but there's something about the phrase 'psychedelic gong bath' that's enough to scare off even the most seasoned of yoga bunnies. As such, when I arrive at Hackney's Round Chapel, I'm expecting to be greeted by a group of proper old-school hippies. Instead, there's a queue of young people who could just as easily be waiting in line for a gig, except they are all carrying sleeping bags and roll mats.
I leave my shoes at the door and enter the main room. In the middle, there's a circle of gongs, as well as singing bowls and loads of candles. Around them, 100 or so 'bathers' are arranged in concentric circles, heads facing towards the centre. It's all pretty relaxed, people mostly just chill out and let you do your own thing. Sure, there are friends in small groups, but socialising isn't the point here.
In the corner, they're giving out cups of special tea. It's meant to help your chi, which is all well and good except that unfortunately it tastes quite a lot like mud. I lie down, and the bath begins. An hour-ish long wash of noise, it's genuinely relaxing although my stupid London brain takes half the session to stop whirring. When it does, I briefly fall asleep and then wake up feeling supremely spaced out in a good way. I'm a gong convert. However, when a woman started throat-singing, let's just say it didn't give me quite as chilled out a vibe.
At the end of sixty minutes we're slowly wafted back to reality by some cloaked people waving incense around. Post-bath, the bleary-eyed room of candlelit people wrapped in blankets is a bit like being at Glastonbury's Stone Circle at 4am, except I'm sober and in Hackney. Did I have a transcendental experience? No. Was it nice to lie in a pretty room and just chill the fuck out for a bit? Bang that gong once, it's a yes from me.
Details