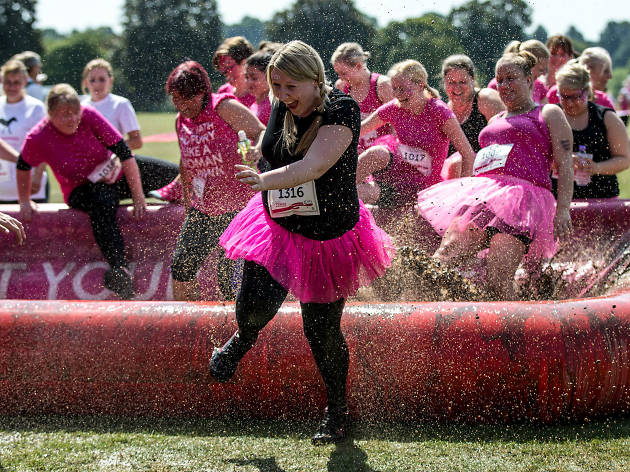 Run, splash and slide in Cancer Research UK's Pretty Muddy
Sign up now for the muddiest fundraiser in town – the Pretty Muddy 5k obstacle course, coming to six London parks this summer and autumn
Don't get mad, get muddy!
Cancer plays dirty – so can we. Race for Life Pretty Muddy® in partnership with Tesco is a totally non-competitive event where women of all shapes and sizes slip, slide and splash their way to the finish line via a range of obstacles – scrambling under nets, venturing through tunnels and over tyres, and (our favourite) swooshing inelegantly down the mud slide.
As any stylish woman about town knows, pink goes rather well with brown, so be utterly fashionable this summer and join the thousands of women of all ages taking part in one of London's six Race for Life Pretty Muddy events happening between now and October.
Sign up now
The Race for Life Pretty Muddy 5k is open to all teenage girls and women (aged 13 or over) and you can sign up now for a challenge local to you.
Mud 'on the road'
Can't make the first one? No worries, there's plenty more, including a standout event at Queen Elizabeth Olympic Park on Sunday September 11. Here is the full line-up of Pretty Muddy 5k events in support of Cancer Research UK happening across the capital over the coming months. Events have a choice of start times; see website for details.
Wormwood Scrubs, W12 Wednesday July 13
Finsbury Park, N4 Sunday July 24
Queen Elizabeth Olympic Park, E20 Sunday September 11
Morden Park, SM4 Sunday September 18
Brockwell Park, SE24 Saturday October 1
Clapham Common, SW4 Saturday October 15
Signed up? Get training!
Get the most out of the big day and feel great while you're doing good – Cancer Research UK offers brilliant advice on how to prepare for Pretty Muddy.
Entry fees
Your entry fee helps raise vital funds to support the work of Cancer Research UK:
Adult entry (women aged 16 and over) £19.99.
Child entry (girls aged 13 to 15) £10.
Register now for the Pretty Muddy 5K.
Get your friends and family to come along and cheer you on. And when you've done, don't forget they'll be super-proud of you, so make sure you give them a lovely big muddy hug!