Heads up! We're working hard to be accurate – but these are unusual times, so please always check before heading out.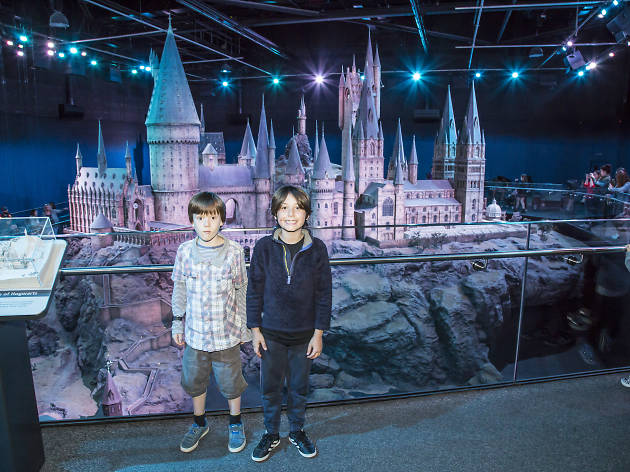 School's out! Ten things kids love at Hogwarts
Magnus and Ally take us on an eight-year-old's guide to Warner Bros. Studio Tour London and share their highlights for a family day out
Kids don't usually get excited about school in the middle of the holidays, but when they're visiting the set of a wizarding school that has broomsticks, potions and wands, well, they might make an exception.
'The Making of Harry Potter' – located at the very film studios in Leavesden where the Harry Potter movie magic was originally captured – offers a unique chance to step into J.K. Rowling's Wizarding World, as seen on the big screen. Walk through sets that have been carefully preserved or lovingly rebuilt and stand right where Daniel Radcliffe and the entire cast played out the thrilling drama of every film in the series. Over to Magnus and Ally to tell us ten things they learned on their first day at Hogwarts.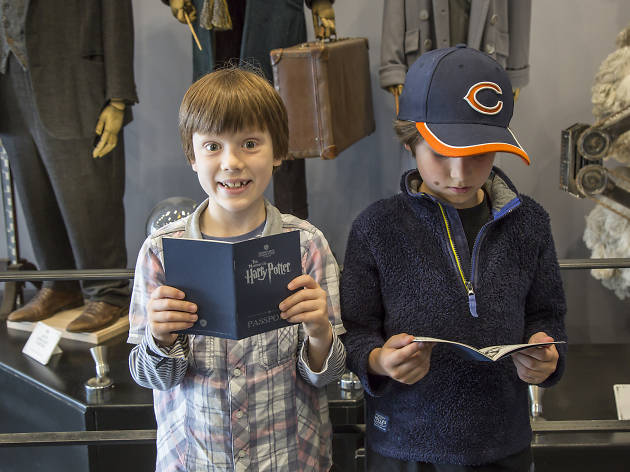 Photo: Rob Greig
1. Getting your own passport
'I'm going to find the Golden Snitch! I bet it's in the boy's toilets.'
Grab your activity passports at the start of your tour and use them to take a Golden Snitch-hunt around the Studio Tour – make sure you get your special stamps in key locations.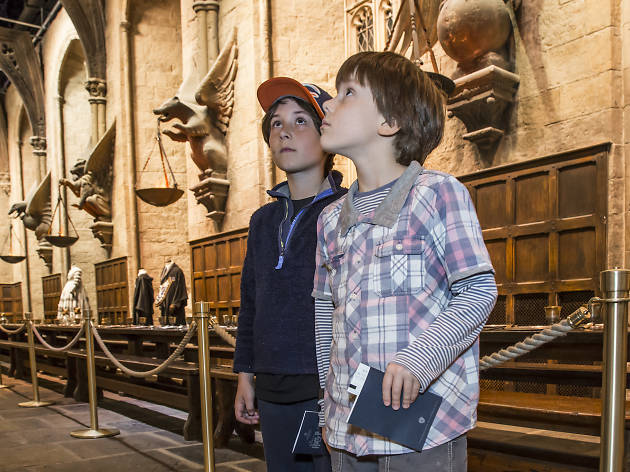 Photo: Rob Greig
2. Visiting the Great Hall
'This is sooo BIG! It's amazing that this is all really real and you can go into it.'
The Great Hall was built permanently. Everything except for the starry stormy sky (and the magic) is carefully and authentically made. Even down to the huge, heavy flagstones, which are made of York Stone. This summer, you'll find The Goblet of Fire here.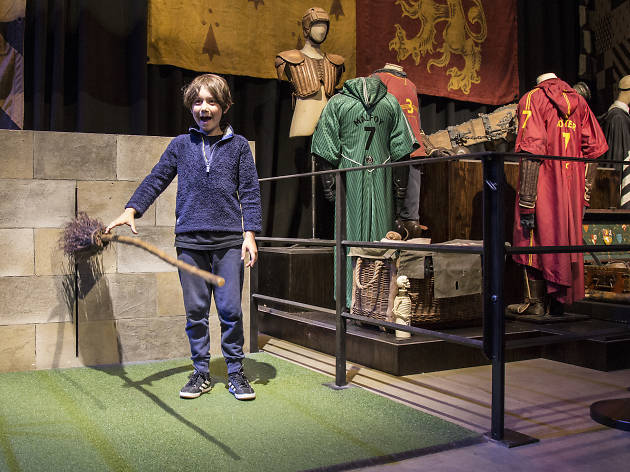 Photo: Rob Greig
3. Making 'up' broom magic
'I don't know how they did this in the movies… I think I've got the hang of the broomstick, but I'm not going to tell you how!'
The films took ten years to make from start to finish. Everything at Warner Bros. Studio Tour London was made for those filming sessions. That included the props. See if you can get a broom to fly into your hand when you simply call 'UP!'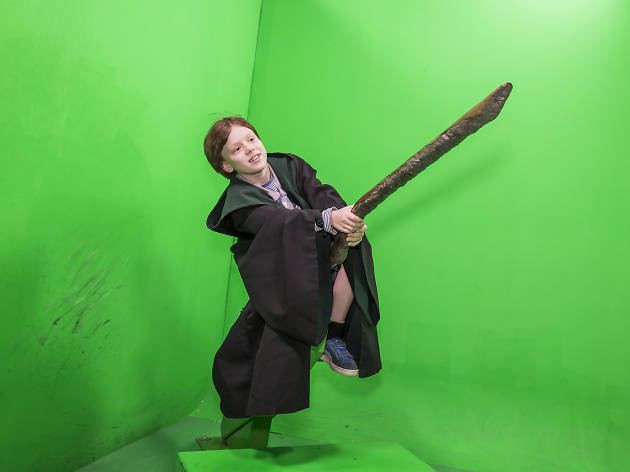 Photo: Rob Greig
'Whoa, this is so fun. You see yourself actually flying through London and up to Hogwarts. It is amazing. I think I would be good at it.'
On the tour, discover how some of the great tricks of the cinema trade and state-of-the-art green screen tech came together to create spectacular scenes in each film.
Photo: Rob Greig
5. Sitting down at Hadgrid's forced perspective table
'Hagrid's world is confusing!'
Hagrid always was a hospitable fellow. You're welcome to take a seat at his table, but hang on... Do I look much smaller than you? Find out how optical illusion helped make actor Robbie Coltrane appear big enough to be a half-giant.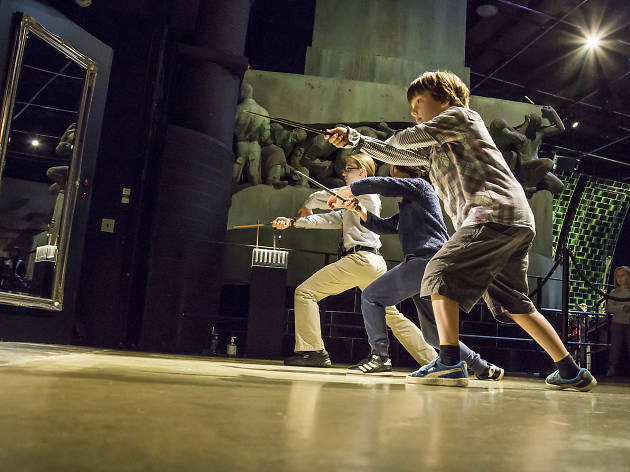 Photo: Rob Greig
'We are totally the best at this. Swish and flick. What's the best spell for duelling on a hot day? Exsmellyarmpits!'
Wand choreographer Paul Harris developed the art of 'wand combat' for 'Harry Potter and the Order of the Phoenix'. Grab your wand and make those moves, with a little help from Paul himself.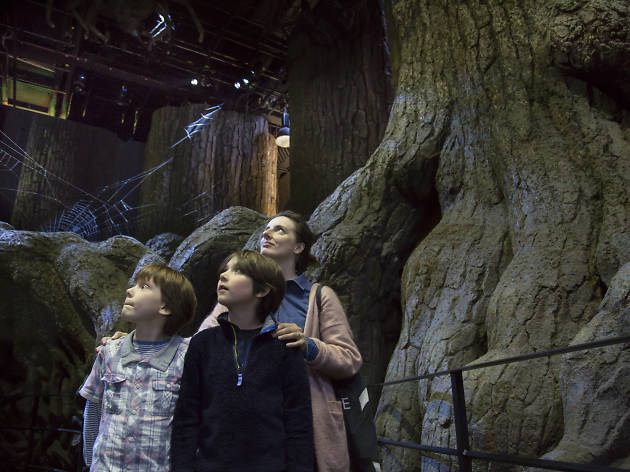 Photo: Rob Greig
7. Daring to enter the Forbidden Forest
'You definitely should not come in here if you have arachnophobia.'
Turn a corner and your tour takes a very different mood. There's a distinct chill as the mist begins to swirl and you wander through the Hogwarts gates into the Forbidden Forest.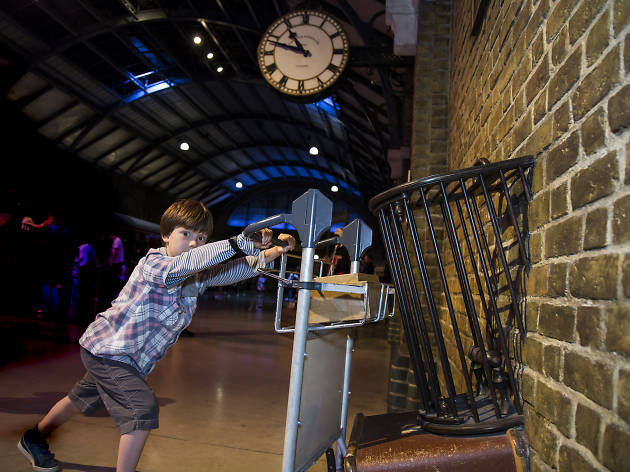 Photo: Rob Greig
8. Catching the Hogwarts Express
'Please can we get some chocolate frogs to eat on the train?'
When you arrive on Platform 9¾ you can't miss the Hogwarts Express in all its full-sized glory. Now you can hop on-board and walk along the carriages – created to capture key moments that happened on many a momentous return to school.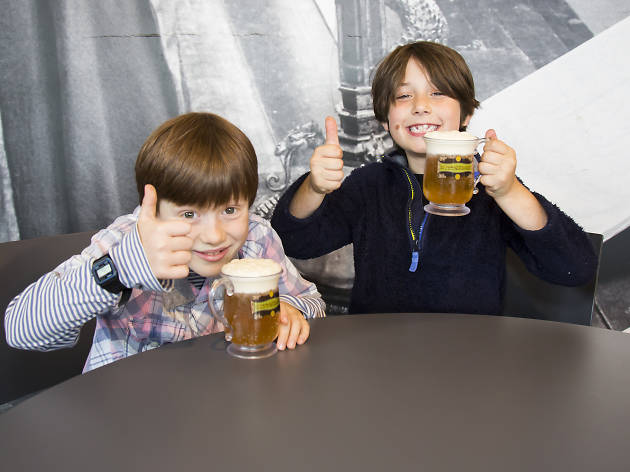 Photo: Rob Greig
'We like the idea of beer… Are we old enough?'
Ever walked into your kitchen to find the kids attempting to make 'butterbeer'? Were there ingredients everywhere and was something strange foaming out of a mug on the draining board? Sample the real thing (it's alcohol free!) at the Backlot Café.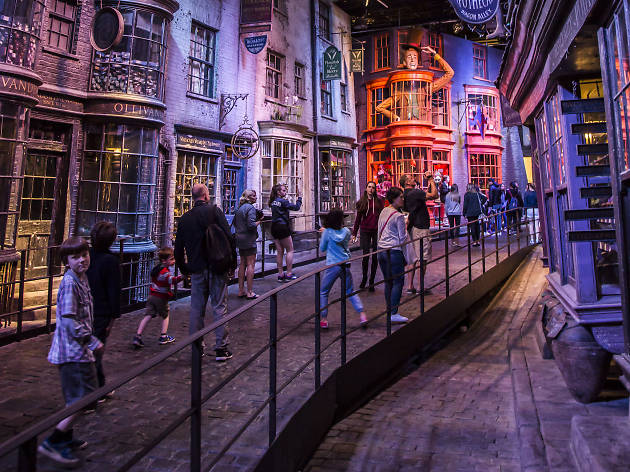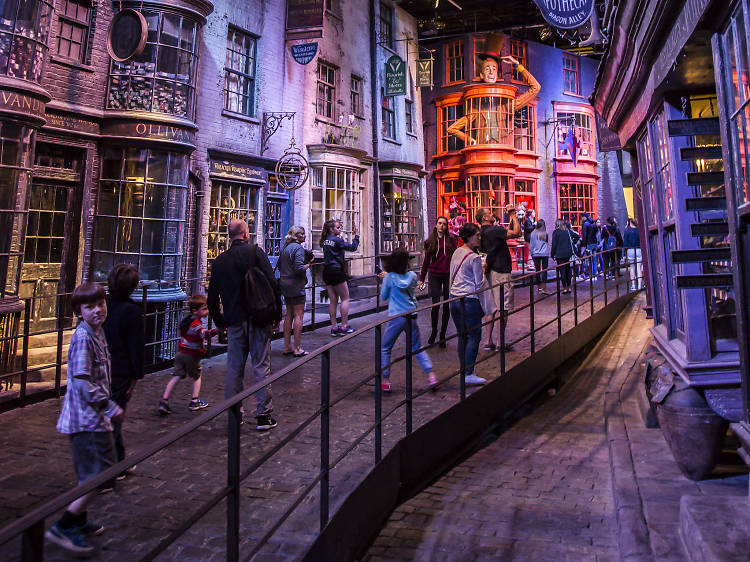 Photo: Rob Greig
10. Strolling up Diagon Alley
'We want wands! And please can we buy that Nimbus 2000 and take it home with us?'
When you take a walk up Diagon Alley, Ollivanders wand shop certainly does look tempting. With famous sights like Gringotts Bank and Flourish and Blotts on either side of this cobbled thoroughfare, you and the family can get up close to the craft and see the fabulous attention to detail on London's most magical, secret street.
This summer, you can enjoy also The Goblet of Fire special exhibition as part of your tour. Running until September 23, it features key props and costumes from 'Harry Potter and the Goblet of Fire'. You even get to take home your very own parchment from The Goblet of Fire itself.
To visit Warner Bros. Studio Tour London, tickets must be purchased in advance at: wbstudiotour.co.uk. Find out more at: wbstudiotour.co.uk/getting-here.
Explore more of Hogwarts at Warner Bros. Studio tour London
Relive the drama and the stunning visual style of 'Harry Potter and the Goblet of Fire' in a new feature as part of Warner Bros. Studio Tour London – The Making of Harry Potter.