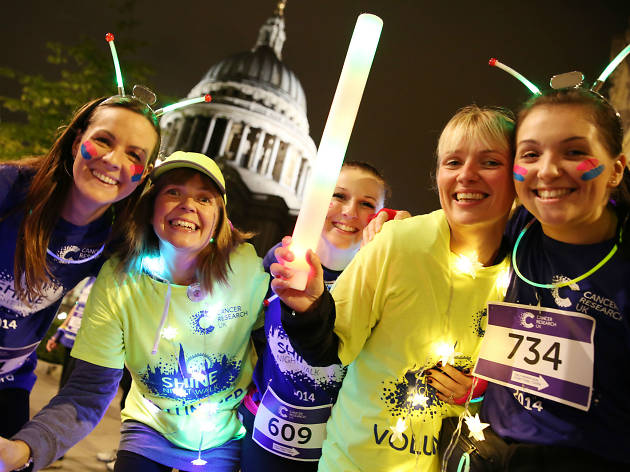 Shine through the night and help beat cancer
Join Cancer Research UK's walking marathon and half-marathon on an amazing night-time journey through London
Shine's incredibe £22million milestone
Since the first Shine event for Cancer Research UK in 2010, this walking marathon and half-marathon has helped raise an incredible £22 million in vital funds for lifesaving work. This is the sixth Shine event in London, and the goal is to raise a further £4.9 million this year, to help Cancer Research UK beat cancer sooner, and to reach a point in the next two decades where three out of four people survive their cancer for at least ten years.
Choose your own fundraising goal
Men, women and teenagers taking part in this very special Cancer Research UK event often have their own particular reason for fundraising. Sometimes it's part of a personal battle with cancer right now, or it's in memory of a loved one. Sometimes it's to say 'Thank you' for a treatment that has helped them overcome cancer.
If you sign up to Shine, you can choose to put any money you raise towards Cancer Research UK's work into more than 200 types of cancer, or name one of 12 specific types of cancer if you prefer.
Shine, the Marathon Night Walk –  Saturday September 24
The walk starts at Southwark Park and finishes at Old Billingsgate, giving you the opportunity to see London's famous sights in a new light with thousands of walkers draped in lights and glowsticks. You can choose from two different start times for whichever challenge you opt for: 7.30pm or 8.25pm for the half-marathon and 9.20pm or 10.15pm for the full marathon.
The event is open to men, women and children aged 13 and over, and on the night you will find that the spirit and courage of your fellow walkers is inspiring. You might even make new friends. But you need to be prepared, mentally, to take on this amazing walk through London, and to be prepared physically. For this, check out the excellent training advice from Cancer Research UK.
Sign up now
The sign-up fee is £39.99, which goes towards the cost of staging the event. Leaving you free to simply choose the walk you want to do, select the specific Cancer Research UK work you want your sponsorship money to go towards, start fundraising and get training!