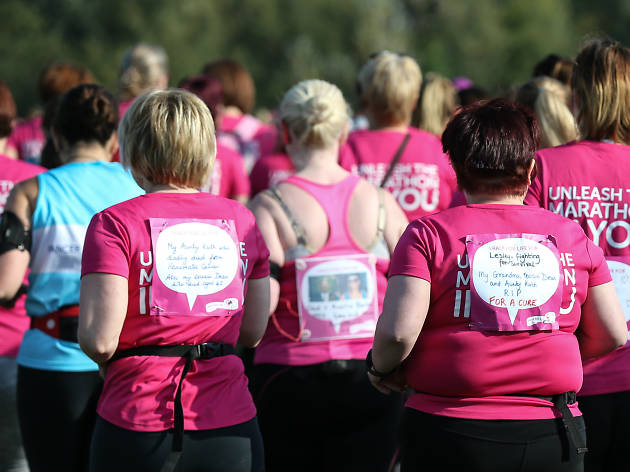 Sign up for the Race for Life Marathon
Take on the UK's only marathon and half-marathon exclusively for women – challenge yourself, feel amazing and raise vital funds for Cancer Research UK
Race for Life Marathon, Sunday September 4
One of the biggest events in the fundraising calendar for one of the biggest charities in the country, the Race for Life Marathon is your chance to be part of the UK's only marathon and half-marathon exclusively for women.
Here come the girls
Cancer Research UK's Race for Life series in partnership with Tesco are events designed to include all women, whatever their age and ability.
It's not about how fast you go, or competing against each other. People run as one, inspired by their own personal reasons, but with one united goal – to fund lifesaving research into all 200 types of cancer, affecting men, women and children.
Not sure if a whole marathon is for you? Don't worry, there's a half-marathon event happening alongside the marathon, for those who aren't ready for the full 26 miles.
Ahead of the big day, there's lots of great advice on the Race for Life website from its team of professional trainers, with the chance to attend training sessions all through the summer.
And, new for 2016, Cancer Research UK is offering a season pass for everyone who signs up for either distance. This gives you unlimited access to Race for Life 5k and 10k events beforehand, as part of your training.
Check out tips on how to prepare for the Race for Life Marathon and the Race for Life Half-marathon.
Sign up, start training
The Race for Life Marathon takes place at the River Lee Country Park in Waltham Cross, on the outskirts of London, on Sunday September 4.
It's a major event in Cancer Research UK's annual calendar, with great facilities for runners and supporters. On the day, friends and family can use the free tracking app to check your progress and can even jog alongside you at the 'Run with Loved Ones' section of the course.
So sign up at raceforlife.org and get moving. See you at the finish line!