Silent disco at the SEA LIFE London Aquarium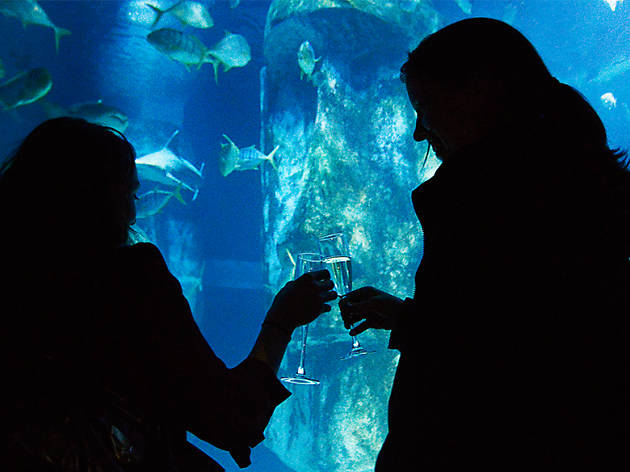 Time Out says
This event has been postponed until further notice. Time Out editors, March 2020
Experience one of our signature silent discos at the SEA LIFE London Aquarium. Don a pair of glowing headphones and tune in to one of three channels as you immerse yourself in the world below the waves. With pop, rock and party classics to choose from, you're sure to find something you can cut shapes to at the ultimate nautical night out.
The chance to party with sea creatures doesn't come along all too often (unless your Jason Momoa in green spandex, that is), so don't miss out on these aquatic events.
Details
Dates And Times
Average User Rating
4.7 / 5
Rating Breakdown
5 star:

25

4 star:

9

3 star:

1

2 star:

0

1 star:

0
Great night! A great way to see the aquarium while dancing with your friends. Free glass of bubbly when you arrive, with friendly staff. The only downside is that it gets very hot in the main area so bring a hair band and dress accordingly, There is a cloakroom which they charge £1. Will definitely be going there again.
Staff were lovely and it was well organised but I didn't think it was a great location for a disco. You don't see much of the aquarium, which is a little on the grubby side and there is a lot of interference if you move away from the main dance floor, where there is little or no sea life
A silent disco happening at a location in London I haven't been to yet? Sign me up! Millbank Tower, Hornsey Town Hall, View From The Shard - you name it, I've done it! The London aquarium however, despite being high on my list, was somewhere I hadn't been yet. But everything changed last Friday :-D
I loved the venue - the little fishes swimming gracefully everywhere around you, glass floors and ceilings making you panic that there is but a fragile piece of material between you and the sharp-toothed sharks, the access to the jellyfish exhibition from where you could still enjoy the music... The only bit I wasn't so keen on was the lack of ventilation & air-conditioning: it was almost as if I was under water myself!
Even though the Aquarium option is cheaper than the one at the Shard for example, it closes a lot earlier too - at 23:45 (whereas the Shard is open until 2 AM). I guess the fishies need their beauty sleep!
I had never been to a silent disco before, but this was such an epic night out I didn't want it to end! Walking on top of the shark tank at the entrance was awesome, and being able to explore the aquarium and listen to the music at the same time was an excellent touch. Had I known what a great night it was going to be I would have got there so much earlier to make the most of it! The DJ's were all fantastic and I felt spoilt for musical choices. This silent disco location isn't as frequent as the others so I would recommend getting tickets ASAP and checking it out! I would 100% return to this one again.
Love a silent disco & this has to be one of the best venues yet!! Hypnotic jelly fish & mesmerising sharks & rays. I did the drinks included wristband which was brilliant value & handy at the bar. My only wish is that one of the DJ's could be suitably cheesy & play a Little Mermaid mega mix- Under The Sea would have been positively life affirming!!
If you want to try something different, then go to Silent Disco! The concept of having a silent disco is fun, but having it under the sea is amazing. SEA life near Westminister, is a cool place to see, different animals under water, and top it up with wearing some headphones, where you can listen to three different channels of music that you could choose from, and having a drink. . It gave you an unique and fun experience.
The drinks was a bit expensive. But if you choose the £20 unlimited drinks, then it would pay off. You could take as much as you wanted of wine and beers. Its worth the money to go to Silent Disco! The whole concept being surrounded by fish and dancing around while having a drink, is a must thing to!
Have you ever been in an aquarium, within an aquarium?? If not, run to the SEAlife London Silent Disco!
In this underground atmosphere, you just put headphones on, select your music, get yourself a glass and enjoy being in your own bubble while watching amazing sea creatures!
At the beginning, they seem to be the only ones understanding you, as if you were sharing the same dance floor !
But then you get caught by a crowd on fire (it's actually quite hot down there!) dancing on different musics showed by the coloured light on their headphones.
Select the DJ you want to hear by tuning into one of the three channels (blue for mainstream, green for rap & rnb, red for house & techno), and see if you can colonise! If people around you tune into the same colour then you must be a good dancer.
But don't forget that the winners in the end are always the sharks and the jellyfish!
The Silent Disco at the Sea Life London Aquarium is extraordinary! What a experience! The Aquarium itself is already incredible beautiful! What a treat! And if you have the right crowd the dance floor will not let you down! And the fishes are happy as the loud music doesn't disturb them at all! Amazing!