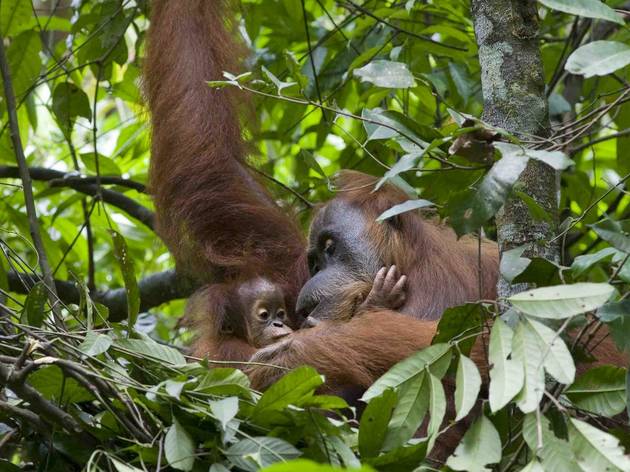 1/6
© Suzi Eszterhas
Sumatran orangutan mother and 9 month old baby resting in day nest North Sumatra.
2/6
© Paul Hilton
A semi-wild Sumatran Tiger (Panthera tigris sumatrae) is seen at the Tambling Wildlife Nature Conservation, Rescue centre in the Bukit Barisan National Park, South Sumatra, Indonesia.
3/6
© Paul Hilton
Rescued orangutans are cared for in a SOS-supported quarantine centre. Here we see Gober with one of her twins.
4/6
© Suzi Eszterhas
A critically endangered Sumatran Rhinoceros, in the Sumatran Rhino Sanctuary, Way Kambas National Park, Indonesia.
5/6
© Craig Jones
6/6
The Indonesian island of Sumatra is the only place in the world where elephants, orangutans, tigers and rhinos still live in the wild together. This free outdoor photographic exhibition hopes to highlight the threats that this habitat faces and what is being done to safeguard the island's unique species. 24 Photographs by top international wildlife photographers will be displayed on large 2-meter wide panels. A range of hands-on activities, meet-the-photographer events and talks will accompany the exhibition, which is organised by the Sumatran orangutan Society in association with The Forest Trust.