Star Wars comes to Madame Tussauds
Film fanboy Tom Huddleston files his report from a waxy galaxy not so far away – the massive Star Wars exhibit at Madame Tussauds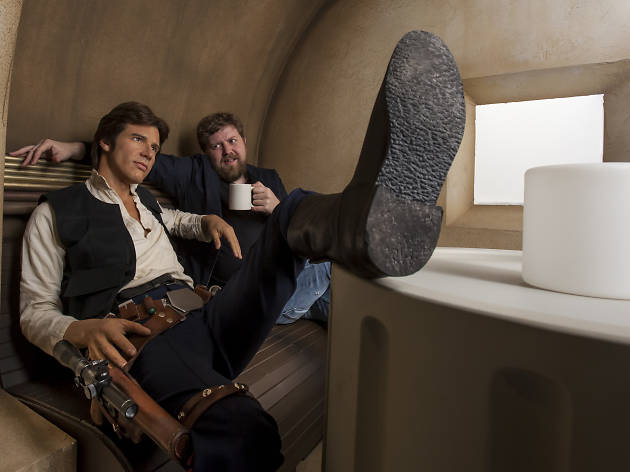 If, like Princess Leia (and a surprising number of my female friends), you've always dreamed of snuggling up with fabulously furry intergalactic playboy Chewbacca, you're in luck. At the new Madame Tussauds exhibit, punters are encouraged to stroke, nuzzle and generally get physical with several waxy 'Star Wars' legends (within reason, of course).
The Millennium Falcon cockpit set is undoubtedly the coolest aspect of the exhibition – not only do you get to occupy the pilot's seat, bark orders at your hirsute co-pilot and mess around with the painstakingly recreated pre-digital control panel, you can also hit the red button and blast off into hyperspace thanks to some nifty projection technology. Punch it, Chewie!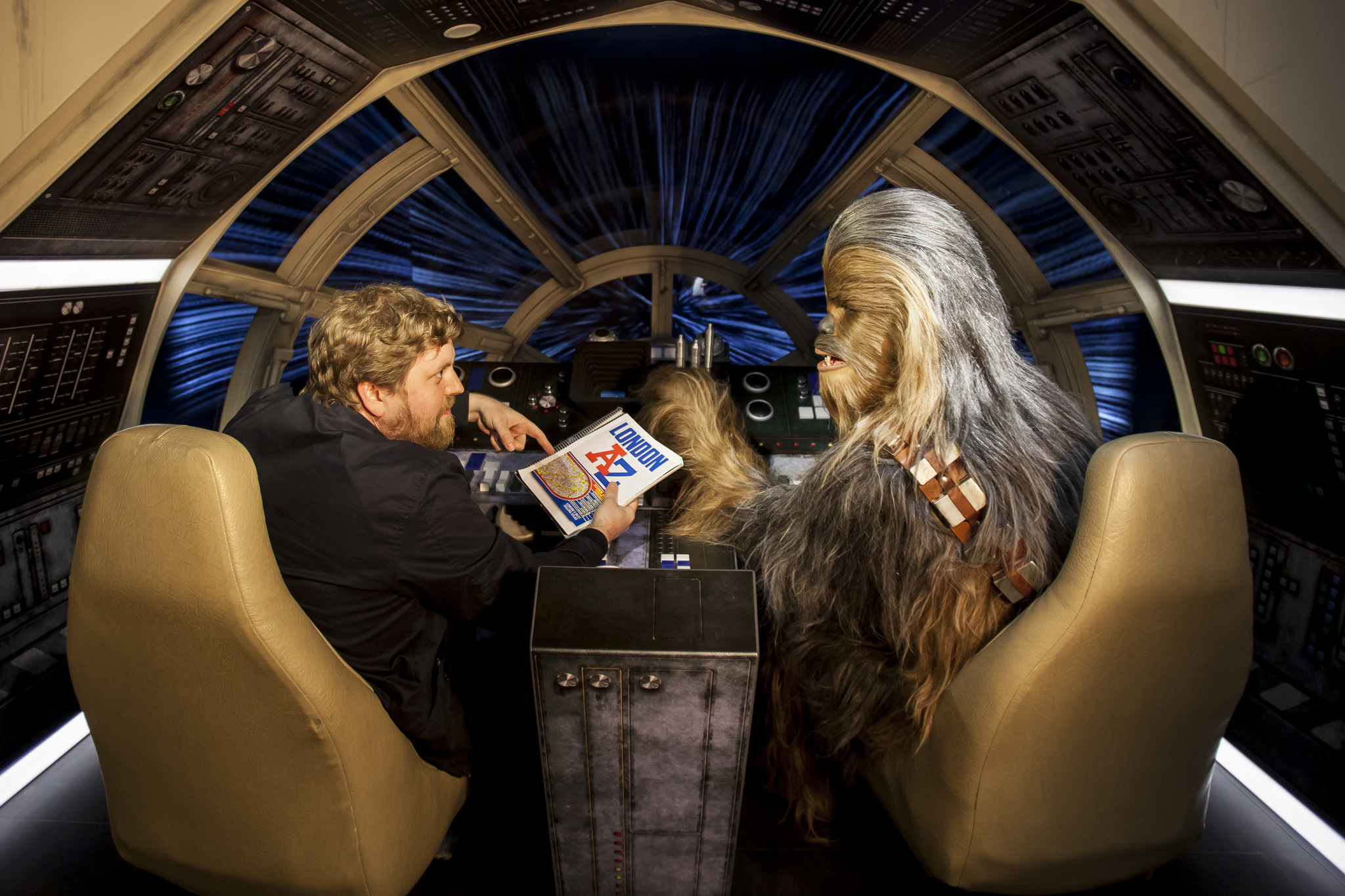 © Rob Greig
Skywalker is here I felt him
Lads, please, break it up! Unsurprisingly, lightsabers are a key element of the 'Star Wars' exhibit. The very first set-up beautifully recreates the three-way 'Duel of the Fates' (aka the good bit in 'The Phantom Menace') between Obi-Wan Kenobi, Qui-Gon Jinn and the villainous Darth Maul. And if you've ever fantasised about taking on that smirking traitor Anakin Skywalker (top left), Madame Tussauds staff will provide visitors with their own laser sword for a quick mock battle.
But the main attraction is the Death Star Throne Room where cinema's most dysfunctional father-son duo, Luke and Big Daddy Darth, square off in an almighty battle of good versus evil, all under the nose of sneering, cackling Sith-crone Emperor Palpatine.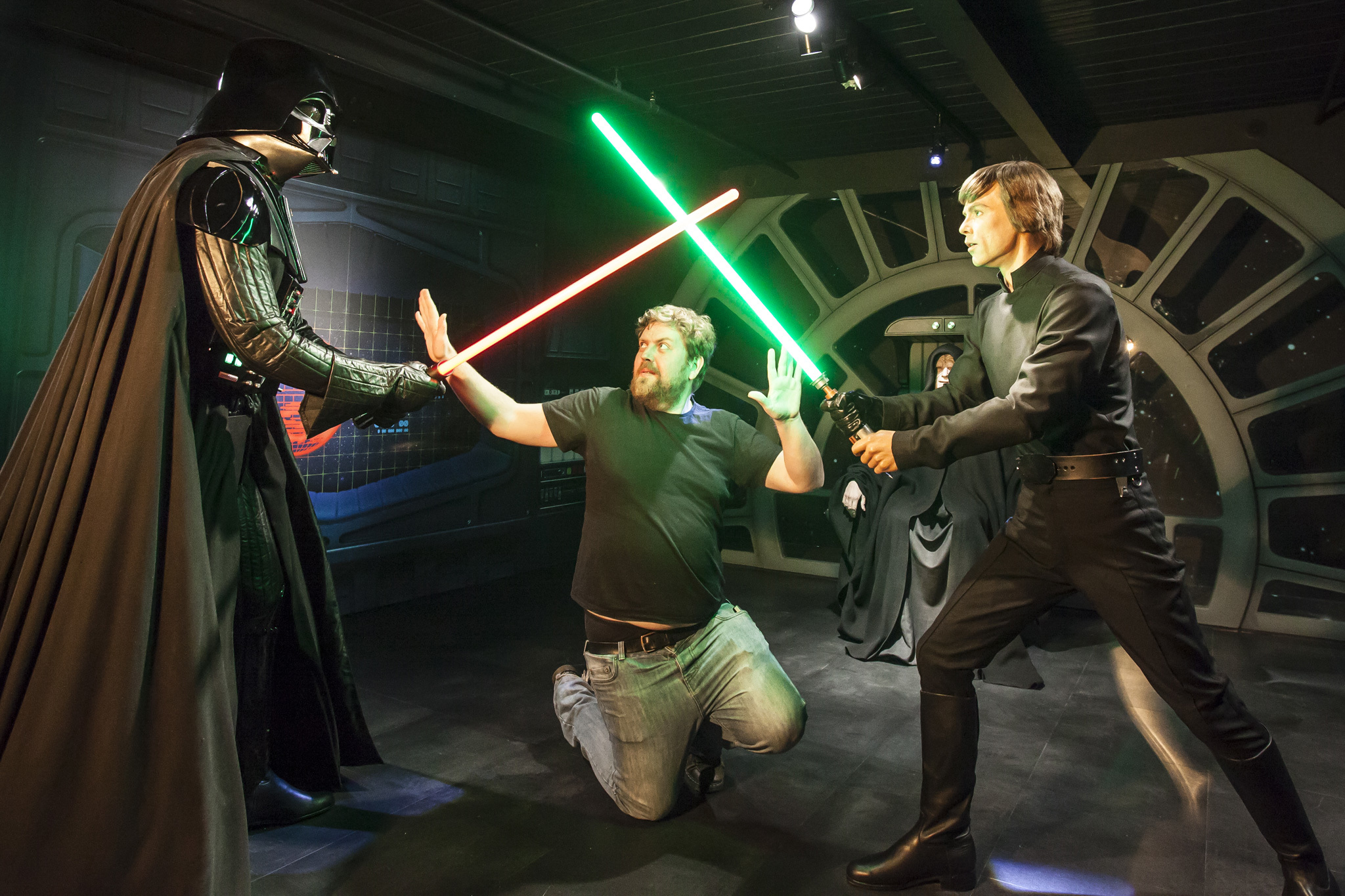 © Rob Greig
Who's scruffy-lookin?
The poses, the costumes and especially the haircuts at the Madame Tussauds exhibit are just plain breathtaking: ten professional 'hair-inserters' spent more than 1,000 hours covering Chewbacca's frame in yak hair. But if anything, we're more impressed by the old-school insouciance of Han Solo's '70s feathered 'do.
Every character here comes replete with clever little details: Han's utility belt is bristling with tools for a spot of spaceship DIY (plus a weighty steel blaster); C-3PO's golden chassis is caked in oil and Tatooine sand; and the snot rolling down Jabba the Hutt's face is genuinely nauseating.
Sponsored listing
Gladstone Arms
Beloved pubs getting turned into blocks of flats is a depressingly common narrative in London. So it's heartening that Borough's The Gladstone, having been condemned to the property developer's wrecking ball in late 2016, has reopened six months later, having been declared an asset of community value and taken on by a new team. Hooray for that. Old regulars needn't panic – the much-loved live music offering is still intact. Elsewhere, the new-look Glad brings few surprises: a craft beer offering, a menu of small plates, reclaimed furniture and the obligatory canopy of filament lightbulbs. Even if you've never set foot in the place, you'll feel like you've been here before. On my visit, the draught line-up was solid, if a touch conservative, with Hammerton's punchy N7 pale ale the pick of the bunch. Given the pub's location, it was disappointing not to see any south London brews on the taps (except the omnipresent Meantime), though Kernel, Brew by Numbers and Partizan all featured in the bottle fridge. Food lacked finesse, though: Japanese-style fried chicken ought to have come with something to dunk it in, while nicely crisp chips were in need of some seasoning. Still, most people won't come to The Glad for two-thirds of Belgian sour and a gourmet feed – they'll come for the cosy, friendly atmosphere, up-close live music and to bask in the fact that for once – just once – developers got told to do one.
Venue says: "The best live music pub near London Bridge with a great beer garden. Located close to Borough tube, serving local ales, craft beer and food."