Star Wars comes to Madame Tussauds
Film fanboy Tom Huddleston files his report from a waxy galaxy not so far away – the massive Star Wars exhibit at Madame Tussauds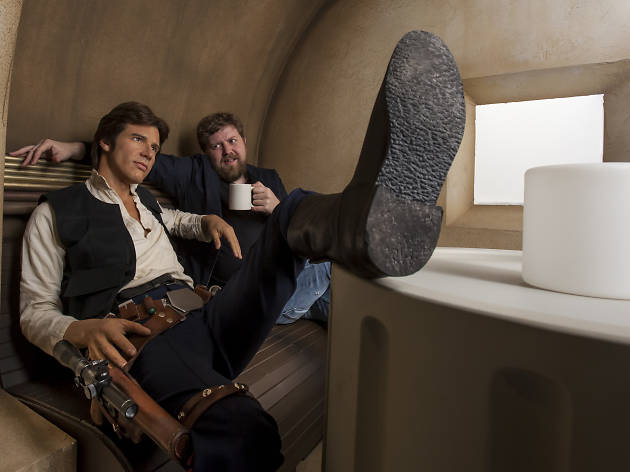 If, like Princess Leia (and a surprising number of my female friends), you've always dreamed of snuggling up with fabulously furry intergalactic playboy Chewbacca, you're in luck. At the new Madame Tussauds exhibit, punters are encouraged to stroke, nuzzle and generally get physical with several waxy 'Star Wars' legends (within reason, of course).
The Millennium Falcon cockpit set is undoubtedly the coolest aspect of the exhibition – not only do you get to occupy the pilot's seat, bark orders at your hirsute co-pilot and mess around with the painstakingly recreated pre-digital control panel, you can also hit the red button and blast off into hyperspace thanks to some nifty projection technology. Punch it, Chewie!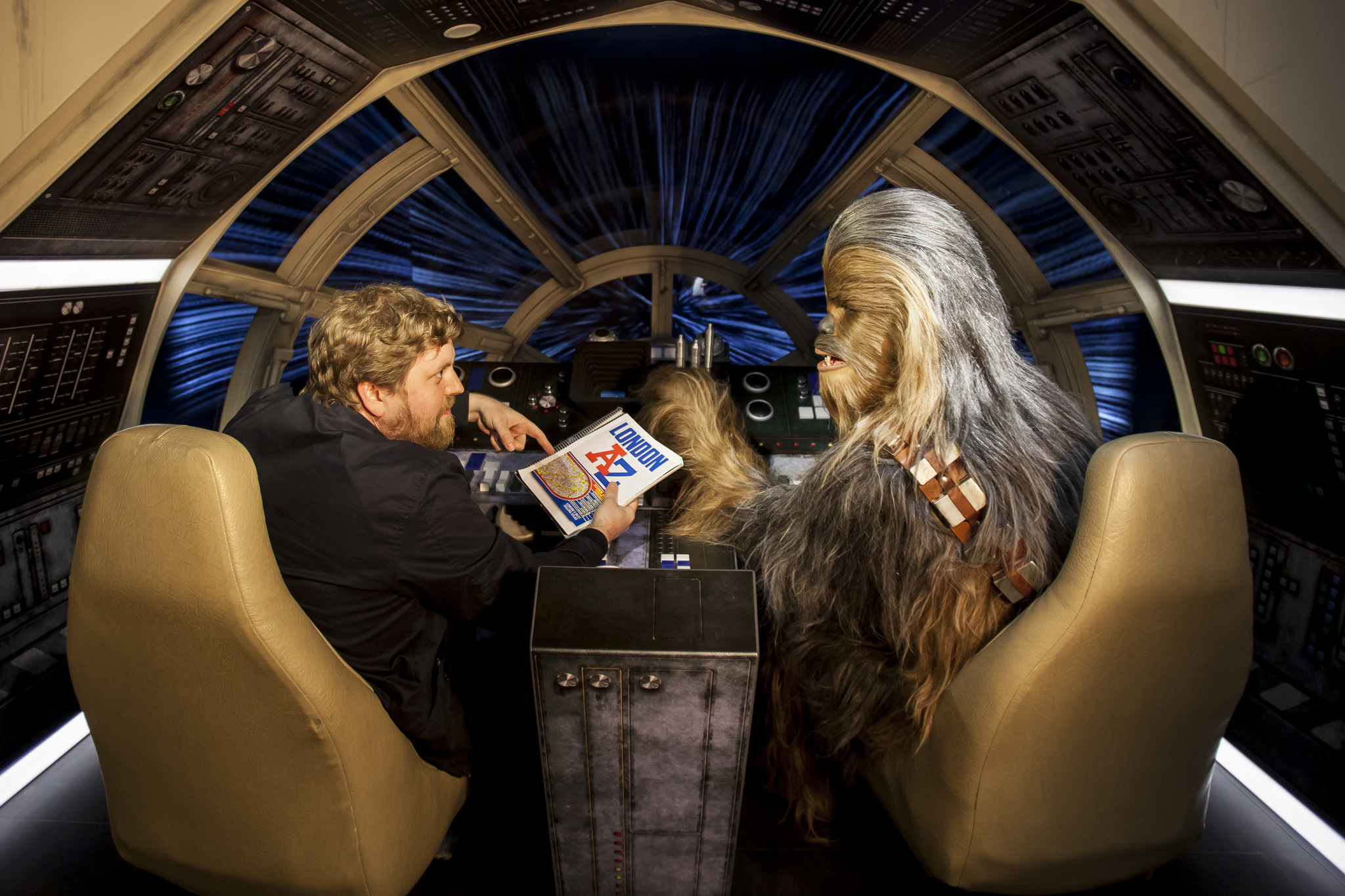 © Rob Greig
Skywalker is here I felt him
Lads, please, break it up! Unsurprisingly, lightsabers are a key element of the 'Star Wars' exhibit. The very first set-up beautifully recreates the three-way 'Duel of the Fates' (aka the good bit in 'The Phantom Menace') between Obi-Wan Kenobi, Qui-Gon Jinn and the villainous Darth Maul. And if you've ever fantasised about taking on that smirking traitor Anakin Skywalker (top left), Madame Tussauds staff will provide visitors with their own laser sword for a quick mock battle.
But the main attraction is the Death Star Throne Room where cinema's most dysfunctional father-son duo, Luke and Big Daddy Darth, square off in an almighty battle of good versus evil, all under the nose of sneering, cackling Sith-crone Emperor Palpatine.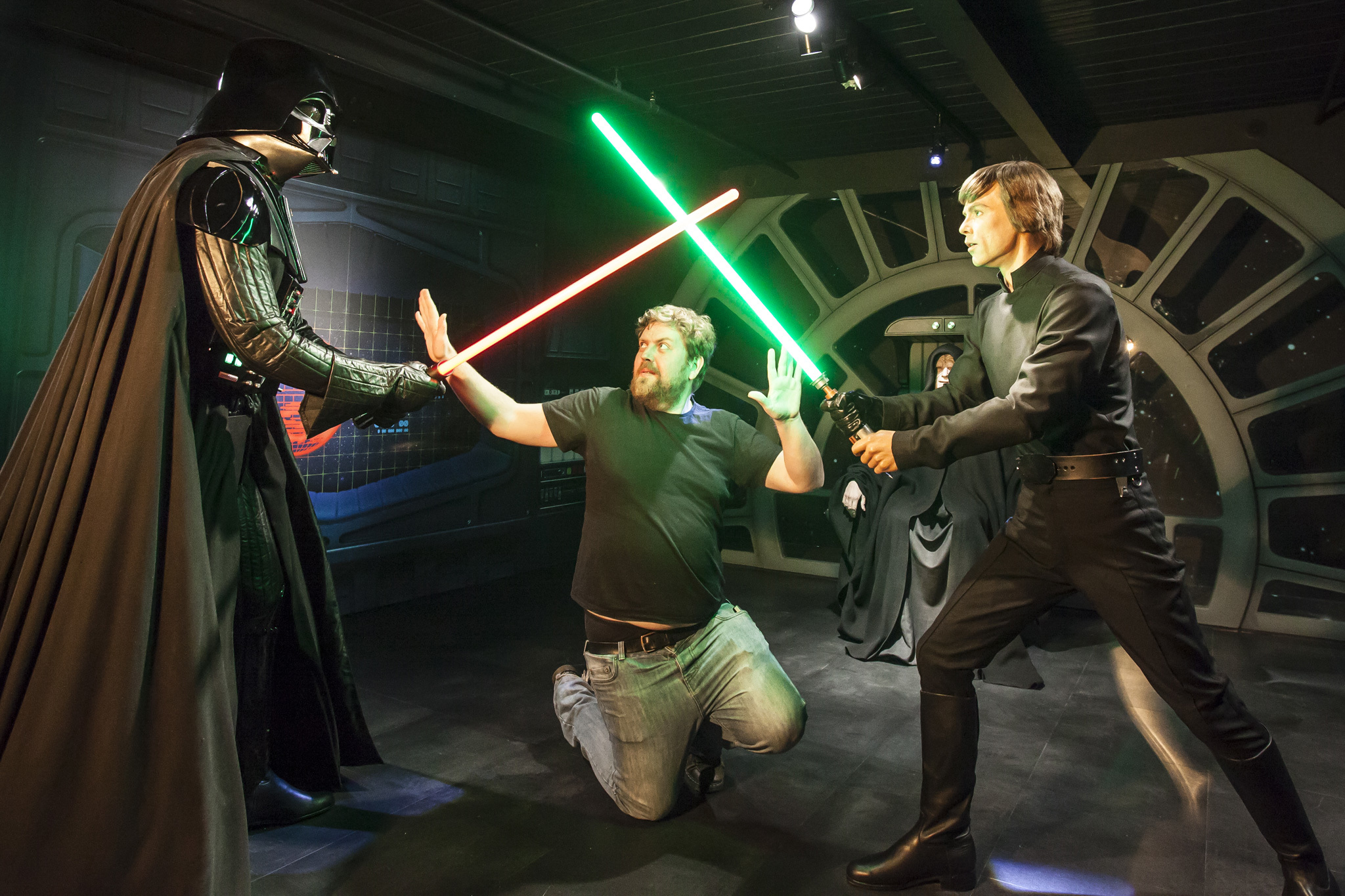 © Rob Greig
Who's scruffy-lookin?
The poses, the costumes and especially the haircuts at the Madame Tussauds exhibit are just plain breathtaking: ten professional 'hair-inserters' spent more than 1,000 hours covering Chewbacca's frame in yak hair. But if anything, we're more impressed by the old-school insouciance of Han Solo's '70s feathered 'do.
Every character here comes replete with clever little details: Han's utility belt is bristling with tools for a spot of spaceship DIY (plus a weighty steel blaster); C-3PO's golden chassis is caked in oil and Tatooine sand; and the snot rolling down Jabba the Hutt's face is genuinely nauseating.
Sponsored listing
Mei Leaf
A resident of vibrant Camden Town, Mei Leaf is no ordinary teahouse. Originally opened as a modern holistic health shop, Mei Leaf now functions as a sip-happy tea shop and speciali-tea brewing bar. With wooden shelves piled high with a selection of teas, supplements and aromatherapy oils, Mei Leaf creates unique blends and tea concoctions that you would be hard-pressed to find elsewhere. Tea-lovers can also find a particularly impressive array of medicinal blends and flower and berry-filled sachets. The tea bar offers exotic concoctions, such as tea infused with red dates and rosebuds as well as fragrant and nutty, spice-infused lattes. If you're busy then you can take your tea to go, but if you're in need of some sweet re-leaf there's space to sit too. And shop. Mei Leaf sells all of the refreshment accessories you could think of: cast iron teacups and teapots, strainers, hot and cold brewers, tea towels, bamboo tweezers, matcha whisks and more.
Venue says: "Time Out Love London Awards winner: Best Shop (2016, 2018). Welcome to true tea culture."