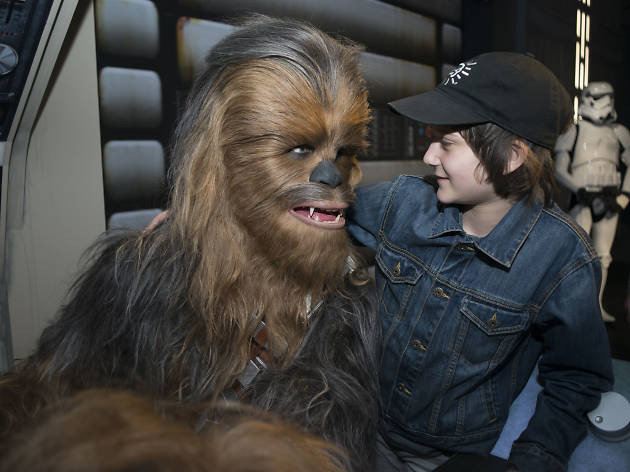 Star Wars days and Jedi Knights
We took two generations of Star Wars aficionados to put Madame Tussauds' latest major new gallery to the test
'Wow, it's actually got the scar Mark Hamill got in the car accident between "Star Wars: A New Hope" and "Star Wars: The Empire Strikes Back",' says Mark Garside, taking a closer look at Luke Skywalker posed mid-lightsaber fight with Darth Vader. Yes, the guide from Madame Tussauds tells us with some pride, Lucasfilm was pretty impressed with the level of detail that went into the brand new Star Wars experience at Madame Tussauds at Baker Street.
Madame Tussauds, a new episode
Since it opened in May 2015, Star Wars at Madame Tussauds has turned what is already an essential day out for starstruck fans of pop culture into the coolest place in London. Curiously, Star Wars is a passion that isn't limited to sci-fi obsessives.
Whether it's George Lucas's visionary ambition, the enduring appeal of good versus evil or because Star Wars is simply the best adventure in outer space, it has captured the imagination of movie lovers male and female, young and old, geek and non-geek, since it first hit the screens in 1977.
It's also influenced other cinema and the worlds of art and design. No wonder Mark, creative director of his own Shoreditch-based design agency, took all of about, ooh, ten seconds to consider the offer of taking his sons along to see what the new permanent Madame Tussauds gallery was all about.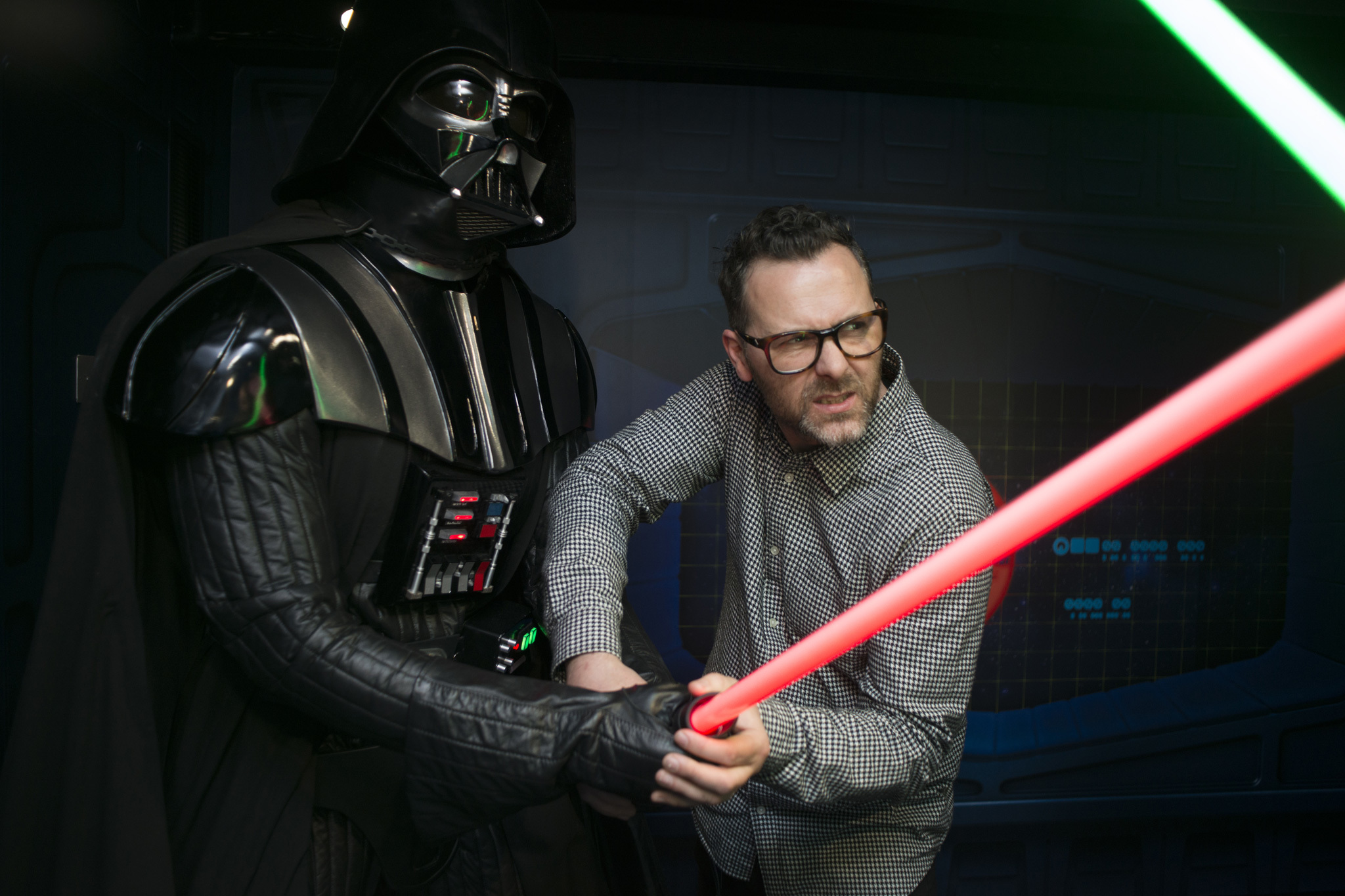 © Jamie Lau
A treat for Star Wars fans young and old
Many parents, like Mark, have passed on a passion for Star Wars to their children. Zoom, 14, and Ace, 11, join their dad to walk down the corridor, cleverly painted to look like you're about to be confronted by a gang of marching Stormtroopers. Both boys have an eye for their favourite scenes from the original trilogy and the three later prequels. They note with admiration that this tunnel is actually the Trade Federation Bridge from 'Star Wars: The Phantom Menace'.
As soon as they're told that all the sets can be walked into and that the wax figures can be touched, they waste no time in getting up close and personal with Qui-Gon Jinn (Liam Neeson) and Obi-Wan Kenobi (Ewan McGregor) duelling with Darth Maul. 'What? I can stroke his beard?' asks Zoom, before all three of them hurry towards the cantina set, where you can sit down and get cosy with a young Han Solo.
Both of Mark's sons are creative spirits; Zoom has been writing 'The Zoom' comic since he was eight years old and he now has a regular strip, 'Skanky Pigeon', in 'The Beano' comic. He's inspired by the way in which the sets bring the movies to life and he wonders if perhaps one day in the future he might be able to create his own Skanky Pigeon in wax.
'I think the cantina scene is my favourite part of this experience, because it's really interactive,' says Zoom. 'But where's the baddie sitting with Han Solo?' 'No, no, that's later, at a different table,' Mark says, knowledgeably. 'I think that's my favourite bit, too. When you see it in the film, who doesn't want to hang out at that bar?'
In total, the current experience features 11 settings and 16 characters. Given the level of detail involved in creating each one – including studying original props from the movies and drawing on the knowledge of the technicians 
and craftspeople who worked on them – it's no surprise that this is a multi million-pound project.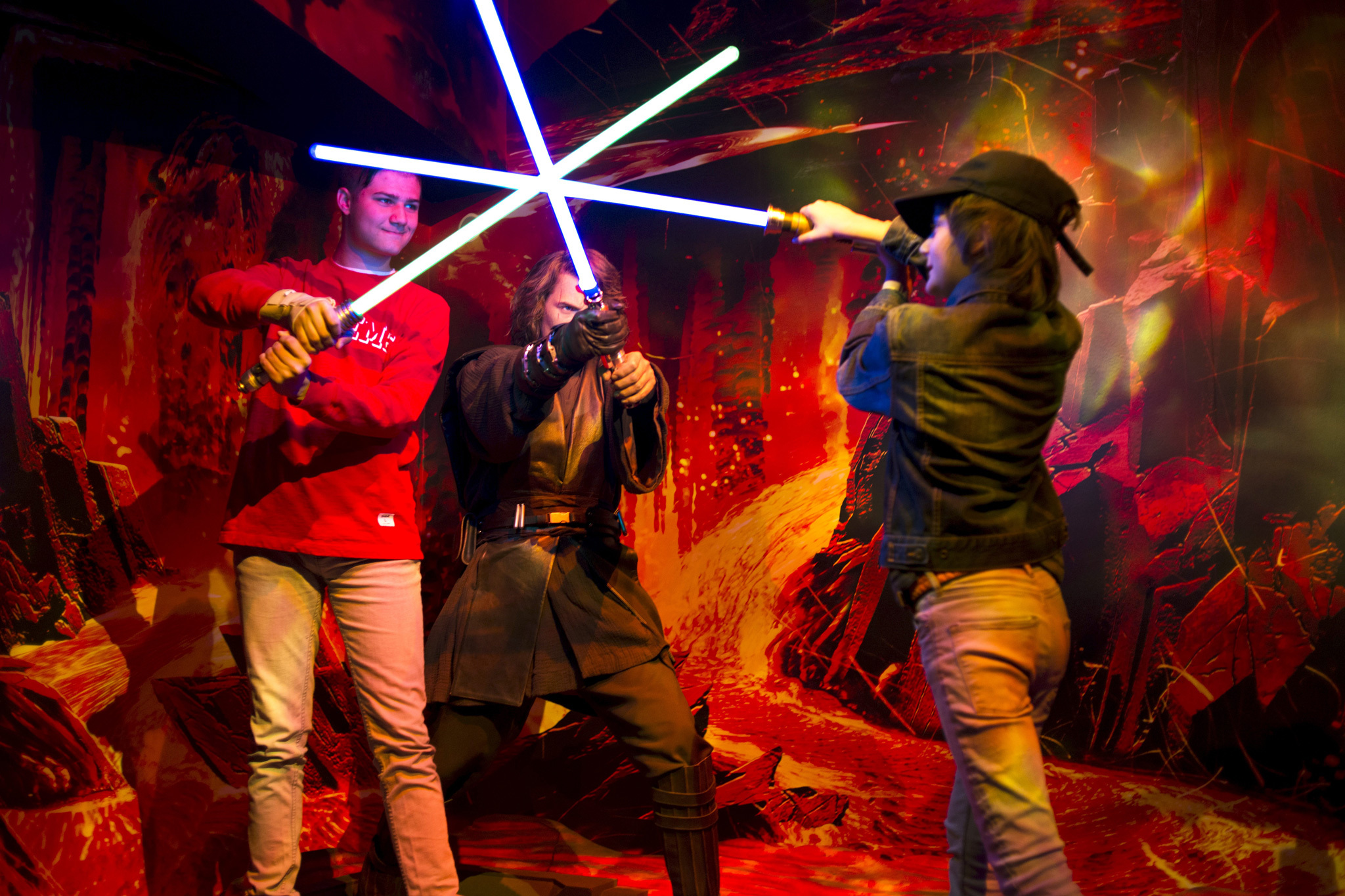 © Jamie Lau
Five-star attention to detail
There's certainly more than enough here 
to keep fans of the franchise enthralled. Ace wanders into the mists that are creeping eerily up from the Swamps of Dagobah to meet Master Yoda. 'This is my favourite part,' he says. 'I really like how they've set the scene with spongy ground, just like a swamp would be. And with the mist and the "smellovision".'
What Ace is referring to is the musty smell surrounding Yoda and his woodland setting. 
A member of the Madame Tussauds team reassures Ace that the smell is deliberate. 'Yeah, it stinks like a teenager's bedroom,' laughs Mark. 'Which is exactly what a swamp would smell like. Especially with a 900-year-old Yoda in it!'
Mark and the boys pose with an appropriately hirsute Chewbacca at the controls of the Millennium Falcon, then they perch themselves on a balcony to re-live that iconic moment in
 'Star Wars: The Empire Strikes Back' when Darth Vader breaks some pretty big news to Luke Skywalker. At this point, it's almost impossible to resist saying, 'Luke, I am your father' in a deep and dramatic voice as you strike a pose for your mate's cameraphone.
On at Madame Tussauds
'I think the really amazing thing,' says Mark, 'is that over the years, you could have seen a Darth Vader model standing in the corner of
 any comic shop, but you won't see wax figures anywhere else but at Madame Tussauds. So in the final scene here, when you see the 
lightsaber duel between Darth Vader and Luke 
Skywalker, it's genuinely exciting because, yes, 
the Darth Vader height and costume and mask 
is exactly right, but Luke's human face is also 
perfect.
It's just as it was at that precise moment 
in that specific film. That's what gives this experience its gravitas. And it's not just from
 a metre away; right up close you still can't tel
l any difference. It's like, wow!'
Go along and see for yourself. 'Wow' is something you're likely to hear a lot.
Support Time Out
We see you're using an ad-blocker. Ad revenue is Time Out's main source of income. The content you're reading is made by independent, expert local journalists.
Support Time Out directly today and help us champion the people and places which make the city tick. Cheers!
Donate now