Take the Moretti Gran Tour this summer
Explore the flavours of Italy and the culinary pleasures of Naples, Lazio Tuscany and Sicily, on a journey of discovery without leaving your own city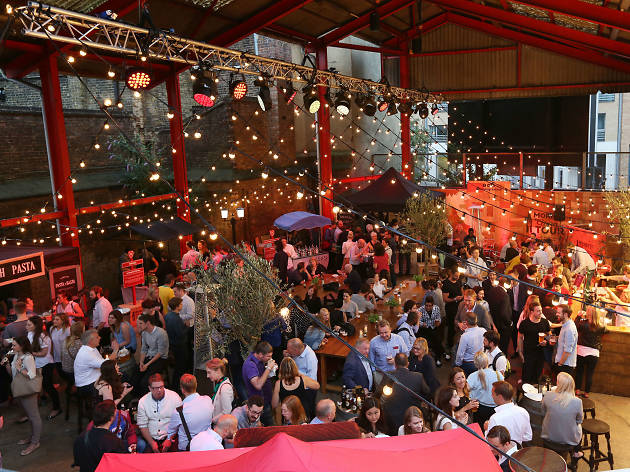 Nobody does food like the Italians. Nobody. But don't just take our word for it: take a whistle-stop tour of all the best bites of Italian cuisine at the Moretti Gran tour, returning to London for a third year, at the Old Truman Brewery from July 19 to 24.
For five days and nights, ten street-food vendors will serve up mouthwatering authentic Italian food – from Lazio, Naples, Tuscany and other foodie hotspots – along with ice-cold beers from Birra Moretti. It's your chance to share food and drink with family and friends, and reflect on the important things in life.
You can join the Italian street food festival for free every day from 11am to 10.30pm (with the exception of launch night, July 19, when doors open at 8pm). Or book one of the exciting culinary masterclasses, Tuscan Butchery with Forza Win and Italian Pasta Making with CinCin.
And as if that wasn't enough, you can also win two tickets to the arts and music celebration Festival No.6.
Five must-do experiences at the Moretti Gran Tour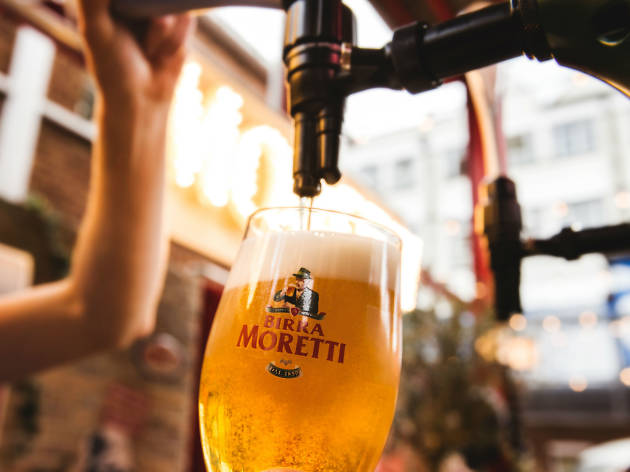 Sample the new Regionali range
You can't move for beer (or beards) in East London. In recent years, the hippest part of the capital has been home to a beer renaissance. And, naturally, Gran Tour is keen to be part of it. That's why, for the first time anywhere in the UK, Moretti is showcasing its Regionali collection; two beers with two unique flavours. The citrussy Birra Moretti alla Siciliana will make your palette zing, while Birra Moretti alla Toscana will impress you with its subtle chestnut notes and slightly bitter finish. Match these intoxicating new tastes with the mouthwatering food on offer.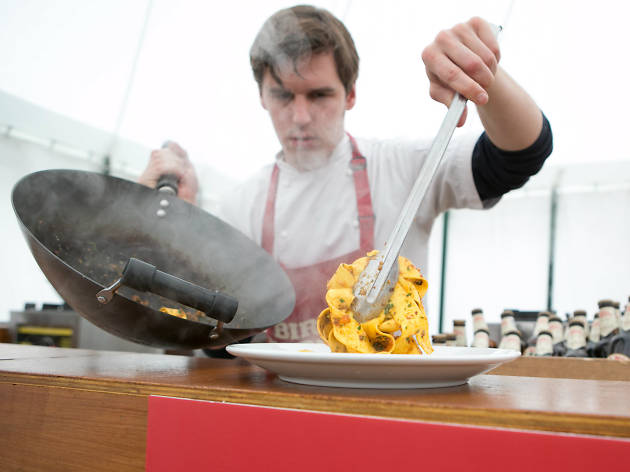 Become a pasta master
Take note, students: there's way more to pasta than emptying a jar of sauce over some soggy spaghetti. Just ask the pasta masters at Brighton's CinCin, they'll tell you – and then show you, at this hands-on Italian Pasta Making masterclass. Guests are taught how to recreate one of four classic pasta dishes from scratch, each paired with a Birra Moretti variant. Book online now and become a pasta master.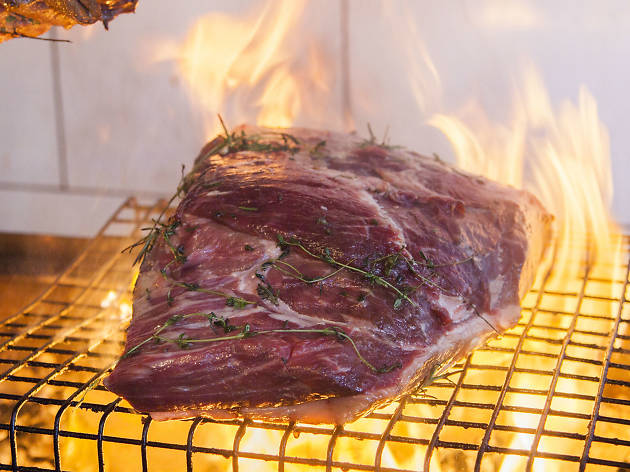 Have a butcher's at this masterclass
Another chance to get hands-on at the Gran Tour. Hosted by Peckham-based critical darlings Forza Win, their Tuscan Butchery masterclass is a meaty slice of old Italia. Inside a recreation of a traditional Tuscan butcher's shop, you'll learn the basics of butchery, the craft of cooking and how to savour every last morsel. There'll also be plenty of Moretti beer on hand to pair with the delicious food. In a word: magnifico! Book online now.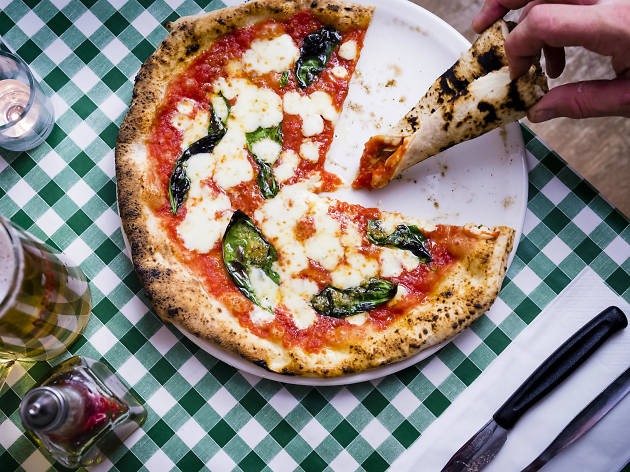 Say hello to some old friends...
This year the Gran Tour welcomes some old amici back into the fold. The Pizza Pilgrims, who began their foodie journey whizzing round the old country in a Piaggio Ape van, serve up classic Neapolitan-style pizzas. Giacomo Bia, of the much-loved Gurmetti food truck, returns with his authentic Parma cuisine given a modern twist. And no Gran Tour would be complete without the Arancini Brothers and their moreish arancini balls.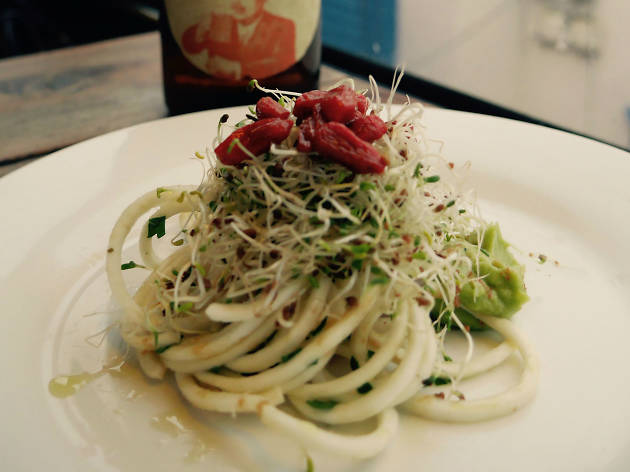 ...and meet some new ones too
The Gran Tour is always keen to freshen things up by inviting the best new street-food types to participate in their mega Italian feast. This year, Hackney-based Just Fab join in the fun, serving up delicious vegan interpretations of traditional Sicilian food. There's also Lazio-stye burgers and lamb cutlets from Italian natives Tongue 'n Cheek. And, for dessert, artisan types La Gelatiera are on hand with their traditional Italian ice cream in flavours galore. What a scoop! While coffee lovers can round off the day with a perfect hit of freshly roasted beans from southern Italian vendors Terrone & Co. Last but not least, don't forget to visit the new Italian Market, packed full of fresh, aromatic produce.
Sponsored listing
The Escapologist
London's Coolest bars are usually found on a rooftop or underground – drinking on the ground floor is so last year. The Escapologist, a Covent Garden cocktail joint from the folks behind Adventure Bar, is one of the latter. But it's hardly a diminutive basement bar, with a 'grand hall' behind a secret door and a 'vault' even further underground.  The venue gets its name from a Victorian scoundrel, Baron Von Took, whose supposed last wish before a date with the gallows was to have a drink in one of Covent Garden's brew houses; as you can probably guess, he managed to escape. Whether or not the story rings true, the bar uses it as an excuse to style itself as a low-lit Victorian gentlemen's club.  With a 20-strong cocktail menu divided into 'premium' and 'party time', the theme ends there. But it's fun: The Flaming Zombie (£11.50) came in a white skull glass with a flaming sugar cube on top, naturally. It was pretty boozy from three types of rum, but balanced by fruity sweetness.  A selection of pizzas should soak up that triple rum nicely. But if sobering up isn't on the agenda, head down between 5pm and 7pm for the daily happy hour. Unlike the baron, you won't want to run after just one drink.
Venue says: "Two-for-one on cocktails, Peroni Rossa, glasses of house wine and prosecco every day from 5-7pm."