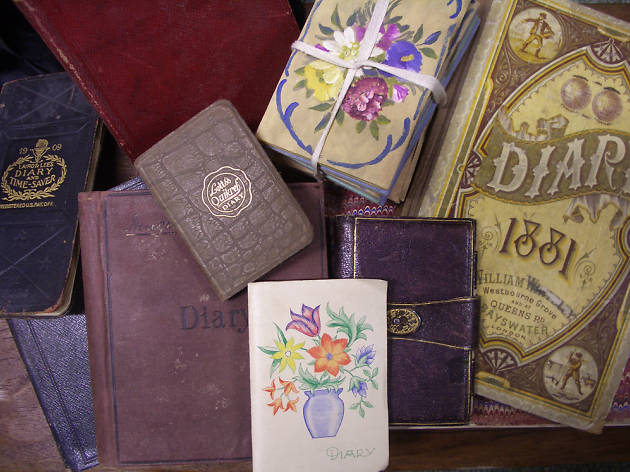 1/7
© Bishopsgate Institute, Bishopsgate Library
2/7
3/7
4/7
5/7
6/7
7/7
Who could resist a flick through the pages of someone else's journal? From Samuel Pepys to Anne Frank, Adrian Mole to Bridget Jones, the most compelling diarists, fictional or not, reveal as much about the times in which they live as themselves. The journals exhibited in 'The Great Diary Project' are all real, and thus come loaded with the clandestine thrill of dipping into someone else's private thoughts, whether the writer is being flogged in a Regency boarding school or enjoying 'banjo practice, popcorn and maple syrup' at an American summer camp.
The exhibition is the brainchild of historian Irving Finkel, who, since 2011, has been rescuing everyday folk's diaries from the rubbish heap and squirrelling them away in his office at the British Museum. This record of vernacular social history is now 2,000 volumes strong, and part of it – children's diaries dating from 1813 to 1996 – is on display for the first time at the V&A Museum of Childhood.
Visitors can read these personal jottings and see how young people's attitudes and dreams have evolved. One thing that evidently transcends time is teenage crushes. 'Dublin, May 23rd 1947: Today I met the famous Finton Halpin – and fell for him. He has TB and only has one rib, consequently his shoulders are crooked – but his charm and his handsomeness make up for it,' swoons one Veronica Hadwyn. Then there's this pithy entry from 1996: 'Hates: Maths. Loves: David Duchovny.' Kathryn Green from Bolton, if you're out there, sorry for reading your diary, and thanks for distilling teen angst so succinctly for posterity. Natasha Polyviou
While you're there, check out the Jacqueline Wilson exhibition upstairs.