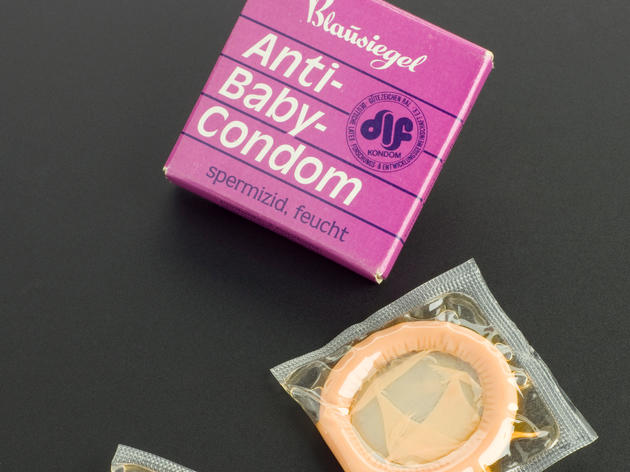 1/20
Packet of Anti-baby condoms, German, 1980s © Science Museum, London
2/20
Sex Machines, by Timothy Archibald 'Dan and Jan Siechert, The Monkey Rocker, Bakersfield, California' © Photography by Timothy Archibald
3/20
Advertisement for the Institute of Sex Research © The Kinsey Institute
4/20
Veedee vibratory massager box, German, early 20th century © Science Museum, London and Wellcome Collection
5/20
Marie Stopes birth control clinic in caravan, with nurse, late 1920s © Wellcome Library, London
6/20
A camel composed of copulating humans, Gouache painting, 19th C, India © Wellcome Library, London
7/20
Back view of standing figure, nude except for stockings, Anonymous photograph from the Kinsey Institute Documentary Collection © The Kinsey Institute
8/20
Carved ivory statue, in the form of a copulating man and woman, Far Eastern © Science Museum, London
9/20
Detail of instructions for Clinocap brand diaphragms 1940-50s © Science Museum
10/20
Ivory shell, divides into two halves, on one half is a female genitalia, on the other is a carving of a female looking at an erotic picture, Oriental, © Science Museum
11/20
Jean-Martin Charcot demonstrating hysteria in a patient at the Salpetriere
12/20
Page with notes and diagrams titled "Definition of Coital Postures" © The Kinsey Institute
13/20
Porcelain fruit, hinged, contains male and female copulating, Oriental, © Science Museum, London and Wellcome Collection
14/20
Woman riding man, coloured postcard, from collection of Richard von Krafft-Ebing (1840-1902) © Wellcome Library, London
15/20
Veedee vibratory massager, with two attachments, German, early 20th Century © Science Museum, London and Wellcome Collection
16/20
Pottery vessel with handle, neck broken off, with a couple engaged in anal intercourse fashioned on top, Peruvian, © Science Museum, London and Wellcome Collection
17/20
Facade of the Mothers Clinic for Contructive Birth Control © Wellcome Library, London
18/20
Plate from 'The Secret Companion, a medical work on onanism or self-pollution' 1845 © Wellcome Library
19/20
Plaster impressions from seals showing erotic scenes © Science Museum, Wellcome Library, London
20/20
Wood and glass pillow book with twelve pictures painted on glass, complete with a mirror, Japanese © Science Museum, London
The Wellcome Collection's newly expanded gallery space will open with a wink and a blush with The Institute of Sexology, an exhibition that brings together the great pioneers of the study of sex. More than 200 pieces of art, erotica, photography and ethnography will help visitors get a new perspective on perversions, lust and normality, with live events, discussions and performances to accompany the X-rated exhibits.
Sex research such as the National Survey of Sexual Attitudes and Lifestyles and Alfred Kinsey's groundbreaking questionnaires have shaped our attitudes towards sexual behaviour and identity, and this exhibition will tell the stories of its pioneers. Discover how Marie Stopes and Sigmund Freud used consultations – in very different ways – to explore sexual expression, and find out more about the bespoke laboratory William Masters and Virginia Johnson used to record hundreds of climaxes at Washington University.
As well as a vast collection of risqué artefacts and historical exhibits, 'The Institute of Sexology' will include a new commission by Neil Bartlett which celebrates the hundreds of thousands of anonymous contributors who have shared their personal experiences to make sex research possible. The exhibition is free and open to all, but not recommended for the prudish.
Please note that due to the high demand for this exhibition timed tickets will be in operation at busy times.
Average User Rating
2.7 / 5
Rating Breakdown
5 star:

1

4 star:

0

3 star:

0

2 star:

1

1 star:

1
surprised by the other reviews. This is a compact but well curated exhibition. There's even a Reichian Orgone generator. I was lucky enough to bump into a workshop taking place that was incredibly interesting.
We travelled an hour to be turned away at the door. Website does say "at busy times, timed tickets will be in operation" but that blasé warning doesn't come close to the true extent of it. We arrived 2 hours before the gallery closed on a Sunday and were told all tickets had been handed out by 12.30pm so ARRIVE VERY EARLY. Also be prepared to kill time in the area as you may be assigned an entry time for 5 hours later.